goldentiger510

last edited by




Aruba is located in Americas.

As part of the Leeward Antilles, Aruba is one of three islands that make up the ABC islands, which are called by that name because those are the first letters of each island. Aruba is part of the Kingdom of the Netherlands along with Sint Maarten, Curaçao, and the Netherlands. As an island in the Caribbean Sea, Aruba is northwest of Curaçao and north of Venezuela.

Though it is reasonable to assume otherwise, Aruba is not part of the European Union. The ABC islands are technically positioned on the South American continental shelf, meaning their location classifies them as part of South America. Most commonly, you will hear Aruba being referenced as an island in the Caribbean.

Aruba has a total area of 69.08 square miles. Approximately 105,806 people live on the island, according to a census taken in 2018. The population of Aruba makes the island the 197th most populated place to live in the whole world.

The population of Aruba, divided by the total area, determines the population density of the island. That said, Aruba has a population density of 1,531.64, meaning there is an estimated number of 1,532 people per square mile. Aruba is the 22nd most dense place in comparison to all countries and territories in the world.

On average, the elevation level of Aruba is 217 feet above sea level. This lower level is attributed to the abundance of coral reefs and igneous rocks that lie beneath the surface of deposited limestone. The highest point of elevation is 620 feet above sea level, located at the very top of Mount Jamanota.

Not enough information is known to determine the actual lowest point of Aruba, though it is hard to tell considering the fact that Aruba is entirely surrounded by water. The island is at sea level along every coastline, so the lowest point of elevation is not situated in one place in particular, but rather around the entire circumference of the island. .

The GPS coordinates of Aruba are a latitude of 12.5211° N and a longitude of 69.9683° W. To the north and south of Aruba is the Caribbean Sea. While water borders Aruba in every direction, the islands of Curaçao and Bonaire are to the east of Aruba.
DiscussPlaces
is a place to make new friends and share your passions and interests. Quench your thirst for knowledge, discuss places with other aficionados, and swap recommendations. Are you an aspiring foodie who dreams of living in New York? Or perhaps you are looking for the best chicken wings in Cincinnati? Then this is the place for you! Any one can join in with a passion or interest – whether it be talking about their favorite restaurant in Barcelona or raving about their latest trip to Italy. Join us!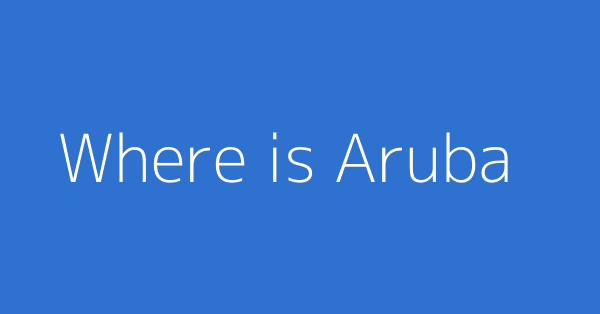 This page shows discussions around "Where is Aruba?"