Belize is located in Americas.

Belize is a small country on the eastern coast of Central America, between Mexico in the north, the Caribbean Sea to the east and Guatemala in the south and west. It is located just north of the Equator, covering a land area of 22,800 square kilometers. Just 300 meters offshore is The Belize Barrier Reef, the second longest reef in the world, covering 300 kilometers.

Belize has the lowest population density in Central America and can be divided into five main regions.

Belize City is located on the western coast near the Belize River, covering 35,667 square kilometers. Haulover Creek divides this region into two areas. Northside, known as the upmarket area, begins at Haulover Creek and ends at the Fort George area. Southside, known as the commercial area and extends the outskirts of the city and port area.

The Cayes, are a cluster of small islands and atolls. The largest and northernmost of the Cayes is Ambergris Caye. Other popular Cayes include, Caye Caulker, Turneffe Islands and Lighthouse Reef.

Northern Belize is the agricultural and business center, expanding the entire northern Mexico border, a third of the western Guatemala border and a third of the northern coastline. The two main areas in this region are Corozal and Orange Walk, home to many historical Mayan sites.

Western Belize consists of mountainous terrain and lowland forest, located in central Belize and expanding a third of the western Guatemala border. This region is home to the Maya Mountains and Belize's small capital Belmopan.

Southern Belize lies south of Belmopan, stretching a third of the western Guatemala border, the southern coastline and half of the eastern coastline. This region is known for having rugged terrain and low population density, with most of the towns and villages located on the coast.
DiscussPlaces
is a place to make new friends and share your passions and interests. Quench your thirst for knowledge, discuss places with other aficionados, and swap recommendations. Are you an aspiring foodie who dreams of living in New York? Or perhaps you are looking for the best chicken wings in Cincinnati? Then this is the place for you! Any one can join in with a passion or interest – whether it be talking about their favorite restaurant in Barcelona or raving about their latest trip to Italy. Join us!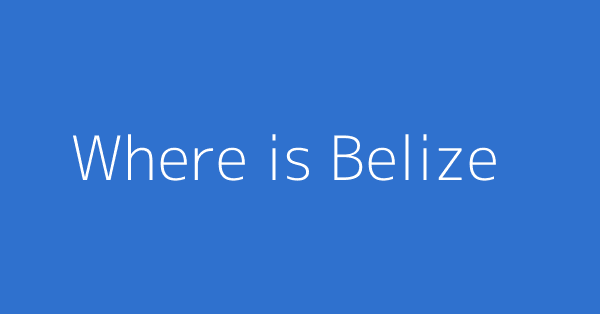 This page shows discussions around "Where is Belize?"