What is Honduras known for?
purplewolf566

last edited by




Honduras

Honduras, officially Republic of Honduras, Spanish República de Honduras, country of Central America situated between Guatemala and El Salvador to the west and Nicaragua to the south and east.
The Caribbean Sea washes its northern coast, the Pacific Ocean its narrow coast to the south.
Its area includes the offshore Caribbean department of the Bay Islands.
The capital is Tegucigalpa (with Comayagüela), but—unlike most other Central American countries—another city, San Pedro Sula, is equally important industrially and commercially, although it has only half the population of the capital.

Honduras has so much to offer, here are some of the things Honduras is known for.

Utila: Blissing out in dive-bum heaven, with beautiful marine life and wild nightlife.
Copán: Gazing at extraordinary Maya stone carvings and epic ancient structures near a charming, cobblestone village.
Cayos Cochinos: Being dazzled by the bluest waters and finest beaches in Honduras.
Río Cangrejal: Getting in touch with nature as Central America's best white water powers through a majestic jungle.
Lago de Yojoa: Drinking craft beer, paddling on lakes, hiking to mountains and exploring coffee plantations.
Roatán: Living it up in Honduras' most upscale destination, dining with a friendly pirate vibe and enjoying world-class diving.
The Moskitia: Exploring Central America's last untamed wilderness on an adventurous route to Nicaragua.
Trujillo: Soaking up everyday life in this small town with a quirky history, lovely beaches and charming locals.
DiscussPlaces
is a place to make new friends and share your passions and interests. Quench your thirst for knowledge, discuss places with other aficionados, and swap recommendations. Are you an aspiring foodie who dreams of living in New York? Or perhaps you are looking for the best chicken wings in Cincinnati? Then this is the place for you! Any one can join in with a passion or interest – whether it be talking about their favorite restaurant in Barcelona or raving about their latest trip to Italy. Join us!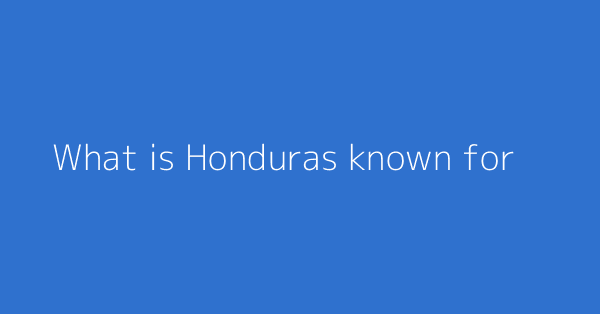 This page shows discussions around "What is Honduras known for?"