What is Iceland known for?
orangepanda761

last edited by




Iceland

Iceland, island country located in the North Atlantic Ocean.
Lying on the constantly active geologic border between North America and Europe, Iceland is a land of vivid contrasts of climate, geography, and culture.
Sparkling glaciers, such as Vatna Glacier ( Vatnajökull), Europe's largest, lie across its ruggedly beautiful mountain ranges; abundant hot geysers provide heat for many of the country's homes and buildings and allow for hothouse agriculture year-round; and the offshore Gulf Stream provides a surprisingly mild climate for what is one of the northernmost inhabited places on the planet.

Iceland has so much to offer, here are some of the things Iceland is known for.

Getting into Hot Water

Iceland's unofficial pastime is splashing around in its surplus of geothermal water. You'll find 'hot-pots' everywhere, from downtown Reykjavík to the isolated peninsular tips of the Westfjords. Not only are they incredibly relaxing, they're the perfect antidote to a hangover and a great way to meet the locals (this is their social hub, the equivalent of the local pub or town square). The Blue Lagoon: is the big cheese: its steaming lagoon full of silica deposits sits conveniently close to Keflavík airport, making it the perfect send-off before flying home.

Westfjords

Iceland's sweeping spectrum of superlative nature comes to a dramatic climax in the Westfjords: – the island's off-the-beaten-path adventure par excellence. Broad, multi-hued beaches flank the southern coast, roaring bird colonies abound, fjordheads tower above and then plunge into the deep, and a network of ruddy roads twists throughout, adding an extra edge of adventure. The region's uppermost peninsula, Hornstrandir, is the final frontier; its sea cliffs are perilous, the Arctic foxes are foxier, and hiking trails forge through pristine patches of wilderness that practically kiss the Arctic Circle.

Jökulsárlón

A ghostly procession of luminous-blue icebergs drifts serenely through the 25-sq-km Jökulsárlón: lagoon before floating out to sea. This surreal scene (handily, right next to the Ring Road) is a natural film set; in fact, you might have seen it in Batman Begins and the James Bond film Die Another Day. The ice calves come from Breiðamerkurjökull glacier, an offshoot of the mighty Vatnajökull ice cap. Boat trips and kayaking among the bergs are popular, or you can simply wander the lakeshore, scout for seals and exhaust your camera's memory card.

Reykjavík's Cafe Culture and Beer Bars

Petite Reykjavík boasts all the treats you'd expect of a European capital – such as excellent museums and great shopping – but the city's ratio of coffee houses to citizens is nothing short of staggering. In fact, the local social culture is built around such low-key hang-outs: that crank up the intensity after hours, when tea is swapped for tipples and the dance moves are broken out. Handcrafted caffeine hits and designer microbrews are prepared with the utmost seriousness for accidental hipsters sporting well-worn lopapeysur (Icelandic woollen sweaters).

Northern Lights

Everyone longs to glimpse the Northern Lights:, the celestial kaleidoscope known for transforming long winter nights into natural lava lamps. The lights, also known as aurora borealis, form when solar flares are drawn by the earth's magnetic field towards the North Pole. What results are ethereal veils of green, white, violet or red light, shimmering and dancing in a display not unlike silent fireworks. A good deal of luck is involved in seeing them, but look for the lights in clear, dark skies anytime between mid-September and mid-April.

Driving the Ring Road

There's no better way to explore Iceland than to hire a set of wheels and road-trip Rte 1, affectionately known as the Ring Road:. This 1340km tarmac trail loops around the island, passing through verdant dales decked with waterfalls, glacier tongues dripping from ice caps like frosting from a cake, desert-like plains of grey outwash sands, and velvety, moss-covered lava fields. It's supremely spectacular – but don't forget to detour. Use the Ring Road as your main artery and follow the veins as they splinter off into the wilderness.

Vatnajökull National Park

Europe's largest national park covers around 14% of Iceland and safeguards mighty Vatnajökull:, the largest ice cap outside the poles (it's three times the size of Luxembourg). Scores of outlet glaciers flow down from its frosty bulk, while underneath it are active volcanoes and mountain peaks. Yes, this is ground zero for those 'fire and ice' clichés. You'll be spellbound by the diversity of landscapes, walking trails and activities inside this supersized park. Given its dimensions, access points are numerous – start at Skaftafell in the south or Ásbyrgi in the north.

Borgarfjörður Eystri and Seyðisfjörður

A tale of two east-side fjords. Stunning, art-fuelled Seyðisfjörður garners most of the attention – it's only 27 (sealed) kilometres from the Ring Road, and it welcomes the weekly ferry from Europe into its mountain-lined, waterfall-studded embrace. Beautiful Borgarfjörður Eystri:, on the other hand, is 70km from the Ring Road, and much of that stretch is bumpy and unsealed. Its selling points are understated: puffins, mythical elves, rugged rhyolite peaks. Both fjords have natural splendour and bumper hiking trails in spades, and many peopl can't help but love 'em equally.

Fimmvörðuháls

If you haven't time to complete one of Iceland's multiday treks, the 23km, day-long Fimmvörðuháls trek: will quench your wanderer's thirst. Start at the shimmering cascades of Skógafoss; hike up into the hinterland to discover a veritable parade of waterfalls; gingerly tiptoe over the steaming remnants of the Eyjafjallajökull eruption; and hike along the stone terraces of a flower-filled kingdom that ends in silent Þórsmörk, a haven for campers, hemmed by a crown of glacial ridges.

Tröllaskagi Peninsula

Touring Tröllaskagi: is a joy, especially now that road tunnels link the spectacularly sited townships of Siglufjörður and Ólafsfjörður, once end-of-the-road settlements. The peninsula's dramatic scenery contrasts with the gentle hills that roll through most of northern Iceland. Pit stops with pulling power include Hofsós' perfect fjord-side swimming pool, Lónkot's plates of fine local produce and Siglufjörður's outstanding herring museum. Plus you'll find glorious panoramas, quality hiking, ski fields (including a growing trade in heliskiing), microbreweries and beer baths, whale-watching tours, and ferries to offshore islands Grímsey and Hrísey.

Snæfellsnes Peninsula

With its cache of wild beaches, bird sanctuaries, horse farms and lava fields, the Snæfellsnes Peninsula: is one of Iceland's best escapes – either as a day trip from the capital or as a relaxing long weekend. It's little wonder it's called 'Iceland in miniature' – it even hosts a national park and glacier-topped stratovolcano. Jules Verne was definitely onto something when he used Snæfellsjökull's icy crown as his magical doorway to the centre of the earth.

Vestmannaeyjar

An offshore archipelago of craggy peaks, Vestmannaeyjar: is a mere 30-minute ferry ride from the mainland, but feels miles away in sentiment. A boat tour of the scattered islets unveils squawking seabirds, towering cliffs and postcard-worthy vistas of lonely hunting cabins perched atop rocky outcrops. The islands' 4000-plus population is focused on Heimaey, a small town of windswept bungalows with a scarring curl of lava that flows straight through its centre – a poignant reminder of Iceland's volatile landscape.

Askja and Surrounds

Accessible for only a few months each year, storied Askja: is a mammoth caldera ringed by mountains and enclosing a sapphire-blue lake. To access this glorious, otherworldly place, you'll need a robust 4WD, a few days for hiking, or passage on a super-Jeep tour. Highlands excursions generally incorporate river crossings, impossibly vast lava fields, regal mountain vistas and outlaw hideouts – and possibly a naked soak in geothermal waters. Added bonus: head south from Askja to visit Iceland's freshest lava field at Holuhraun.

Puffins and Whales

Iceland's two biggest wildlife drawcards are its most charismatic creatures: the twee puffin, which flits around like an anxious bumblebee, and the mighty whale, a number of species of which, including the immense blue whale, glide through the frigid blue ringing Iceland's coast. Opportunities to see both abound on land and sea. Whale-watching heartland is Húsavík:, and other northern towns and Reykjavík also offer cruises. Colonies of puffins are poised and ready for their close-up at numerous coastal cliffs and offshore isles, including Heimaey, Grímsey, Drangey, Látrabjarg and Borgarfjörður Eystri.
DiscussPlaces
is a place to make new friends and share your passions and interests. Quench your thirst for knowledge, discuss places with other aficionados, and swap recommendations. Are you an aspiring foodie who dreams of living in New York? Or perhaps you are looking for the best chicken wings in Cincinnati? Then this is the place for you! Any one can join in with a passion or interest – whether it be talking about their favorite restaurant in Barcelona or raving about their latest trip to Italy. Join us!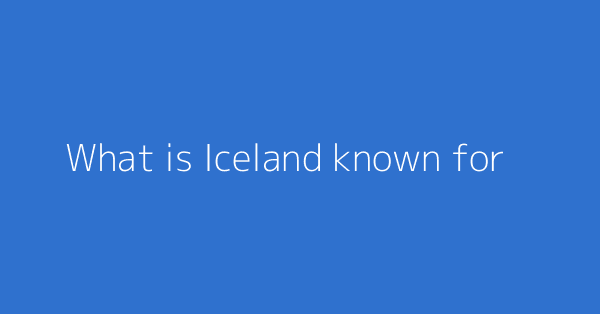 This page shows discussions around "What is Iceland known for?"