What is Kazakhstan known for?
happyostrich128

last edited by




Kazakhstan

Kazakhstan, also spelled Kazakstan, officially Republic of Kazakhstan, Kazakh Qazaqstan Respublikasï, country of Central Asia.
It is bounded on the northwest and north by Russia, on the east by China, and on the south by Kyrgyzstan, Uzbekistan, the Aral Sea, and Turkmenistan; the Caspian Sea bounds Kazakhstan to the southwest.
Kazakhstan is the largest country in Central Asia and the ninth largest in the world.
Between its most distant points, Kazakhstan measures about 1,820 miles (2,930 kilometres) east to west and 960 miles north to south.
While Kazakhstan was not considered by authorities in the former Soviet Union to be a part of Central Asia, it does have physical and cultural geographic characteristics similar to those of the other Central Asian countries.
The capital is Nursultan (formerly Astana, Aqmola, and Tselinograd), in the north-central part of the country.
Kazakhstan, formerly a constituent (union) republic of the U.
, declared independence on December 16, 1991.

Kazakhstan has so much to offer, here are some of the things Kazakhstan is known for.

Almaty: Dining out in the leafy, sophisticated metropolis and hiking in the spectacular mountains on its doorstep.
Kolsai Lakes: Staying in hospitable homestays and trekking amid gorgeous alpine scenery.
Turkestan: Being awed by the beautiful Timurid architecture at Kazakhstan's holiest site.
Aksu-Zhabagyly: Hiking, horse riding and looking for tulips in the forests and mountains.
Aral Sea: Checking out Soviet boat wrecks and an arid canyon on the banks of the returning sea.
Mangistau: Exploring remote desert country, honeycombed with canyons, underground mosques and ancient necropolises.
Tian Shan: Trekking and taking helicopter flights above glaciers in Kazakhstan's highest and most spectacular mountain range.
Nur-Sultan: Enjoying 21st-century fantasy architecture and a lively dining scene.
DiscussPlaces
is a place to make new friends and share your passions and interests. Quench your thirst for knowledge, discuss places with other aficionados, and swap recommendations. Are you an aspiring foodie who dreams of living in New York? Or perhaps you are looking for the best chicken wings in Cincinnati? Then this is the place for you! Any one can join in with a passion or interest – whether it be talking about their favorite restaurant in Barcelona or raving about their latest trip to Italy. Join us!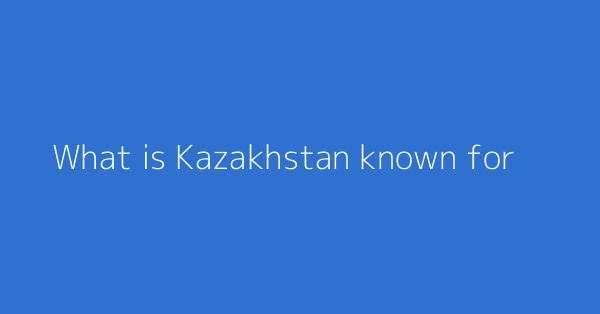 This page shows discussions around "What is Kazakhstan known for?"