What is Uruguay known for?
beautifulbear403

last edited by




Uruguay

Uruguay, country located on the southeastern coast of South America.
The second smallest country on the continent, Uruguay has long been overshadowed politically and economically by the adjacent republics of Brazil and Argentina, with both of which it has many cultural and historical similarities.
"On the map, surrounded by its large neighbors, Uruguay seems tiny," writes contemporary Uruguayan historian and novelist Eduardo Galeano.
"But not really.
We have five times more land than Holland and five times fewer inhabitants.
We have more cultivable land than Japan, and a population forty times smaller.
".

Uruguay has so much to offer, here are some of the things Uruguay is known for.

Carnaval: Dance to a different drummer during Montevideo's month-long festivities.
Punta del Diablo: Catch a wave or a late-night beach party along Uruguay's untamed northern shoreline.
Thermal Baths: Soak your weary traveling muscles in the hot springs near Salto.
Valle del Lunarejo: Get way off the beaten track in this remote inland nature preserve.
Colonia del Sacramento: Sunbathe on the 18th-century town wall, or wander the leafy plazas and cobbled streets of this picturesque town on the Río de la Plata.
Cabo Polonio: Lose yourself in the sand dunes and survey the sea lions from atop the lighthouse.
Fray Bentos: Tour Uruguay's newest Unesco World Heritage site, the historic El Anglo meat-processing factory in this easygoing border town.
Punta del Este: Hit the beaches by day and the clubs by night.
Tacuarembó: Herd cattle on horseback and discover the simple joys of estancia living under the stars.
DiscussPlaces
is a place to make new friends and share your passions and interests. Quench your thirst for knowledge, discuss places with other aficionados, and swap recommendations. Are you an aspiring foodie who dreams of living in New York? Or perhaps you are looking for the best chicken wings in Cincinnati? Then this is the place for you! Any one can join in with a passion or interest – whether it be talking about their favorite restaurant in Barcelona or raving about their latest trip to Italy. Join us!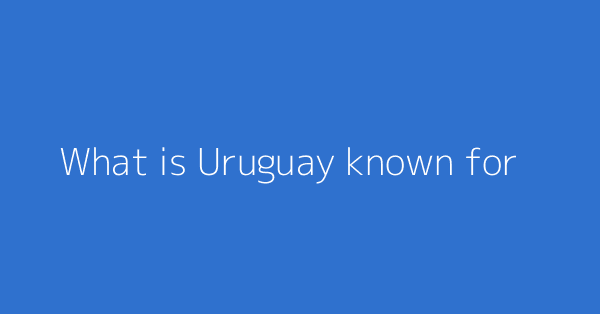 This page shows discussions around "What is Uruguay known for?"