What is Tajikistan known for?
redsnake371

last edited by




Tajikistan

Tajikistan, officially Republic of Tajikistan, Tajik Tojikiston or Jumhurii Tojikiston, Tajikistan also spelled Tadzhikistan, country lying in the heart of Central Asia.
It is bordered by Kyrgyzstan on the north, China on the east, Afghanistan on the south, and Uzbekistan on the west and northwest.
Tajikistan includes the Gorno-Badakhshan ("Mountain Badakhshan") autonomous region, with its capital at Khorugh (Khorog).
Tajikistan encompasses the smallest amount of land among the five Central Asian states, but in terms of elevation it surpasses them all, enclosing more and higher mountains than any other country in the region.
Tajikistan was a constituent (union) republic of the Soviet Union from 1929 until its independence in 1991.
The capital is Dushanbe.

Tajikistan has so much to offer, here are some of the things Tajikistan is known for.

Pamir Highway: Travelling along one of the world's most famous roads, offering high-altitude vistas and fine community-based homestays.
Wakhan Valley: Observing rural life along the narrow Pyanj River corridor, bordering Afghanistan, with Silk Road forts and spectacular views of the snowbound Hindu Kush.
Jizeu Valley: Bouncing over angry waters on a suspension bridge as a prelude to hiking to this carless Pamir valley.
Fan Mountains: Trekking to a chain of seven lakes, accessible from Penjikent, in the company of Tajik shepherds.
Iskander-Kul: Boating to the President's dacha across the picture-perfect lake.
DiscussPlaces
is a place to make new friends and share your passions and interests. Quench your thirst for knowledge, discuss places with other aficionados, and swap recommendations. Are you an aspiring foodie who dreams of living in New York? Or perhaps you are looking for the best chicken wings in Cincinnati? Then this is the place for you! Any one can join in with a passion or interest – whether it be talking about their favorite restaurant in Barcelona or raving about their latest trip to Italy. Join us!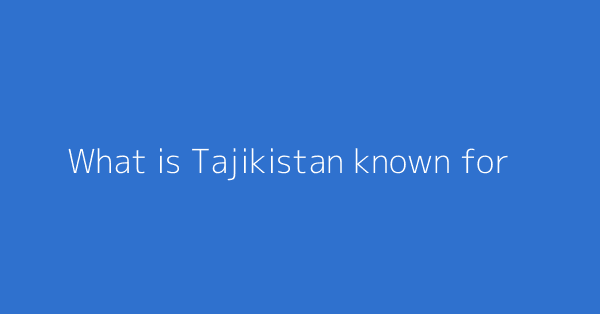 This page shows discussions around "What is Tajikistan known for?"