Islamabad, the gorgeous capital of Pakistan, is known for its exceptional beauty, peaceful ambience and high quality of life. Due to its scenic views and natural beauty, the city is ranked as the second most beautiful capital in the world. The city is full of amazing sightseeing spots, contemporary eateries, lush green parks, loads of recreational activities spots, and much more.

If you are looking for a city that has a huge variety of places to visit, Islamabad might be the place for you to be. There are tons of things that you can do in Islamabad city, ranging from sightseeing to food tasting to fun-filled activities. Islamabad is one of the best places to live in. Beside beautiful sights, all facilities are available in Islamabad like top universities, the best schooling systems, advanced education, vehicle registration and healthcare facilities. Staying is not a problem in the capital because there are some amazing yet affordable hotels in Islamabad including 3-star hotels and 4-star hotels and the best guest houses in Islamabad.

In this article, we are going to explore Islamabad and places you can visit in the capital. There are a lot of places in Islamabad that you can visit, that too without spending a lot of bucks. Get to know adventure places in Islamabad.

Best Places to Visit in Islamabad
Lok Virsa
Saidpur
Shah Allah Ditta Caves
Faisal Masjid
Centaurus
Safa Gold
Giga Mall
Local Markets
So, let's get started.

Culture and History
Islamabad comes with a rich history and culture. Before the establishment of the capital, the city still existed as a Buddhist town because many stupas have been discovered in the region. Also, the old settlement of Saidpur is present near the Margalla foothills, which was a Hindu settlement in the past. In 1960, the capital was shifted from Karachi to Islamabad.

If you have a knack for history and culture, you should pay a visit to these places:

Lok Virsa
It is one of the best places to visit in Islamabad. Lok Virsa, the heritage museum, is located near Shakarparian Road. The museum is an epitome of the history and culture of Pakistan. The museum is a tribute to the living cultures and traditions of Pakistan. The museum opened its doors for the people in 1974. The museum consists of several buildings and an outdoor museum as well.

Lok Virsa, the cultural heritage of Pakistan, displays a huge variety of cultural items including statues, pictures, pottery, music, and textile work of different ethnic groups of Pakistan. It also has a resource library that has a huge selection of books on folklore, culture, traditions, ethnicities, and history. The museum also hosts regular exhibitions that showcase products like embroidered costumes, jewellery, woodwork, metalwork, block-printing, ivory and bone work.

lok virsa

Saidpur
This place is one of the top places to go to Islamabad. Saidpur is an ancient village with a rich history, located near the Margalla Hills, Islamabad which among the top 10 hiking trails of Pakistan. In the past, it remained a Hindu village where Hindu worshippers from far-flung areas came to worship. The remains of the village are still present today where tourists come regularly.

The government has now modernized the village and turned it into a modern village with a variety of posh restaurants and eateries. If you want to spend a good day surrounded by music, culture and good food which includes popular fruits in Pakistan, then Saidpur Village, Islamabad is the place for you to be. Also, if you are looking for places to visit in Islamabad at night, do consider this place.

Saidpur Village islamabad

Shah Allah Ditta Caves
Interestingly there are many haunted places to visit in Islamabad and Shah Allah Ditta Caves are one of them. It is one of the best places to visit in Islamabad. Shah Allah Ditta Caves, a historical place located at the foothills of Margalla should not be missed. The village located near the caves is said to be 700 years old which served as a route connecting Kabul and Gandharan City. As for the caves, historians claim that the caves are around 2400 years old. The caves are said to be relics of the Buddhist era, the Aurangzeb period and the Hindu period. If you want to enjoy the sunset in Islamabad, try out this place.

Currently, the caves have been turned into a nice cozy spot where people come, munch on pakoras & chai and listen to soothing music. If you are an adventurous person explore the deserts in Pakistan.

Shah Allah Ditta Caves Islamabad

Faisal Masjid
Faisal Mosque is one of the most famous places to see in Islamabad. Faisal Masjid, an epitome of modern Islamic architecture is nestled at the foothills of Margalla. It is one of the largest Asian mosques, an example of a state of the art infrastructure and breathtaking design. The mosque has the capacity of 100,000 people and was a gift from the King of Saudi Arabia, King Shah Faisal.

places to visit in islamabad

Markets
Apart from rich culture and heritage, Islamabad is also well known for its extravagant selection of malls and shopping centers. So, if you are a shopaholic, then Islamabad might be a heaven for you.

shopping malls in islamabad

Some of the best shopping places that you need to visit are:

Centaurus
Centaurus Mall is one of the best shopping malls in Islamabad. It is also the first mall in Islamabad. From a huge variety of local & international brands to a humongous food court, Centaurus has got you covered. Apart from well-known brands, the mall also has a play area, a food court, and the best cinema in Islamabad.

the centaurus mall islamabad

Safa Gold
Another great option for shopping is Safa Gold Mall. It features a huge variety of national and international brands from many categories such as apparel, shoes, accessories, appliances, food and much much more. Apart from shopping centers, the mall also has the best gym & spa. After spending a busy day at the mall, you can always chill out at the spa to complete your perfect day.

safa gold mall islamabad

Giga Mall
Last but not least comes The Giga Mall. Located at the prime location of main GT road, Giga Mall is housing some of the best brands of Pakistan. Like other top tier malls, Giga Mall comes with a wide variety of shopping outlets, grocery stores, play area, food court, spacious parking space, and a cinema.

giga mall in islamabad

Local Markets
Apart from luxurious malls and shopping centers Islamabad also has a good amount of local markets under its name. Every sector in Islamabad has its own Markaz where you can find good products at an affordable price.

Also, some areas of Islamabad such as Kashmir Highway holds weekly bazaars where you can find fresh fruits, vegetables, clothes, shoes, used items and much more, that too at a very cheap price. Also, the Jinnah Supermarket and Karachi Company are some of the most famous markets in Islamabad.

Eateries
If you are a foodie who loves exploring different cuisines then get ready because Islamabad has a diverse variety of cuisines to offer. From local desi dishes to continental cuisines, all dishes are set to tantalize your taste buds.

If you are fond of street food then do visit F-10 Gol Market, Melody Food Street and F7 Markaz for street food including gol gappay, dahi baray, fruit chat, soda, Karak chae and so much more. If you are looking for cheap eateries that offer hygienic food at a low price, do visit these desi restaurants in Islamabad: Savor Foods, Bismillah Tikka, and Haleem Ghar. These places have some of the best food in Islamabad for sure and the best thing? These places are easy on the pocket.

food in islamabad

One of the best things to do in Islamabad is to explore its roadside cafes. If you love exploring fancy eateries and cafes then do visit Cafe Mocca, Crema, burning Brownie, Street1 Cafe, Chalet, and Chaaye Khana.

If you want to munch on international dishes, try out Tiger Temple, Asian Wok, Texas SteakHouse, Petit Brugge, and Roasters. Places to visit in Islamabad at night include Kitab Cafe, Secret Sky, 1969. Sip on some good old tea and enjoy the scenic views of the beautiful capital.

Some of the best fast-food restaurants in Islamabad are KFC, McDonald's, Jessie's, and Burger Fest, Ox, and grill and Howdy.

So, this was the list of things to do in Islamabad. These places should definitely be on your list of places to visit in Islamabad. Visit these fun places in Islamabad and let us know what your views about them are.

Get to know fitness gyms in Islamabad.

Apart from these places, Islamabad also has a range of other options. For instance, parks in Islamabad, picnic spots, beautiful hill station, attractive farmhouses and hiking tracks in Islamabad are perfect for people who want to spend a nice peaceful evening with their loved ones. You can also go for a dip in some really good pools because swimming pools in Islamabad are an epitome of luxury and comfort. Some swimming spots are located at famous dams in Pakistan. Get to know the cost of building a swimming pool in Pakistan. If you want to have a cosy picnic with your family, consider Rose and Jasmine Garden, Chattar Park, Galiyat and Rawal Lake, Islamabad.

If you want to travel abroad with visa-free entry for Pakistani citizens, you will be needing your passport. Get to know passport offices in Islamabad. Travel agencies provide exceptional services at an affordable rate. If you want a hassle-free and perfect trip with your loved ones, avail the services of any trusted travel agency in Pakistan.
To unwind and relax with your friends and family, we suggest you visit water parks in Karachi.

Did you not find your favourite place on our list? Comment down below and we will add your favourite place as well.
What is discussplaces?
DiscussPlaces
is a place to make new friends and share your passions and interests. Quench your thirst for knowledge, discuss places with other aficionados, and swap recommendations. Are you an aspiring foodie who dreams of living in New York? Or perhaps you are looking for the best chicken wings in Cincinnati? Then this is the place for you! Any one can join in with a passion or interest – whether it be talking about their favorite restaurant in Barcelona or raving about their latest trip to Italy. Join us!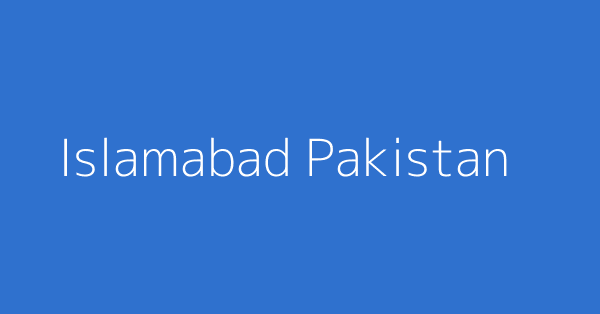 This page shows discussions around "Islamabad Pakistan"
Whether the information provided was useful?
---