Pros and Cons of Living in Kuala Lumpur, Malaysia
heavypanda370 Discussion Fanatics

last edited by




It's funny how 15-20 years ago KL was almost devoid of travelers - presumably because "Muslim country", 9/11, whatever. THAT was actually a time when not only was everything ridiculously cheap; the locals were happy, friendly, courteous, always giving you a huge smile. I have so many happy memories of back then. Fast-forward to 2019: Yes, KL is now "on the map". Yet the cost of living is exploding; much of the city's heritage has been bulldozed away; a high-rise is going up at every corner; and more and more people are visibly stressed, frustrated, hostile. As a foreigner, I encounter silent treatment every day; have people shut the elevator door in my face; rarely get a Please or Thank You or even Excuse Me; the little annoyances just keep mushrooming. But all in all, and especially for those who never experienced the fun and relaxed KL of yesteryear, it's still a relatively safe and affordable place. Nowhere near as pricey as Singapore, and also not as prone to power cuts and violent crime and accidents as Thailand or Philippines. I see private doctors, and they are excellent, London/Cambridge-trained and yet affordable. Also, phone apps work quite well when it comes to payments, booking a Grab car or ordering food / groceries. And of course, the sky is blue and the sun is shining all year round.
What is discussplaces?
DiscussPlaces
is a place to make new friends and share your passions and interests. Quench your thirst for knowledge, discuss places with other aficionados, and swap recommendations. Are you an aspiring foodie who dreams of living in New York? Or perhaps you are looking for the best chicken wings in Cincinnati? Then this is the place for you! Any one can join in with a passion or interest – whether it be talking about their favorite restaurant in Barcelona or raving about their latest trip to Italy. Join us!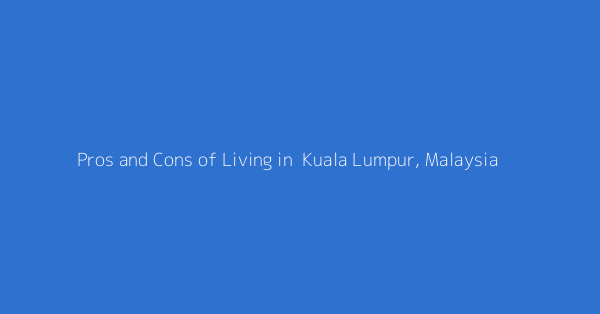 This page shows discussions around "Pros and Cons of Living in Kuala Lumpur, Malaysia"
Whether the information provided was useful?
---