Best Courses To Study Abroad After Graduation
Hikmat

last edited by





Table Of Content

Computer Sciences
Universities Offering CS Courses After Graduation

Engineering
Universities Offering Engineering Courses After Graduation

Medicine
Universities Offering Medicine Courses After Graduation

Business Studies
Universities Offering Business Courses After Graduation

The concept of internationalization has gradually increased, especially when it comes to achieving higher education. Studying abroad has been considered one of the ways to give a boost to an individual's career. The number of students moving abroad to achieve higher education is higher than ever. Moreover, where achieving an undergraduate degree abroad was seen, achieving education abroad after graduation has also become highly common.

There are diverse opportunities for students after concluding their graduation. To facilitate students, some of the best courses that a student can opt for after graduation are described in this article below.

Computer Sciences
Computer Science is one of the fields that has seen immense growth and advancements throughout the world. The world has witnessed some of the most major technological achievements in the past few years. The degree is not confined to any country but is emerging around the world. A number of well-known universities are offering different courses in computer science.

If a student has completed an undergraduate degree in computer science, they can earn a master's degree in it at any foreign university. A master's degree includes high-profile advanced learning that prepares an individual for their professional understanding. Computer Science, which has become a career with one of the world's highest incomes, has recently been able to captivate a large number of students. It is estimated that due to the high demand for CS graduates, the employment rate for CS will increase by 11% by 2029.

Universities Offering Computer Science Courses After Graduation.
Some of the best universities offering CS courses are mentioned below.

** Massachusetts Institute of Technology (MIT)**

** Stanford University **

Carnegie Mellon University

University of Oxford

University of Cambridge

Harvard University

University of Waterloo

One of the most coveted degrees in the world is an engineering degree. For obvious reasons, engineering courses have always been popular worldwide. Numerous career opportunities in many sectors are available in engineering. The engineering field has different branches and students can opt for their major to pursue further education.

Students who have successfully completed their undergraduate degree in engineering can further avail themselves of the opportunity to pursue a master's degree in engineering. It is one of the most popular degree programs, which is why it is being offered at a number of globally recognized universities.

Universities Offering Engineering Courses After Graduation
Some of the best universities offering Engineering courses includes the following.

Massachusetts Institute of Technology.

National University of Singapore.

Harbin Institute of Technology.

Stanford University.

University of California, Berkeley.

Harvard University

University of Oxford

Medicine
Medicine has always been a highly recommended degree program in the world. The major breakthroughs and prospects have made it common among students to pursue postgraduate degrees in medicine. A number of globally recognized medical institutes offer courses in medicine to facilitate a large proportion of students. Students typically pursue a medical doctorate to focus on scientific research or a medical residency program to become a medical specialist in order to advance their education in a particular specialty of medicine.

Students who have completed an MBBS degree can look forward to achieving a postgraduate degree in medicine as it is among the best and most demanding courses after graduation. It will result in teaching students how to use advanced intercultural abilities in their professional practice. It will also help them to practice medicine in a global setting and to acquire and evaluate new ideas from different sources.
What is discussplaces?
DiscussPlaces
is a place to make new friends and share your passions and interests. Quench your thirst for knowledge, discuss places with other aficionados, and swap recommendations. Are you an aspiring foodie who dreams of living in New York? Or perhaps you are looking for the best chicken wings in Cincinnati? Then this is the place for you! Any one can join in with a passion or interest – whether it be talking about their favorite restaurant in Barcelona or raving about their latest trip to Italy. Join us!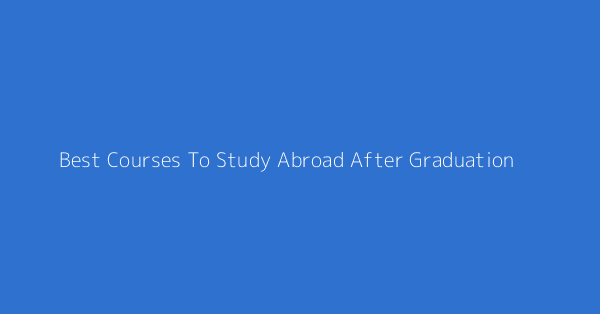 This page shows discussions around "Best Courses To Study Abroad After Graduation"
Whether the information provided was useful?
---