What is Portugal known for?
yellowpanda779

last edited by




Portugal

Portugal, officially Portuguese Republic, Portuguese República Portuguesa, country lying along the Atlantic coast of the Iberian Peninsula in southwestern Europe.
Once continental Europe's greatest power, Portugal shares commonalities—geographic and cultural—with the countries of both northern Europe and the Mediterranean.
Its cold, rocky northern coast and mountainous interior are sparsely settled, scenic, and wild, while the country's south, the Algarve, is warm and fertile.
The rugged Estrela Mountains (Serra da Estrela, or "Star Mountain Range"), which lie between the Tagus and Mondego rivers, contain the highest point of mainland Portugal.

Portugal has so much to offer, here are some of the things Portugal is known for.

The Alfama

Lisbon's Alfama district:, with its labyrinthine alleyways, hidden courtyards and curving, shadow-filled lanes, is a magical place in which to lose all sense of direction and delve into the soul of the city. You'll pass breadbox-sized grocers, brilliantly tiled buildings and cosy taverns filled with easy-going chatter, accompanied by the scent of chargrilled sardines and the doleful rhythms of fado drifting in the breeze. Round a bend and catch sight of steeply pitched rooftops leading down to the glittering Tejo, and you'll know you're hooked…

Nightlife in Lisbon

Lisbon's dizzying nightlife is a mix of old-school drinking dens, brassy jazz clubs and stylish lounges. The challenge is where to begin. You can start the evening with sunset drinks on a panoramic terrace overlooking the city, then head to Príncipe Real for exciting eats and early-evening craft cocktails or microbrews. Then wander downhill to Cais do Sodré, a former red-light district turned hipster playground, or to Bica for a lively local bar scene. At the end of the night there's always riverside Lux-Frágil:, still one of Portugal's best nightspots.

Sintra

Less than an hour by train from the capital, Sintra: feels like another world. Resembling an illustration from a fairy tale, it is sprinkled with stone-walled taverns and has a whitewashed palace looming over it. Forested hillsides form the backdrop to the village's storybook setting, with imposing castles, mystical gardens, strange mansions and centuries-old monasteries hidden among the woodlands. The fog that sweeps in by night adds another layer of mystery, and cool evenings are best spent fireside in one of Sintra's many charming BandBs.

Porto

It would be hard to dream up a more romantic city than Portugal's second largest. Laced with narrow pedestrian laneways, Porto: is blessed with baroque churches, epic theatres and sprawling plazas. Its Ribeira district – a Unesco World Heritage Site – is a short walk across a landmark bridge from centuries-old port wineries in Vila Nova de Gaia, where you can sip the world's best port. Though some walls are crumbling, a sense of renewal – in the form of modern architecture, cosmopolitan restaurants, burgeoning nightlife and a vibrant arts scene – is palpable.

Historic Évora

The Queen of the Alentejo and one of Portugal's most beautifully preserved medieval towns, Évora: is an enchanting place to spend several days delving into the past. Inside the 14th-century walls, Évora's narrow, winding lanes lead to striking architectural works including an elaborate medieval cathedral and cloisters, Roman ruins and a picturesque town square. Its historic and aesthetic virtues aside, Évora is also a lively university town, and its many attractive restaurants serve up some excellent, hearty Alentejan cuisine.

Cabo de São Vicente

There's something thrilling about standing at Europe's most southwestern edge, a headland of barren cliffs: to which Portuguese sailors bid a nervous farewell as they sailed past, venturing into the unknown during Portugal's golden years of exploration. The windswept cape is redolent of history – if you squint hard (really hard), you will see the ghost of Vasco da Gama sailing past. These days, a fortress and lighthouse perch on the cape, and a museum beautifully highlights Portugal's maritime navigation history.

Sipping the Douro

The exquisite Alto Douro wine country: is the oldest demarcated wine region on earth. Its steeply terraced hills, stitched together with craggy vines that have produced luscious wines for centuries, loom either side of the Rio Douro. Whether you get here by driving the impossibly scenic back roads, or by train or boat from Porto, take the time to hike, cruise and taste. Countless vintners receive guests for tours, tastings and overnight stays, and if you find one that's still family-owned, you may sample something very old and special.

Fado

Born in a working-class Lisbon neighbourhood, the melancholic music of fado has been around for centuries. Despite its years, fado remains a living art, heard in tiny family-run restaurants, like A Baiuca:, and elegant music halls alike. A lone, powerful voice coupled with the 12-string Portuguese guitarra are all the tools needed to bring listeners to tears, as songs recall broken hearts, unfulfilled dreams and the lost days of youth. In fado, raw emotion often conveys more than mere lyrics can; even non-Portuguese speakers find themselves moved by great fadistas.

Ilha de Tavira

Ilha de Tavira: has the lot for sunseekers, beach bums, nature lovers (and naturists): kilometre after kilometre of golden beach (think sand, sand, sand, as far as the eye can see), a designated nudist area, transport via miniature train, busy restaurants and a campground. To top it off, it's part of the protected Parque Natural da Ria Formosa. Outside high season (July and August), the island feels wonderfully remote and empty, but be warned: during high season the hordes descend.

Parque Natural da Ria Formosa

This special spot: feels like the middle of the wilderness, yet it's right off the Algarvian coast. Enclosing a vast area of sapais (marshes), salinas (salt pans), creeks and dune islands, the protected lagoon system stretches for an incredible 60km and encompasses 18,000 hectares. It's a major hotspot for birdwatchers, as it's a key stopover on the migration between Europe and Africa. And it's all accessible from various towns – have a boat drop you at a deserted beach, or amble along the nature trail among the precious wetland birdlife.

Megaliths Around Évora

Spiritual, magical, historical, incredible – the many ancient megaliths: around Évora will make your hair stand on end. As a traveller, you will more often than not have these sites to yourself – and what better way to ponder the mysteries of places so ancient they cannot fully be explained? How did such massive rocks get hauled into place? Were they fertility symbols or proprietorial land boundaries? They beg questions, yet – refreshingly in a world of reasoning – provide few answers. Somehow, their appeal lies in not knowing.

Staying in a Pousada

Portugal has its share of boutique hotels and swanky beach resorts, but some of its most memorable lodging is found inside its lavish pousadas (upmarket inns). The settings are historic and jaw-dropping: clifftop mansions, 300-year-old castles and former monasteries – like the one in the Convento dos Lóios: – are among the 40 pousadas sprinkled across the country. Where else can you lodge in antique-filled rooms where dukes once slept, contemplating the age-old beauty of the landscape? Pulling aside curtains, you'll gaze upon rolling vineyards, boulder-strewn mountains or the glimmering coastline.

Alcobaça, Batalha and Tomar

These medieval Christian monuments – all Unesco World Heritage Sites – constitute one of Portugal's greatest national treasures. Each has its own magic: the whimsy of Manueline adornments and the haunting roofless shell of the unfinished Capelas Imperfeitas at Batalha's Mosteiro de Santa Maria da Vitória:; the great kitchen at Alcobaça's monastery, where a multistorey chimney and fish-stocked river once tended to the appetites of countless monks; and the labyrinthine courtyards and mysterious 16-sided chapel of the Knights Templar at Tomar's Convento de Cristo.

Parque Natural da Serra da Estrela

Portugal's highest mountains: blend rugged scenery, outdoor adventure and vanishing traditional ways. At Torre, the country's highest point (artificially pushed up to 2000m by the addition of a not-so-subtle stone monument!), you can slalom down Portugal's only ski slope. Hikers can choose from a network of high-country trails with stupendous vistas. Oh, and did we mention the furry sheepdog puppies that frolic by the roadside? You'll long to take one home. The region is also home to fascinating mountain villages that make good bases for outdoor adventures.

Villages of the Beiras

From schist-walled communities spilling down terraced hillsides to spiky-edged sentinels that once guarded the eastern border against Spanish incursions, the inland Beiras: are filled with picturesque and historical villages: Piódão, Trancoso, Sortelha, Monsanto, Idanha-a-Velha… Today mostly devoid of residents but not yet overwhelmed by mass tourism, they are some of the country's most peaceful and appealing destinations. String a few together into the perfect road trip – or, better yet, don your walking shoes and experience these ancient places at a medieval pace.

Festivals

There's always something to celebrate in Portugal. If you want Easter processions, head to Braga:. Romantics will love Lisbon's mid-June Festa de Santo António, with ubiquitous parties and locals plying sweethearts with poems and pots of aromatic basil. In August, catch Viana do Castelo's Romaria de Nossa Senhora d'Agonia, where gigantones (giants) parade down sawdust-painted streets alongside gold- and scarlet-clad women. And, in winter, young lads wear masks and colourful garb in Trás-os-Montes' villages during the pagan-derived Festa dos Rapazes.

Coimbra

Portugal's atmospheric college town, Coimbra: rises steeply from the Rio Mondego to a medieval quarter housing one of Europe's oldest universities. Students roam the narrow streets clad in black capes, while strolling fado musicians give free concerts beneath the Moorish town gate or under the stained-glass windows of Café Santa Cruz. Kids can keep busy at Portugal dos Pequenitos, a theme park with miniature versions of Portuguese monuments; grown-ups will appreciate the upper town's student-driven nightlife and the medieval lanes of the steeply stacked historic centre.

Óbidos

Wandering through the tangle of ancient streets and whitewashed houses of Óbidos: is enchanting at any time of year, but come during one of its festivals and you'll be in for a special treat. Whether attending a jousting match or climbing the castle walls at the medieval fair, searching for the next Pavarotti at the Festival de Ópera or delving into the written world at Folio – Portugal's newest international literature festival – you couldn't ask for a better backdrop.

Azulejos

Some of Portugal's most captivating works of art are out on the streets – free viewing for anyone who strolls past. A great legacy of the Moors, the azulejo (hand-painted tile) was adopted by the Portuguese and put to stunning use over the centuries. Exquisite displays cover Porto's train station and iconic churches, with larger-than-life stories painted on the ceramic surfaces. Lisbon has even more eye candy, with azulejo-adorned buildings all over town. The best place to start the hunt: Museu Nacional do Azulejo:, home to azulejos dating back 400 years.

Pastries

One of the great culinary wonders of Portugal, the cinnamon-dusted pastel de nata (custard tart), with its flaky crust and creamy centre, lurks irresistibly behind pastry counters across the country; the best are served piping hot in Belém:, and draw foodies from all across the globe. Of course, when it comes to dessert, Portugal is more than a one-hit wonder, with a dazzling array of regional sweets – from the jewel-like Algarve marzipan to Sintra's heavenly almond-and-egg travesseiros to Serpa's cheesecake-like queijadas.

Braga

Portugal's third-largest city enjoys terrific restaurants, a vibrant university and raucous festivals, but when it comes to historic sites it is unparalleled in Portugal. Here's the remarkable 12th-century cathedral, there's a 14th-century church. Braga: has not one but two sets of Roman ruins, countless 17th-century plazas and an 18th-century palace turned museum. Then there's that splendid baroque staircase: Escadaria do Bom Jesus do Monte, the target of penitent pilgrims who come to make offerings at altars on the way to the mountaintop throughout the year.

Barcelos Market

The Minho is famous for its sprawling outdoor markets, but the largest, oldest and most celebrated is the Feira de Barcelos:, held every Thursday in this ancient town on the banks of the Rio Cávado. Most outsiders come for the yellow-dotted louça de Barcelos ceramics and the gaudy figurines à la local potter Rosa Ramalho, while rural villagers are more interested in the clucking chickens, hand-embroidered linen, handwoven baskets and hand-carved ox yokes. There are fine bases to stay in the area, including a 16th-century convent surrounded by vineyards.

Parque Nacional da Peneda-Gerês

The vast, rugged wilderness of Portugal's northernmost park: is home to dramatic peaks, meandering streams and rolling hillsides covered with wildflowers. Its age-old stone villages seem lost in time and, in remote areas, wolves still roam. As always, the best way to feel nature's power is on foot along one of more than a dozen hiking trails. Some scale peaks, a few link to old Roman roads, others lead to castle ruins or waterfalls. After a long hike, you can recharge in refreshing swimming holes or steamy thermal springs.

Beaches of the Algarve

Sunseekers have much to celebrate when it comes to beaches. Along Portugal's south coast, the Algarve: is home to a wildly varied coastline. There are sandy islands reachable only by boat, dramatic cliff-backed shores, rugged rarely visited beaches and people-packed sands near buzzing nightlife. Days are spent playing in the waves, taking long oceanfront strolls and surfing memorable breaks. For endless days of sun and refreshing ocean temperatures, come in summer; but to escape the crowds, plan a low-season visit, when prices dive and crowds disperse.

Seafood

Always a seafaring culture, the Portuguese know a thing or two about cooking fish. Taste the culinary riches of Portugal's coast in dishes such as caldeirada de peixe (fish stew layered with tomatoes, potatoes and rice), açorda de camarãoes (a tasty stew of shrimp, garlic and coriander thickened with breadcrumbs) or cataplana (shellfish stewed with wine, garlic and tomatoes in a traditional domed copper pan). Algarve luminaries like A Eira do Mel: are memorable settings for enjoying a seafood feast.
DiscussPlaces
is a place to make new friends and share your passions and interests. Quench your thirst for knowledge, discuss places with other aficionados, and swap recommendations. Are you an aspiring foodie who dreams of living in New York? Or perhaps you are looking for the best chicken wings in Cincinnati? Then this is the place for you! Any one can join in with a passion or interest – whether it be talking about their favorite restaurant in Barcelona or raving about their latest trip to Italy. Join us!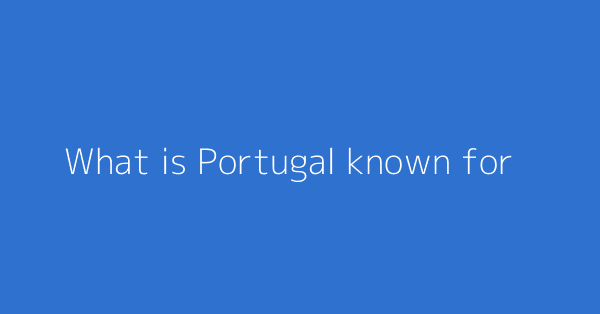 This page shows discussions around "What is Portugal known for?"
---
Because conversations are the one thing we all have in common. We provide a platform where those conversations can be had freely, widely, and openly.
We are focused on building a community where people from around the world can share their interests.
---