Here are some of the top rated cafes in Oranjestad

Bistro De Suikertuin (Wilhelminastraat 64, Oranjestad)
Aruba Experience Cafe Patisserie (John G Emanstraat 37, Oranjestad)
Alfies In Aruba (Dominicanessenstraat, Oranjestad)
Cafe the Plaza (Lloyd G. Smith Blvd 9, Oranjestad)
The West Deck (L.G. Smith Blvd., Oranjestad)
Cubas Cookin (Renaissance Marketplace, Oranjestad)
Eetcafe The Paddock (Lloyd G. Smith Blvd 13, Oranjestad)
Que Pasa Restaurant and Winebar (Wilhelminastraat 18, Oranjestad)
Arepados Bar Cafe (Avenida Milio Croes 38-B, Oranjestad)
Cafe and Restaurant Yanti (Wilhelminastraat # 105, Oranjestad)
One Happy Bowl | Healthy Food Experience Aruba (L.G. Smith Boulevard 9, Oranjestad)
Starbucks Coffe (L.G. Smith Boulevard 82, Oranjestad)
CocoPlum Restaurant (Caya G.F. Betico Croes # 100, Oranjestad)
Hung Paradise (L. G. Smith Boulevard 9, Oranjestad)
House of Cakes (Rozenstraat 9, Oranjestad)
Coffee House (De La Sallestraat 30-A, Oranjestad)
Yolo Cocktails and Tapas (J.E. Irausquin Blvd 384-A, Noord)
Casibari Music Cafe and Grill (Casibari Rock Formations, Paradera)
Alfresco Restaurant (L G. Smith Blvd 150, Oranjestad)
Ristorante Italiano Italy in the World (Oranjestraat 2, Oranjestad)
Sultan Restaurant and Cafe" (Caya Betico Croes 229, Oranjestad)
Reflexions Beach Bar and Restaurant (L.G. Smith Blvd 1-D, Oranjestad)
Opus Ocean and Grill (Havenstraat 36, Oranjestad)
5 OClock Somewhere Bar and Grill (L.G. Smith Boulevard 9, Oranjestad)
Restaurant Anno 1877 (Wilhelminastraat 27, Oranjestad)
The Wine Room (LG Smith Boulevard 126, Oranjestad)
Lima Bistro (Weststraat 2, Oranjestad)
What is discussplaces?
DiscussPlaces
is a place to make new friends and share your passions and interests. Quench your thirst for knowledge, discuss places with other aficionados, and swap recommendations. Are you an aspiring foodie who dreams of living in New York? Or perhaps you are looking for the best chicken wings in Cincinnati? Then this is the place for you! Any one can join in with a passion or interest – whether it be talking about their favorite restaurant in Barcelona or raving about their latest trip to Italy. Join us!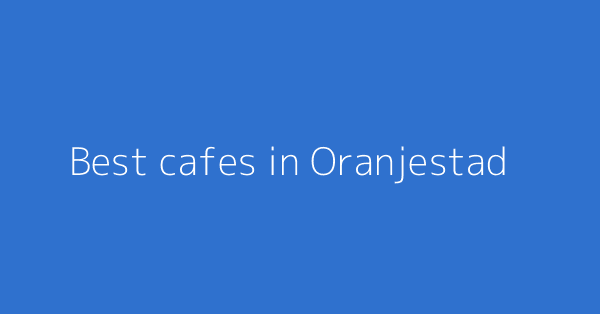 This page shows discussions around "Best cafes in Oranjestad"
---
We all have one thing in common: Conversations Discuss Places serves as a platform for discussions to take place freely, extensively, and openly about anything you like. We're focusing on creating a community where people from all around the world can share their passions.
---