What is Bahrain known for?
heavybutterfly196 Discussion Fanatics

last edited by




Bahrain

Bahrain, small Arab state situated in a bay on the southwestern coast of the Persian Gulf.
It is an archipelago consisting of Bahrain Island and some 30 smaller islands.
Its name is from the Arabic term al-baḥrayn, meaning "two seas.
".

Bahrain has so much to offer, here are some of the things Bahrain is known for.

Manama Souq: Exploring the narrow streets and alleyways that possess all the energy and nostalgia of an ancient souq.
Pearl Diving Tours: Plunging into the azure waters like a seasoned pearl diver and seeking your fortune.
Haji's Cafe 1950: Putting your feet up and enjoying street food with a 70-year vintage.
Bahrain National Museum: Immersing yourself in this museum to understand Bahrain, past and present.
Bahrain National Theatre: Enjoying world-class performing arts in a world-class building.
Bahrain Fort: Admiring the 16th-century battlements atop the ancient Dilmun capital.
Formula 1 Racetrack: Sampling life in the fast lane at Bahrain's annual glamour gig.
Al Areen Wildlife Park and Reserve: Meeting Bahrain's desert inhabitants in the country's national park.
Dar Al Naft Oil Museum: Seeing where Bahrain – and the entire region – first struck black gold.
What is discussplaces?
DiscussPlaces
is a place to make new friends and share your passions and interests. Quench your thirst for knowledge, discuss places with other aficionados, and swap recommendations. Are you an aspiring foodie who dreams of living in New York? Or perhaps you are looking for the best chicken wings in Cincinnati? Then this is the place for you! Any one can join in with a passion or interest – whether it be talking about their favorite restaurant in Barcelona or raving about their latest trip to Italy. Join us!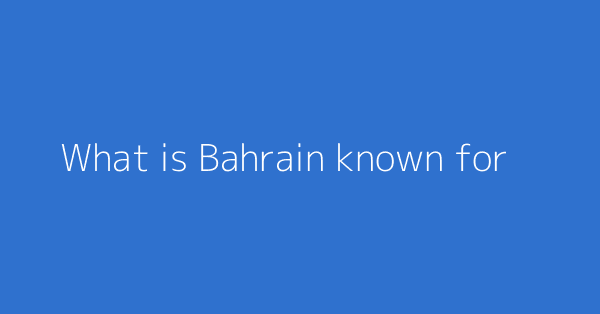 This page shows discussions around "What is Bahrain known for?"
Whether the information provided was useful?
---