What is Nicaragua known for?
organicbird383

last edited by




Nicaragua has so much to offer, here are some of the things Nicaragua is known for.

Granada

Granada: is a town of immense and palpable magnetism. At the heart of the city's charms are the picture-perfect cobblestone streets, polychromatic colonial homes and churches, and a lilting air that brings the city's spirited past into present-day focus. Most trips here begin and end on foot, and simply dawdling from gallery to restaurant to colonial church can take up the better part of a day. From there, it's off to explore the myriad wild areas, islands, volcanoes and artisan villages nearby.

Little Corn Island

With no cars and no noise, just white-sand beaches and secluded coves mixing with the crystal-clear Caribbean, Little Corn Island: is the paramount place to take a break from the big city. There is plenty to keep you occupied during the day, including diving with hammerhead sharks or through underground caves, kitesurfing the stiff breeze or scrambling over jungle-covered headlands, and there's just enough to do at night. Add some great food to the mix and it's no surprise that many find it so hard to leave.

León

A royal city with revolutionary undercurrents, León: both enchants and baffles the legions of backpackers and adventure seekers who gravitate here. Within the city, you'll find an artsy, slightly edgy vibe originally fueled by the Sandinista revolution and now by the university and a 120-horsepower party scene. Come sunrise, you can spend a good day exploring the cathedral, museums and downtown area, before heading further afield to honey-blonde beaches, volcanoes, brokeback cowboy towns and open-faced experiences with some of the friendliest people you'll find anywhere on earth, period.

Isla de Ometepe

Lago de Nicaragua's beloved centerpiece, Isla de Ometepe: has it all. Twin volcanoes, lush hillsides cut by walking tracks, archaeological remains, ziplines, monkeys and birdlife, waterfalls, lapping waves at your doorstep, and a laid-back island air that keeps travelers in the now as they step, kayak, bike and climb their way through this once-lost paradise. At the heart of the island's charms are the cool hostels, camping areas and peaceful traveler scenes. From high-end luxury lodges to groovy-groupie hippie huts, Ometepe is big enough for all kinds.

Pearl Keys

As you approach the dozen tiny islands ringed by snow-white sand and brilliant Caribbean waters that make up the Pearl Keys:, you will enter the realms of the ultimate shipwreck fantasy. Fortunately, you'll be marooned with a capable Creole guide who will cook a spectacular seafood meal and source ice-cold beers from a mysterious supply, leaving you heaps of time to swim, snorkel, spot sea turtles, or just lie back in your hammock and take in the idyllic panoramic views.

Río San Juan

Once favored by both pirates and prospectors as a sure path to riches, today the Río San Juan: is exalted by nature lovers. All along the river, scores of birds nest on branches overhanging its slow surging waters while its lower reaches are dominated by the Reserva Biológica Indio-Maíz, an impenetrable jungle that shelters jaguars and troupes of noisy monkeys. The only human-made attraction along the river's entire length is the grand Spanish fort over the rapids at El Castillo.

Coffee Country

A visit to Nicaragua's coffee zone is about more than just sipping plenty of joe, it's about getting out and seeing where it all comes from. Hike among the bushes shaded by ethereal cloud forest around Jinotega: and pick ripe cherries alongside your hosts in a community farming cooperative near Matagalpa. And why stop there when you can follow the beans to the roasting plant and then learn to identify flavors in a cupping session. After this, you'll savor your morning cup in a whole new way.

Surfing Near San Juan del Sur

Nicaragua sparked into international stardom on the wake of tanned-and-toned surfer dudes and dudettes. And the surfing scene north and south of regional hub San Juan del Sur: remains cool, reefed-out, soulful and downright brilliant. The stars of the scene are the long rideable waves that fit the bill for surfers of all abilities, but the relaxed surf camps, beach parties and cool breezes add to the vibe, ensuring a great beach vacation for everybody in your crew (even the boogie boarders).

Volcán Masaya and Laguna de Apoyo

Hovering above the artisan villages of Nicaragua's Central Plateau, the smoldering Volcán Masaya: and its surrounding national park are a singular highlight not to be missed. This is one of the region's most active volcanoes, and it's pretty exciting just to see the sulfurous columns of gas billow toward the sky as you relish the million-dollar views. Come here to gaze into the maw of hell at night, when lava bubbles restlessly in the crater. Nearby, cool off with a dip in gorgeous Laguna de Apoyo, an extinct crater lake.

Turtles at La Flor

Head to Nicaragua's southern Pacific coast between July and January to witness sea turtles by the thousands come to shore to lay their eggs at Refugio de Vida Silvestre La Flor:. There's a decent beach here, as well, but the highlight is a night tour (generally from nearby San Juan del Sur), where, if you're lucky, you'll see a leatherback or olive ridley mama come to shore to lay her eggs at the end of one of nature's most inspiring and remarkable journeys.

Islas Solentiname

The Islas Solentiname: are straight out of a fairy tale. You simply must visit in order to experience the magic of this remote jungle-covered archipelago where a community of exceptionally talented artists live and work among the wild animals that are their inspiration. It's a place where an enlightened priest inspired a village to construct a handsome church alive with the sounds of nature, and shooting stars illuminate the speckled night sky. Even after having been there, you will still find it hard to believe it's real.

Volcano Boarding on Cerro Negro

What goes up must come down. But why walk when you can strap on a custom-built volcano board and rip-roar your way down a slope of fine volcanic ash? That's the genesis of volcano surfing. And one of the best spots on the planet to dig this new adrenaline sport is atop 700-plus-meter Volcán Cerro Negro in northwestern Nicaragua's Reserva Natural Pilas-El Hoyo. Tour operators in León: will even provide you with cool jumpsuits before you begin your dusty-bottomed descent.

Wildlife-Watching

From the colorful parakeets flying over busy Managua to ubiquitous iguanas scratching across your hotel roof, exotic wildlife is everywhere in Nicaragua. Dedicate some energy to the pursuit and you'll discover some truly phenomenal natural spectacles. Head into the rugged rainforest-covered mountains of the Bosawás: to spot three types of monkeys, toucans and tapirs, while reptile fans will not want to miss getting close to the alligators of Los Guatuzos. Wherever you go, keep your binoculars handy – a wild encounter is never far away.

The Remote Beaches of Popoyo

It's a bumpy ride from Rivas to the remote beaches of Popoyo:, famous for their surf breaks. The reward: huge, hollow breaks, laid-back surf lodges, sandy shores strewn with vibrant pink shells, looming rock formations and miles of empty shoreline where you can walk for an hour without seeing another person. While new surf lodges and guesthouses have popped up in recent years, the village communities are down-to-earth and friendly and these beaches still feel wild. Bring your board, or a good book.

Reserva Natural Estero Padre Ramos

The Reserva Natural Estero Padre Ramos: is a vast nature reserve located in the far northwestern corner of Nicaragua. The largest remaining mangrove forest in Central America, the reserve is home to ocelots, alligators and a universe worth of birds that call the forest home. While this is a wild corner of Nicaragua, boats and kayaks will get you into the spider-webbing mangrove forest, to the beaches where sea turtles lay their eggs and good surf dominates, and into local communities.
DiscussPlaces
is a place to make new friends and share your passions and interests. Quench your thirst for knowledge, discuss places with other aficionados, and swap recommendations. Are you an aspiring foodie who dreams of living in New York? Or perhaps you are looking for the best chicken wings in Cincinnati? Then this is the place for you! Any one can join in with a passion or interest – whether it be talking about their favorite restaurant in Barcelona or raving about their latest trip to Italy. Join us!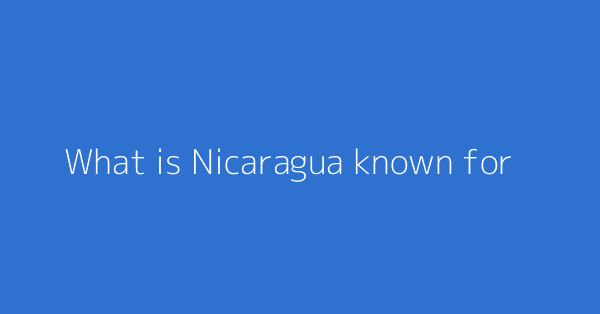 This page shows discussions around "What is Nicaragua known for?"