What is Zimbabwe known for?



Zimbabwe

Zimbabwe, officially Republic of Zimbabwe, formerly (1911–64) Southern Rhodesia, (1964–79) Rhodesia, or (1979–80) Zimbabwe Rhodesia, landlocked country of southern Africa.
It shares a 125-mile (200-kilometre) border on the south with the Republic of South Africa and is bounded on the southwest and west by Botswana, on the north by Zambia, and on the northeast and east by Mozambique.
The capital is Harare (formerly called Salisbury).
Zimbabwe achieved majority rule and internationally recognized independence in April 1980 following a long period of colonial rule and a 15-year period of white-dominated minority rule, instituted after the minority regime's so-called Unilateral Declaration of Independence (UDI) in 1965.

Zimbabwe has so much to offer, here are some of the things Zimbabwe is known for.

Victoria Falls: Being floored by the sheer power and force of these World Heritage–listed waterfalls.
Great Zimbabwe: Taking the spiritual pulse of Zimbabwe at these atmospheric, 11th-century stone ruins.
Mana Pools National Park: Walking through Africa's only park that allows unguided safaris among big cats and elephants.
Harare: Unwinding in calm garden restaurants within converted colonial homes.
Eastern Highlands: Breathing in lush pine forests, cool climates, mountain air and English gardens.
Hwange: Feeling humbled at Zim's largest national park, home to Africa's biggest elephant population.
Matobo National Park: Tracking rhinos, seeing ancient rock art and superb scenery.
Bulawayo: Soaking up the superb architecture, art galleries and history.
DiscussPlaces
is a place to make new friends and share your passions and interests. Quench your thirst for knowledge, discuss places with other aficionados, and swap recommendations. Are you an aspiring foodie who dreams of living in New York? Or perhaps you are looking for the best chicken wings in Cincinnati? Then this is the place for you! Any one can join in with a passion or interest – whether it be talking about their favorite restaurant in Barcelona or raving about their latest trip to Italy. Join us!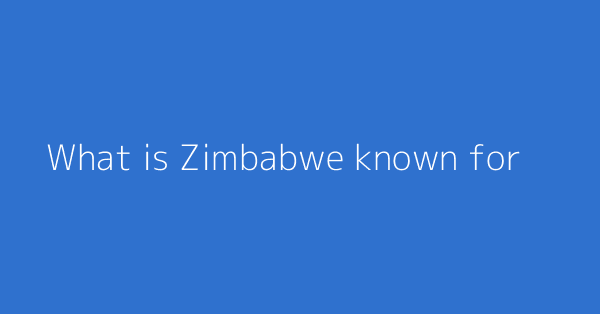 This page shows discussions around "What is Zimbabwe known for?"