What is Cyprus known for?
heavybutterfly196

last edited by




Cyprus

Cyprus, Greek Kípros, Turkish Kıbrıs, an island in the eastern Mediterranean Sea renowned since ancient times for its mineral wealth, superb wines and produce, and natural beauty.

Cyprus has so much to offer, here are some of the things Cyprus is known for.

Troödos Byzantine Churches

From the outside, the rural churches of the Troödos appear insignificant, but don't be fooled – that's just a front for the spectacular frippery inside. From the 11th to the 16th centuries, skilled artisans went to town in isolated hill chapels such as Panagia Forviotissa: creating some of the most vivid fresco finery of the late-Byzantine and post-Byzantine periods, as a wave of artistic vision rippled through these secluded hills. Today, 10 of these churches appear on the Unesco World Heritage Site list, truly crowning Cyprus as the 'island of the saints'.

St Hilarion Castle

Local lore says St Hilarion: was created by a fairy queen who spent her spare time seducing unwitting shepherds. With its crumbled walls snaking up the craggy cliff, peppered with half-ruined towers, it does indeed look like the castle you conjure in your imagination. Keeping a watchful eye over the Mediterranean for centuries, it was built by the Byzantines with sprinkles of Gothic pomp applied by the later Lusignans. Puff your way up precipitous staircases right to the top for sweeping views across the sea to the Anatolian coast.

Kyrenia's Old Harbour

Backdropped by jagged mountains and overlooked by a golden-stoned castle, Kyrenia's Old Harbour: evokes an aura of bygone Cyprus. Where merchant ships once fought for space, an armada of bobbing gülets (traditional wooden ships with raised bows) now moor, ushering on packs of day-trippers. Hugging the waterfront, tall stone-cut buildings which once stored raw carob have been reinvented as cafes and restaurants. On a blue-sky day, with sunlight sparkling on the mirror-calm water, it may just be the most photogenic spot on the island.

Meze

Loosen your belt buckle. Grab a few friends. This small-plates feast, made to be shared, is a taste-bud tour of the island's culinary heritage. Sweep up familiar favourites of hummus, tzatziki and taramasalata with bread, and savour seasonal vegetables doused in lashings of garlic, lemon and olive oil. Then get ready for the parade of meat or fish dishes waiting in the wings. It adds up to a lot of food, so siga, siga (slowly, slowly) does it. Sample meze at its best at long-time favourite Zanettos Taverna: in Nicosia.

Lara Beach

The Akamas Peninsula is an area largely unburdened by development and access to Lara Beach: is via a rough road, backed by desertlike scrubland, tinged with dark ochre and studded with gorse, bushy pines and seasonal wildflowers. This beach is widely considered to be the Republic's most spectacular and thankfully remains relatively untouched by tourism. Cupped by limestone rocks, the sand is soft and powdery and the sea is warm and calm. It's a magical place at sunset. Tread carefully though – this is prime turtle-hatching ground.

Karpas Peninsula

With its spine of cliffs tapering out to fields filled with wildflowers and rare orchids edged by beaches where loggerhead turtles nest, the Karpas: is Cyprus at its most rural, wild and woolly. Just a handful of villages are scattered across the skinny peninsula, which stretches up the island's most easterly point where the Monastery of Apostolos Andreas faces the sea. Hike the trails here, laze on the vast stretch of dune-rimmed sand of Golden Beach or simply take time out from modern life.

Shipwreck Diving

Thanks to silted-up ancient ruins, old shallow ports and plain old dodgy navigating, the waters surrounding the Cypriot coastline are a wreck-diving dream. The battered husks of sunken ships which never made it to port are now patrolled by shoals of flitting fish and the occasional octopus acting as crew. Larnaka Bay's Zenobia:, which capsized in 1980, is rated as one of the world's top-five wreck dives. Exploring its innards, complete with cargo decks of trucks, is one of the island's eeriest adventures.

Ancient Salamis

The once-proud beacon of Hellenic civilisation and culture on the island, Ancient Salamis: was the most famous and grandiose of the ancient city-kingdoms. Today the vast site, set beside the sea, is scattered with the debris of all who set their sights on Cyprus; through Mycenaean Greek settlers up to Byzantine rule. Roam the trails which branch out from the grand columned gymnasium to explore Roman villas, mosaic-floor scraps, Byzantine basilicas and a vast reservoir and ponder the passing of empire.

Hiking in the Troödos

The Troödos Mountains: offer an expanse of flora, fauna and geology across a range of pine forests, waterfalls, rocky crags and babbling brooks. The massif and summit of Mt Olympus, at an altitude of 1952m, provide spectacular views of the southern coastline and the cool, fresh air is a welcome respite from summer heat. Ramblers, campers, flower-spotters and birdwatchers alike will be absorbed by the ridges, peaks and valleys that make up the lushest and most diverse hiking and nature trails on the island.

Ancient Kourion

Founded in neolithic times and gloriously perched on a hillside overlooking the sea, Ancient Kourion: flourished under the Mycenaeans, Ptolemies, Romans and, later, the Christians. This is the most spectacular of the South's archaeological sites, including some well-preserved mosaics, an early-Christian basilica and a theatre with sweeping views down to the shore that still hosts opera under the stars. After exploring the site, take a dip in the sea at nearby Kourion Beach, where you can find ruins of a port basilica dating from around the 6th century.

Cape Greco

Southeast of Agia Napa, the beach-party music fades away and trails lead out along the rocky limestone headland of Cape Greco National Park:. Kayaking around the cape gets you up-close-and-personal with dramatic cliff faces, whittled away by wind and sea, while the coastal walks and cycling tracks, rimmed with wild thyme and low-lying scrub, lead to church ruins, sea caves, beaches and natural rock formations. To cool off afterwards, head down to Konnos Beach, the prettiest strip of white sand in the area.

Pafos Archaeological Site

One of the island's most mesmerising archaeological sites: is in the southerly resort of Pafos. A vast, sprawling site, the ancient city dates to the late 4th century BC and what you can see today is believed to be only a modest part of what remains to be excavated. The major highlight of the ruins are the intricate and colourful Roman floor mosaics at the heart of the original complex, first unearthed by a farmer ploughing his field in 1962.

Famagusta

Enclosed within the mammoth bulk of its Venetian walls, Famagusta's Old Town: is a ghost of its once grand and gilded past. Wind your way down narrow rickety alleyways roamed by rowdy chickens to find shells of churches, with still-standing walls holding on to scraps of faded frescos. Rising above the dilapidated remnants is the swaggering Gothic spectacle of the Lala Mustafa Paşa Camii (originally St Nicholas Cathedral), standing like a lonely sentinel to the lavish excess of the Lusignan era.

North Nicosia's Old City

Crossing the Green Line from Nicosia into North Nicosia (Lefkoşa):, the Turkish Cypriot side of the capital, is an extraordinary experience. Leave the smart shops of the Republic's Ledra St behind and enter the altogether more ramshackle world of Arasta Sokak, lined with scruffy bazaar stalls. Within the muddle of alleys here lies some of the city's best-preserved architecture, including the soaring Gothic Selimiye and Haydarpaşa Mosques (originally St Sophia and St Catherine Cathedrals) and the trade-caravan remnants of the Büyük Han.

Wine Villages Around Omodos

The far-reaching vineyards of the krasohoria (wine villages) dominate the surrounding slopes of Omodos:. Navigating this region, where every house was once said to have its own winemaking tools, is an adventure that requires discipline and good use of the spittoon. Boutique wineries now number over 50 here, spread across six or seven traditional villages, with a vast array of wines and grapes for the connoisseur's choice. The most famous indigenous varieties derive from the mavro (dark-red grape) and xynisteri (white grape) vines, along with another 10 varieties.

Windsurfing

With this much coastline, and every kind of wind and wave condition a water-sports junkie could want, it's no surprise that Cyprus has become a top windsurfing spot. For total beginners Pissouri Bay:, with its calm, sheltered waters, is one of the best places on the island to learn the ropes. Once you've conquered wind-god Aeolus' lighter blows though, the high wind conditions off Lady's Mile Beach make it the local in-the-know place for serious flat-water-blasting fun.

Petra tou Romiou

Also known as Aphrodite's Rock and Beach:, this is where myth says the goddess of love emerged from the sea before setting off on her bed-hopping romps. Unsurprisingly, the romantic connections and cliff-fringed coastal view make it possibly Cyprus' most famous photo stop, particularly at sunset. Take the time to stroll along the pretty pebble beach, lapped by delightfully cool water and loomed over by its striking sea stack, to admire Aphrodite's dramatic choice of an entrance up close.

Neolithic Site of Choirokoitia

Unesco World Heritage Site Choirokoitia: is one of the most important and best-preserved prehistoric settlements in the Mediterranean. It dates to around 7000 BC and offers an incredible insight into the lives and living conditions of some of the first Cypriots. Visitors can wander the ruins of the cylindrical flat-roofed huts, which sit on a protected hillside within the boundaries of an ancient wall. Using original methods, archaeologists have helped construct five replica huts on-site, which further enliven the experience.

Cyprus Wine Museum

A winery tour is an increasingly attractive proposition for tourists here, as Cypriot winemaking continues to improve and expand. A trip to the wine museum: in Lemesos is a good way for novices to be introduced to the history, methods and, most importantly, the taste of leading local wines. The tour includes several options, mainly depending on how much tasting you want to do. There's also a short film and a museum that explains how the island's wine trade has developed over time. Cheers!

Nicosia's Hammam Baths

The Hamam Omerye: Turkish baths stand in the centre of Nicosia's old city and offer a soothing respite from city strolling and sightseeing. Dating from the 16th century, the baths sport a luxurious, stylish design: all glossy marble, subtle scents and flickering candles. Omerye offers a choice of massage, body scrubs and hot-stone treatments as well as traditional steam and scrub packages. There is a small tetería (tea shop) where you can relax while sipping aromatic teas after your bathing experience has finished.

yellowduck703

last edited by




Here are a few popular Greek dishes. Please share your favorites as a reply.

Frappé (Coffee (Beverage))
Revani (Dessert)
Spanakopita (Savory Pastry)
Kasseri (Cheese)
Tzatziki (Dip)
Greek Salad (Salad)
Souvlaki (Meat Dish)
Moussaka (Casserole)
Gyros (Meat Dish)
Feta (Cheese)
DiscussPlaces
is a place to make new friends and share your passions and interests. Quench your thirst for knowledge, discuss places with other aficionados, and swap recommendations. Are you an aspiring foodie who dreams of living in New York? Or perhaps you are looking for the best chicken wings in Cincinnati? Then this is the place for you! Any one can join in with a passion or interest – whether it be talking about their favorite restaurant in Barcelona or raving about their latest trip to Italy. Join us!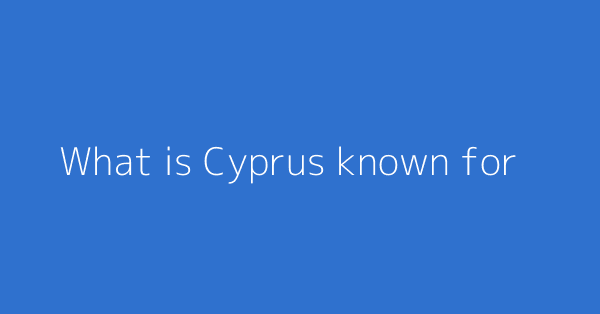 This page shows discussions around "What is Cyprus known for?"