goldenfish468

last edited by




Libya

Libya, country located in North Africa.
Most of the country lies in the Sahara desert, and much of its population is concentrated along the coast and its immediate hinterland, where Tripoli (Ṭarābulus), the de facto capital, and Banghāzī (Benghazi), another major city, are located.

Libya has so much to offer, here are some of the things Libya is known for.

Leptis Magna One of the world's best-preserved Roman cities looks out across the Mediterranean.
Tripoli An atmospheric whitewashed medina and a world-class museum.
Ghadames The Sahara's most enchanting oasis town with a labyrinth of covered passageways shadowed by palm gardens.
Cyrene This extraordinary ancient city has some of North Africa's finest monuments to Ancient Greece.
Jebel Acacus A jagged Saharan massif with 12,000-year-old rock art, Tuareg inhabitants and extraordinary scenery.
Ubari Lakes Idyllic lakes surrounded by exquisite sand dunes in one of the world's largest and most beautiful sand seas.
Waw al Namus A black-sand volcano sheltering multicoloured lakes and otherworldly scenery.
DiscussPlaces
is a place to make new friends and share your passions and interests. Quench your thirst for knowledge, discuss places with other aficionados, and swap recommendations. Are you an aspiring foodie who dreams of living in New York? Or perhaps you are looking for the best chicken wings in Cincinnati? Then this is the place for you! Any one can join in with a passion or interest – whether it be talking about their favorite restaurant in Barcelona or raving about their latest trip to Italy. Join us!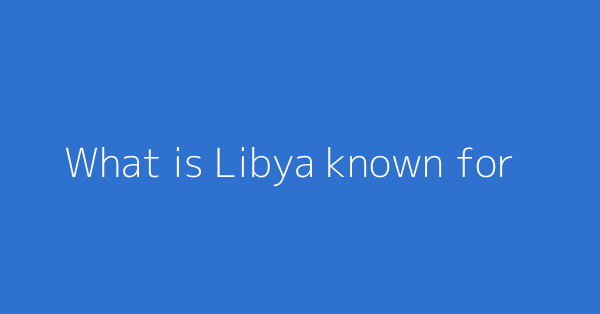 This page shows discussions around "What is Libya known for?"