What is Mauritius known for?
angrytiger116

last edited by




Mauritius

Mauritius, island country in the Indian Ocean, located off the eastern coast of Africa.
Physiographically, it is part of the Mascarene Islands.
The capital is Port Louis.

Mauritius has so much to offer, here are some of the things Mauritius is known for.

Diving for Wildlife Treasures

Some of the Indian Ocean's best dives are found off the west coast of Mauritius:. The architecture of the underwater rock formations and the substantial schools of fish make the waters off Flic en Flac in particular a world-class dive destination and there are numerous dive schools on hand to take you out, regardless of your level of experience. The best sites are the walls and drop-offs on the edge of the turquoise lagoon, and La Cathédrale, near Flic en Flac, is simply marvellous.

Rodrigues

Marooned out in the Indian Ocean, Creole Rodrigues: is the sort of place where life moves to a different beat. There's so much to do here – Port Mathurin's busy Saturday market, a boat trip out to Île aux Cocos, the coastal walk from Graviers to St François past some of the loveliest beaches we know, snorkelling off the south coast, diving La Passe St François – but come first and foremost to leave the world and its noise behind.

Black River Gorges National Park

One of Mauritius' most underrated attractions, Black River Gorges National Park: also happens to have the island's most beautiful scenery. Well-maintained and clearly signposted hiking trails weave among forested hills, vertiginous waterfalls and deep gorges where you might see some of the island's signature bird species, while the distinctive white-tailed tropicbird and endangered Mauritian kestrel can sometimes be seen circling high above it all. Even if you don't hike, a good road leads through the park to some of its prettier viewpoints.

Chamarel

High in the hills that rise dramatically from the west coast, the mountain village of Chamarel: is quietly gathering a reputation as one of Mauritius' best places to eat. Lining the road through town, and appearing along the steep climb towards Black River Gorges National Park, are all manner of restaurants, from informal family-run places to fine-dining establishments hidden from the outside world. Other attractions include a fascinating rum distillery, the famous Terres de 7 Couleurs (coloured earths) and a quirky museum that will play with your sense of perspective.

Île aux Aigrettes

Lying offshore from the dramatically beautiful southeastern coast, Île aux Aigrettes: is one place where time has moved in reverse. With an ancient ebony forest and extensive programs to restore to the island wildlife species that were, in the not-too-distant past, in danger of extinction on the mainland, the nature reserve can feel like a return to the pre-contact time before Dutch sailors arrived in 1598. ## Mauritius has so much to offer, here are some of the things Mauritius is known for. include the rather lovely pink pigeon, the vivid Mauritian fody and free-ranging wild tortoises.

Beautiful Beaches

It's a Mauritian rule of thumb that if you find a cluster of luxury resorts, you've found a beautiful beach. Mauritius' east coast: proves the theory, with long, stirringly pretty and often deserted beaches. Our picks are those around Pointe Lafayette, a place sufficiently isolated from the clamour elsewhere on the island to feel like an undiscovered outpost of tropical perfection. The resorts are here, of course, but they're mere blips along this superb and otherwise undisturbed corner of the earth.

Hindu and Creole Festivals

Hindu festivals are a wonderful way to liven up your visit to Mauritius and catch a glimpse of the island's fascinating cultural mosaic. The biggest festival of all, in February or March, is the 500,000-strong Hindu pilgrimage to the sacred lake of Grand Bassin:. March is also the month of colourful Holi festivities, October means Divali, and Teemeedee in December or January is all about fire-walking wherever Hindus are found. For celebrations of Creole culture, December is particularly exuberant in Rodrigues.

Chambres and Tables d'Hôtes

Whether along Mauritius' west coast or in the quiet highlands of Rodrigues, staying in a chambre d'hôte: is a wonderful way to learn about local life. Rooms in these family-run guesthouses are often simple, but the warmth and personal nature of the welcome you'll receive and the nightly table d'hôte, where the guests and hosts gather together for a traditional meal, make for the kind of experience you'll remember long after the luxury resorts have faded in your memory.

Sir Seewoosagur Ramgoolam Botanical Gardens

The botanical gardens at Pamplemousses: can feel as if all the fecundity of this tropical Indian Ocean paradise has been gathered in one place. Weird and wonderful plant species – some exceptionally rare; others, like the giant Victoria amazonica water lilies, utterly improbable – share the expansive grounds with enclosures of giant tortoises as well as abundant birdlife. Having sated your inner botanist, round off a fabulous day trip with a visit to world-class sugar museum L'Aventure du Sucre and the stately colonial architecture of nearby Château Labourdonnais.

Eureka Plantation Mansion

There are no better excursions to the island's Central Plateau than a trip to Eureka:, arguably the finest plantation mansion left on Mauritius. Situated in the cooler climes of Moka, the estate seems to have captured in bricks and mortar all the languid charm of island living and the sedate elegance of the island's French colonial architecture. If you're really taken with the place, you could enjoy a meal at the equally lovely restaurant and then stay the night in the chambre d'hôte (guesthouse).

Whales and Dolphins

Watching pods of spinner or bottlenose dolphins: frolic in the waters off Tamarin can be one of the highlights of your visit to Mauritius. (Be sure to choose your operator carefully to avoid disturbing these gentle creatures.) Less fraught are the expeditions that take you out beyond the lagoon to scan the open ocean for whales. Combine it all with a spot of shallow-water snorkelling back in the lagoon and you'll have had a day that you'll remember for a lifetime.

Catamaran Cruises

Boat excursions anywhere along the coast are an increasingly popular way to explore Mauritius' marine environment and the beautiful islands that lie just offshore. There are many candidates for such excursions, among them Île aux Cerfs and Île aux Deux Cocos off the east coast, and Île aux Bénitiers off the west. But the trips that head north from Grand Baie to Coin de Mire, Île Plate and Îlot Gabriel: are something special. Snorkel the lagoon between the islands, watch for wildlife and take in the extraordinary scenery.

Rodrigues Coastal Walk

There are few finer trails in the Indian Ocean than the coastal path: on east-coast Rodrigues between Graviers and St François. There are no roads in this corner of the island, and you'll find yourself wanting to linger at Trou d'Argent, one of the prettiest beaches anywhere in Mauritius. At the end of the trail (or the beginning, depending on where you start), St François has some fine informal restaurants, such as the fabulously fishy and breezy Chez Robert et Solange for lunch, and the tranquil St François beach.

Seafood by the Beach

The day's catch fresh to your table, with your toes buried in the sand. It's not just a dream but a very real possibility on Mauritius. Lobster, octopus, grilled fish, calamari – they're all staples of the Indian Ocean table. If you can't decide, all are regular inhabitants of your standard seafood platter; try Cabanne de la Prise du Pêcheur: in Trou aux Biches. Best of all, the rich stew of sauces and cultural influences adds flavour, from Indian curries to red Creole sauces.

Level 2 ## Mauritius has so much to offer, here are some of the things Mauritius is known for.

Black River Gorges National Park: Hiking through forested gorges and past waterfalls.
Chamarel: Pausing for lunch and rum in this foodie and mountain village.
Île aux Aigrettes: Discovering how Mauritius once looked on this beautiful island.
Flic en Flac: Diving and snorkelling epic underwater sites.
Pamplemousses: Exploring a botanical garden, a sugar museum and a fine colonial relic.
Tamarin and Black River: Searching for whales and dolphins.
Eureka: Enjoying the best in colonial plantation architecture.
Blue Bay: Snorkelling off fantastic beaches.
East Coast Beaches: Finding your perfect patch of sand.
Le Morne: Climbing this soulful mountain for extraordinary views.
DiscussPlaces
is a place to make new friends and share your passions and interests. Quench your thirst for knowledge, discuss places with other aficionados, and swap recommendations. Are you an aspiring foodie who dreams of living in New York? Or perhaps you are looking for the best chicken wings in Cincinnati? Then this is the place for you! Any one can join in with a passion or interest – whether it be talking about their favorite restaurant in Barcelona or raving about their latest trip to Italy. Join us!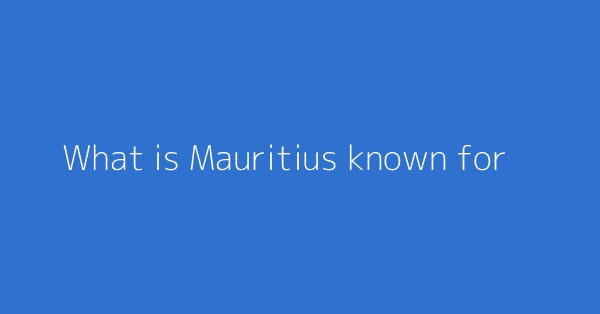 This page shows discussions around "What is Mauritius known for?"