Australia is located in Oceania.

Australia is both a country and a continent. The GPS coordinates of Australia are comprised of a latitude of 25.2744° S and a longitude of 133.7751° E. The combination of these two coordinates mean that Australia is located in the southern hemisphere as well as the eastern hemisphere. As part of the southern hemisphere, Australia is situated beneath the equator and in the Indian Ocean.

There are two points of extremity in northern Australia. On the country's mainland, the most northern point is situated at a latitude of 10°41' S. This location is part of the placing this point in the southern hemisphere. Offshore, Australia's northernmost point has a latitude of 09°16' S. As part of the Australian state of Queensland, this northernmost point is located on the island of Moimi, which is part of a group of islands called the Torres Strait Islands.

The southernmost point of Australia is similar to the northernmost point of the country in that there are multiple very southern points of extremity. The three most extreme points of southern Australia are…

The South Point of Australia's mainland with a latitude of 39°08' S The Bishop and Clerk Islets with a latitude of 55°03' S South East Cape of Tasmania with a latitude of 43°38' S

The westernmost point of Australia's mainland extends to a latitude of 113°38' E. This coordinate points to an area called Steep Point. The Heart Island and McDonald Islands archipelago is home to the most extreme point of offshore Australia in the west. The longitudinal coordinate of this point is 72°35' E and it falls on the island of McDonald.

In the east, Australia reaches a longitudinal extremity at two points. On the country's mainland, Australia's easternmost point is situated at a longitude of 153°38' E. This point is part of Cape Byron. The most extreme point among Australia's offshore islands is located at a longitude of 167°57' E. This point is positioned on Australia's Norfolk Island.

The total area of the country is approximately 29,679,095 square miles. About 2,941,299 square miles are made up of land and the other 26,610 square miles are comprised of water regions. Australia's population size is currently around 24,942,488 people. As such, Australia's population accounts for only 0.33% of the entire population of the world.
DiscussPlaces
is a place to make new friends and share your passions and interests. Quench your thirst for knowledge, discuss places with other aficionados, and swap recommendations. Are you an aspiring foodie who dreams of living in New York? Or perhaps you are looking for the best chicken wings in Cincinnati? Then this is the place for you! Any one can join in with a passion or interest – whether it be talking about their favorite restaurant in Barcelona or raving about their latest trip to Italy. Join us!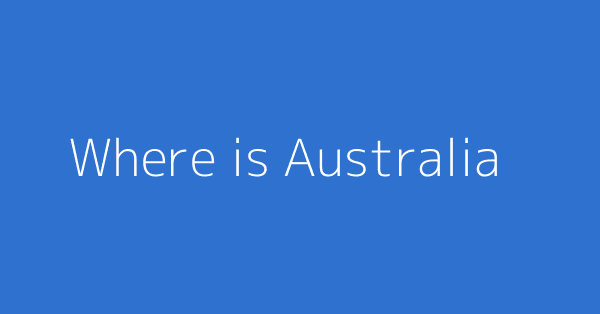 This page shows discussions around "Where is Australia?"