purplewolf566 Discussion Fanatics

last edited by




Kenya

Kenya, country in East Africa famed for its scenic landscapes and vast wildlife preserves.
Its Indian Ocean coast provided historically important ports by which goods from Arabian and Asian traders have entered the continent for many centuries.
Along that coast, which holds some of the finest beaches in Africa, are predominantly Muslim Swahili cities such as Mombasa, a historic centre that has contributed much to the musical and culinary heritage of the country.
Inland are populous highlands famed for both their tea plantations, an economic staple during the British colonial era, and their variety of animal species, including lions, elephants, cheetahs, rhinoceroses, and hippopotamuses.
Kenya's western provinces, marked by lakes and rivers, are forested, while a small portion of the north is desert and semidesert.
The country's diverse wildlife and panoramic geography draw large numbers of European and North American visitors, and tourism is an important contributor to Kenya's economy.

Kenya has so much to offer, here are some of the things Kenya is known for.

Wildlife Migration, Masai Mara

The Masai Mara: is home to one of the highest concentrations of wildlife on the planet. Its rolling savannah studded with flat-top acacia trees is fantastic at any time but from July to October, the Mara's plains and rivers are flooded with wildebeest a million strong on their great migration, along with herds of zebras, elephants and giraffes. Trailing this walking buffet are lions, leopards, cheetahs, hyenas and crocs. If you only visit one place in Kenya, make it the Mara.

Elephants of Amboseli National Park

There's possibly no better place in the world to watch elephants than Amboseli National Park: in the country's south. A big part of the appeal is the setting – Africa's highest mountain, the snow-capped Mt Kilimanjaro, is the backdrop for seemingly every picture you'll take here. Amboseli was spared the worst of Kenya's poaching crisis and these elephants are remarkably tolerant of humans (allowing you to get really close). And their tusks are among the biggest in Kenya. It's also an excellent place to see lions and cheetahs.

Wandering Lamu Backstreets

Lamu: is surely the most evocative destination on the Kenyan coast. With no cars around, the best way to get to know this graceful town is by wandering its backstreets, admiring the grand old Swahili doors, peeking into hidden courtyards bursting with unexpected colours, slipping into an easy chair and sipping on a fruit juice, and accepting all invitations to stop and shoot the breeze. Do all this and the backstreets of Lamu will become a place you'll dream of forever.

Hiking Mt Kenya

Occupying the heart of the country and a special place in the hearts of the Kikuyu people, Mt Kenya:, the country's highest peak and the second highest on the continent, is not a mountain to be admired from afar. With four days, some determination and several layers of warm clothing, you could find yourself standing on the frozen summit of Point Lenana, mere minutes from the equator, but a whole world away from the other African experiences.

Kakamega Forest

Paths lace the Kakamega Forest: and offer a rare opportunity to ditch the safari 4WD and stretch your legs. This ancient forest is home to an astounding 330 bird species, 400 butterfly species and seven different primate species. Like all rainforests, though, the trees themselves are the chief attraction here, and in the forest gloom you'll stumble upon the botanical equivalent of beauty and the beast: delicate orchids and parasitic figs that strangle their hosts as they climb towards the light.

Nairobi

No other city in the world can boast a national park (home to four of the Big Five) within sight of city skyscrapers. The park: may have its detractions – one of Africa's smallest parks, it's almost completely encircled by human settlements – but this is an important refuge for the endangered black rhino (more than 50), all three big cats and abundant birdlife. There's also an elephant orphanage, a nearby breeding centre for the Rothschild's giraffe, great restaurants and numerous opportunities to forget you're in Nairobi at all.

Lake Turkana

Amid the deserts and horizonless tracts that characterise so much of Kenya's north, Lake Turkana glitters like a jade-and-turquoise mirage. Rising from its waters is Teleki, one of the world's most perfectly shaped volcanic cones, while the shores are dotted with dusty and utterly intriguing villages, such as Loyangalani:, that are home to the beguiling mix of traditional peoples – Turkana, Samburu, Gabbra, El-Molo – who call this isolated corner of Africa home. And there are crocodiles here. Lots of them.

Kisite Marine National Park

Hiding away like a secret jewel is the laid-back isle of Wasini, close to the border of Tanzania. You can sail to it from Diani Beach or Shimoni like an Omani sultan in a magnificent dhow, and dive overboard to snorkel with fish big and small in the stunning Kisite Marine National Park:, which fringes the island. Or you can come under your own steam and walk the footpaths to the near-forgotten village of Mkwiro – the perfect spot to be engulfed by Swahili culture.

Lions at Tsavo National Park

Tsavo West National Park: is a wilderness experience par excellence, a vast and dramatic landscape where wildlife lurks in the undergrowth. All of Africa's charismatic megafauna are present here, including rhinos, but it's the cats – leopards, lions and cheetahs – who bring this ecosystem to life. Against a backdrop of red soils, volcanic outcrops and sweeping savannah plains, these lions of legend (it was here that the legendary man-eaters of Tsavo once roamed) laze about in the shade, waiting for the right moment to pounce.

Hell's Gate National Park

It's one thing to watch Africa's megafauna from the safety of your vehicle and quite another to do so on foot or on a bicycle. Hell's Gate National Park: – a dramatic volcanic landscape of red cliffs, otherworldly rocky outcrops and deep canyons in Kenya's Rift Valley – may lack predators, but experiencing the African wild at close quarters certainly gives most people frisson. The landscape of Hell's Gate heightens the senses, bringing alive the African wild like no other national park in Kenya.

Lake Nakuru National Park

This world-class national park: with strong echoes of Out of Africa is dominated by one of the Rift Valley's most beautiful lakes. The waters are lined on one side by an abrupt escarpment and the shoreline is at times given colour and texture by massed birdlife. But Lake Nakuru is also a wildlife haven for land-borne mammals, home as it is to tree-climbing lions, leopards, the highly endangered Rothschild's giraffes, zebras, buffaloes, various primate species and some of Kenya's most easily spotted rhinos.

Mt Longonot

Mt Longonot: not only has the near-perfect shape we imagine all volcanoes to have, it's also the most accessible of Kenya's Rift Valley climbs. Unlike the more famous Mt Kenya ascent, the climb to the crater rim is more of a strenuous 90-minute hike than a serious expedition; even the climb, circumnavigation and descent can be accomplished in four hours. The rewards are glorious Rift Valley views (including overlooking Hell's Gate National Park) and a bird's-eye view down to the lost forests of the crater floor.

Laikipia Plateau

In the shadow of Mt Kenya, this plateau: hosts a network of conservancies and private wildlife reserves – it is both beautiful and one of the most exciting stories in African conservation. At the forefront of efforts to save endangered species such as lions, African wild dogs, Grevy's zebras and black rhinos, the plateau's ranches offer an enticing combination of high-end lodge accommodation, big horizons and charismatic megafauna. Best of all, this is a more intimate experience than your average national park, with scarcely another vehicle in sight.

Meru National Park

One of Kenya's most underrated parks, Meru: is a beguiling mix of iconic African landscapes (fertile hills, river forests, baobabs and doum palms) and a fine range of fauna (including black and white rhinos, elephants, lions and zebras). Meru is also where the lion legends of George Adamson's Born Free came into being. But above all else, Meru is the safari as it used to be, with unusually quiet trails and the thrill of stumbling upon wildlife when you least expect it.

Samburu National Reserve

Samburu: does not enjoy the fame of other Kenyan parks, but that's just the way we like it. This stunning arid landscape of Kenya's soulful north is given life by the Ewaso Ngiro River, whose palm-fringed banks are as beautiful as any waterway in inland Kenya. Wildlife, too, is drawn to the river and its hinterland, the rugged terrain swarming with elephants, lions and leopards, but also some signature northern species, such as the blue-legged Somali ostrich and the endangered Grevy's zebra.

Watamu

Kenya's Indian Ocean coast is one of Africa's prettiest shores and Watamu: is one of its prettiest beaches. Sitting roughly halfway between Mombasa and Lamu, it's a fine base for exploring the Kenyan coast with its long stretches of white sand, translucent waters and coves sheltered by palm trees. Plenty of water sports (from fishing to windsurfing), traces of the coast's African heritage and a healthy dose of hakuna matata add up to one of those places you'll never want to leave.

Aberdares

Rising up from the eastern edge of the Rift Valley like the spine of central Kenya, the verdant Aberdares: don't feel like Kenya at all. Yes, there's wildlife, and some of it's pretty unusual, from high-altitude elephants and rhinos to rare mountain bongos and black leopards. But this is a place of sprawling farms, dense forests and walking trails that pass among flora that has no right residing this close to the equator. For mountain trekking, it's a fine alternative to the busier trails of nearby Mt Kenya.

Mt Elgon

Far enough away from well-trammelled tourist trails to feel like an adventure. Mt Elgon:, with its five summits ranging from 4161m to 4321m, encompasses an astonishing range of landscapes. Hiking trails climb through rainforest to bamboo jungles before traversing alpine moorland with all its weird-and-wonderful flora. Rich birdlife, the odd primate species (black-and-white colobus, as well as blue and de Brazza's monkeys), the opportunity to look out over two countries and the chance to climb without a guide are other selling points.
What is discussplaces?
DiscussPlaces
is a place to make new friends and share your passions and interests. Quench your thirst for knowledge, discuss places with other aficionados, and swap recommendations. Are you an aspiring foodie who dreams of living in New York? Or perhaps you are looking for the best chicken wings in Cincinnati? Then this is the place for you! Any one can join in with a passion or interest – whether it be talking about their favorite restaurant in Barcelona or raving about their latest trip to Italy. Join us!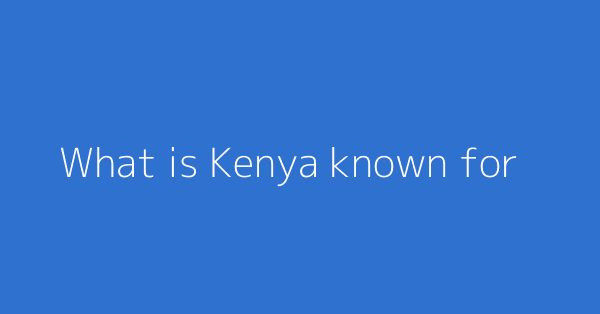 This page shows discussions around "What is Kenya known for?"
Whether the information provided was useful?
---