What is Georgia known for?
redkoala489

last edited by




Georgia

Georgia, Georgian Sakartvelo, country of Transcaucasia located at the eastern end of the Black Sea on the southern flanks of the main crest of the Greater Caucasus Mountains.
It is bounded on the north and northeast by Russia, on the east and southeast by Azerbaijan, on the south by Armenia and Turkey, and on the west by the Black Sea.
Georgia includes three ethnic enclaves: Abkhazia, in the northwest (principal city Sokhumi); Ajaria, in the southwest (principal city Batʿumi); and South Ossetia, in the north (principal city Tskhinvali).
The capital of Georgia is Tbilisi (Tiflis).

Georgia has so much to offer, here are some of the things Georgia is known for.

Tbilisi: Taking in amazing restaurants, superb museums and a thriving club culture in the coolest city in the South Caucasus.
Svaneti: Discovering unique Svan culture, ancient defensive towers and wonderful hiking amid Georgia's finest alpine scenery.
Vardzia: Exploring an entire medieval city carved out of a cliff face.
Stepantsminda: Catching the breathtaking sight of Tsminda Sameba Cathedral silhouetted against legendary Mt Kazbek.
Davit Gareja: Visiting Georgia's most ancient cave monastery in its unique lunar setting on the Azerbaijan border.
Batumi: Soaking up the party atmosphere and wandering the charming Old Town in Georgia's lovable Black Sea 'summer capital'.
Tusheti: Hiking in this spectacular, pristine, high-mountain region where people only live during the summer months.
Kakheti: Spending days tasting the innovative produce of Georgian wine country.
DiscussPlaces
is a place to make new friends and share your passions and interests. Quench your thirst for knowledge, discuss places with other aficionados, and swap recommendations. Are you an aspiring foodie who dreams of living in New York? Or perhaps you are looking for the best chicken wings in Cincinnati? Then this is the place for you! Any one can join in with a passion or interest – whether it be talking about their favorite restaurant in Barcelona or raving about their latest trip to Italy. Join us!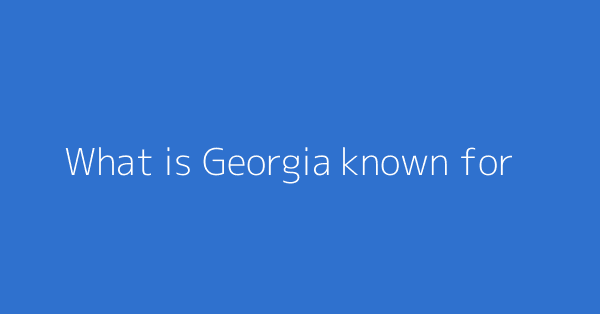 This page shows discussions around "What is Georgia known for?"