What is South Africa known for?
greenfish900

last edited by




South Africa

South Africa, the southernmost country on the African continent, renowned for its varied topography, great natural beauty, and cultural diversity, all of which have made the country a favoured destination for travelers since the legal ending of apartheid (Afrikaans: "apartness," or racial separation) in 1994.

South Africa has so much to offer, here are some of the things South Africa is known for.

Cape Town

Overlooked by flat-topped Table Mountain, with its cable car, walking trails and abseiling, Cape Town: is one of the world's most beautiful cities. Fill your days here visiting beaches and Constantia wine estates, wandering the VandA Waterfront, catching the ferry to Robben Island and, above all, meeting the easy-going Cape locals. In complement to its considerable natural charms, the city is benefitting from ongoing urban renewal, with world-class restaurants, hip food markets and design-savvy arcades opening in once-industrial neighbourhoods such as Woodstock and the Waterfront's Silo District.

Kruger National Park

Kruger: is one of Africa's great wilderness experiences and the mightiest of the country's national parks – a trip here will sear itself in your mind. Its accessibility, quantity and variety of wildlife, and staggering size and range of activities make Kruger unique and compelling. From wilderness trails and bush walks to mountain biking and remote 4WD trails, there are myriad opportunities to enjoy the wild environment and its four-legged inhabitants. Kruger is simply one of the best places to see animals – big and small – in the world.

Drakensberg Region

Majestic, stunning and mysterious, the mountains and foothills of the World Heritage–listed uKhahlamba-Drakensberg Park: are among the country's most awe-inspiring landscapes. Drakensberg means 'Dragon Mountains' in Afrikaans, while the Zulu named the range Quathlamba ('Battlement of Spears'); both convey beautifully the area's sublime backdrop of incredible peaks. People have lived here for thousands of years, evidenced by the many San rock-art sites. With its Zulu villages, wilderness areas and wildflowers, and good accommodation and eateries, the Drakensberg region is the perfect place for photographers, hikers and adventurous travellers.

The Winelands

Whitewashed Cape Dutch architecture dots this endlessly photogenic landscape of rolling hills and vines in neat rows. The Winelands: is the quintessential Cape, where world-class wines are the icing on the viticultural cake. Stellenbosch, Franschhoek and Paarl, the area's holy trinity of wine-tasting towns, host some of the southern hemisphere's oldest, largest and prettiest wine estates. But this is not the only wine region: head to Tulbagh for sparkling wines; the heights of the Cederberg for crisp sauvignon blancs; and Hermanus' Hemel-en-Aarde (Heaven on Earth) valley for boutique wineries.

Wild Coast Walks

With its rugged cliffs plunging into the sea, remote sandy beaches, rural Xhosa villages and history of shipwrecks and stranded sailors, the aptly named Wild Coast: is ideally explored on foot. From the Great Kei River to Port St Johns, pathways hug the shoreline, cutting through dense vegetation or snaking across denuded hillsides and gorges, and often overlook southern right whales and dolphins in the turquoise seas. Power down in rustic accommodation, or overnight with families in traditionally designed rondavels (round huts with a conical roof).

Kgalagadi Transfrontier Park

Kgalagadi: covers almost 40,000 sq km of raw Kalahari in the Northern Cape and Botswana, an area roamed by some 2000 predators. But such statistics, albeit impressive, barely scrape the surface of this immense land of sizzling sunsets, velvety night skies and rolling red dunes. The park is one of the world's best places to spot big cats, and you might spy black-maned lions napping under thorn trees, or cheetahs and leopards purring along the roadside. Best of all, you don't need a 4WD to access the park.

iSimangaliso Wetland Park

iSimangaliso:, which means 'miracle' or 'wonder' in Zulu, has a fitting name. This Unesco World Heritage site stretches for a glorious 220km, from the Mozambique border to Maphelane, at the southern end of Lake St Lucia. The 3280-sq-km park protects five distinct ecosystems, offering everything from beaches, offshore reefs and coastal forests to lakes, wetlands and woodlands. It's nature's playground, which travellers can enjoy on wildlife drives, kayak safaris, cycling and cruises. The extraordinary animals here include loggerhead and leatherback turtles, whales, dolphins, antelope, zebras and hippos galore.

Clarens

The odd international star popping in for a lungful of fresh mountain air gives this well-heeled town: celebrity credentials. But with galleries, antiques, classy restaurants, a microbrewery and adventure activities in the surrounding countryside, there's something to appeal to most visitors. The laid-back town is perfect for an evening stroll after a day exploring the nearby Golden Gate Highlands National Park. And with plenty of pubs to drop into and a bookshop to browse, Clarens is the best place in the Free State's Eastern Highlands to simply wind down.

Blyde River Canyon

This canyon:, the third largest in the world and possibly the greenest, is one of South Africa's great sights. Even the coachloads of domestic and foreign visitors to the canyon, where the Blyde River snakes down from the Drakensberg Escarpment to the lowveld, cannot spoil the majesty of sights such as Bourke's Luck Potholes. On a clear day, viewpoints including the Three Rondavels and God's Window will leave you breathless. This vast natural landmark scarring northern Mpumalanga can be appreciated on foot or by car.

Mapungubwe National Park

A real standout among South Africa's national parks, this transfrontier conservation area: in the making has been declared a World Heritage site for its important cultural heritage (explained at its interpretative centre). The landscape is riveting, too: arid, ancient terrain that's twisted and knotted, with rocky bluffs offering majestic views, and mighty rivers that intersect. The climate is harsh, but lions, leopards, cheetahs, elephants and rhinos can be found here, as well as smaller species such as caracals. Getting around can be tough but the rewards are sublime.

Addo Elephant National Park

At Addo: more than 600 African elephants roam through low bushes, tall grass and distant hills. The land (reclaimed after being decimated by farmers) and the park represent a conservation success story. Also roaming free are hyenas and lions, introduced in 2003 to bring the kudu, ostrich and warthog populations down. Buffaloes, rare Cape mountain zebras and endemic dung beetles can also be seen, but elephants are the showstoppers – particularly when they burst from the undergrowth, flap their ears and dwarf all that is before them.

Golden Gate Highlands National Park

Beneath the open skies of the Free State's Eastern Highlands, this park: enjoys extraordinary sunsets, and hides plenty of antelope, zebras, jackals and birds among its grasslands and sandstone outcrops. It's great walking territory, but you can also drive short, scenic loops. Either way, views of the Drakensberg and Maluti Mountains loom large and there's something almost fairy tale about the wind sweeping patterns through the nodding grass. If you don't have the chance to explore Lesotho, it's worth visiting the Basotho Cultural Village here.

Garden Route

The enduring popularity of this verdant coastal strip, where woodcutters once dodged elephants in the old-growth forests, lies not only in its undeniable scenic beauty. The Garden Route: is also a magnet for those in search of a little outdoor adventure. Whether you're hiking the Knysna Forests, surfing in Victoria Bay, canoeing on Wilderness Lagoon or getting up close with great whites in a cage in Mossel Bay's waters, the Garden Route guarantees an adventure for every taste and budget.

Namakwa Wildflowers

Namakwa is one of South Africa's forgotten corners, stretching up the west coast towards Namibia. Crossing the remote region, and reaching Port Nolloth's refreshing Atlantic vistas after hundreds of kilometres on empty roads, is wonderful throughout the year. In spring, there's the added bonus of the wildflower bloom, which turns Namakwa's rocky expanses into a technicolour carpet. You could spend days travelling around multicoloured patches of the rugged area, stopping at spots such as Namaqua National Park: and Goegap Nature Reserve, both of which are dedicated to wildflower watching.

Hiking and Stargazing in the Cederberg

By day the clear blue skies provide an arresting contrast to the craggy Cederberg's fiery orange peaks; by night the Milky Way shines so brightly you can almost read by its light. But the Cederberg: is the promised land for more than just stargazers – its otherworldly landscape is perfect for hikers, rock climbers and those simply in search of silent nights. Tackle the challenging Wolfberg Arch and Maltese Cross Trails, the shorter Wolfberg Cracks hike, or the four-day Wupperthal Trail, visiting remote and forgotten mission villages.

Hluhluwe-iMfolozi Park

Sometimes overshadowed by Kruger National Park, Hluhluwe-iMfolozi: in northern KwaZulu-Natal is nonetheless one of the country's best-known and most evocative parks. Stunningly beautiful, it features a variety of landscapes, from open savannah to mountains with wildflowers. It teems with wildlife, including the Big Five and other amazing creatures. Hluhluwe-iMfolozi can be visited at any time because there's always something happening and plenty to see, from elephants munching marula trees to impala, zebras, wildebeest and giraffe babies. Great wildlife drives, accommodation and hiking trails ensure a memorable experience.

Madikwe Game Reserve

One of the country's most exclusive reserves on such a large scale, Madikwe: occupies 760 sq km of bushveld, savannah grassland and riverine forest. There's a good chance of spotting iconic African wildlife, and the lodges are experiences in themselves, from an ecolodge to five-star options offering creature comforts in the wilderness. Visits to Madikwe are on an all-inclusive basis, allowing you to relax once you're through the gates.

Sani Top

Africa's highest pub is a hell of a place to get to. From the west it's an endurance drive through Lesotho's awesome Central Highlands, past huge dams containing Gauteng's water supply. From KwaZulu-Natal, it's a vertiginous drive up the Sani Pass (2874m), which climbs 1300m through uncountable hairpin bends from the South African border post. At the top, raise a beer in the bar of Sani Mountain Lodge: and celebrate being in the highest country (that is, the nation with the highest low point) in the world. Bottoms up!

Johannesburg

With a grisly reputation, the City of Gold: is a surprisingly vibey and inspiring place thanks to the regeneration uplifting its inner city. The cultural enclaves of Braamfontein, Newtown, 44 Stanley and the Maboneng precinct are dynamic and exciting spots by any city's standards, with galleries, restaurants, bars and boutiques. Take a walking tour to understand the background of this urban transformation and spot Maboneng's public art by international muralists. Try to time your visit to coincide with Braamfontein and Maboneng's weekly markets.

Venda Region

A lush region: steeped in mystique and traditional customs, this is the Africa of mist-clad hills, dusty red tracks and mud huts. Sprinkled with lakes and forests containing enormous spiritual significance, and marking the primeval ties between indigenous culture and the land, the Limpopo province's former homeland is well worth exploring with a local guide. Stay in Elim or Louis Trichardt (Makhado) and begin with the Venda arts and crafts trail; the area is noted for its fine original artwork, with studios hidden throughout the landscape.

Pilanesberg National Park

Sprawling away from the Sun City casino complex is this underrated park, where the Big Five and day-tripping Jo'burgers roam an extinct volcanic crater. With its tarred roads, Pilanesberg: is sometimes dismissed as tame, yet the rhinos lapping at waterholes seem to disagree. To escape the other cars and score an up-close sighting, hit the gravel roads through the bush and stake out a dam. Guided drives and walks are available, as is a range of accommodation, making this a winner for families and those short on time.

Cradle of Humankind

As you'll discover at this palaeontological zone, it began in Africa – Western Gauteng to be precise. The Cradle of Humankind: nurses hundreds of square kilometres of beautiful green and brown veld, and an increasing migration of tourists, descended from hominids, who sit with the fossils of their ancestors deep underground, before returning to civilisation at fine restaurants and day spas. There's a serene sculpture park at the Nirox Foundation and wilderness to be enjoyed. Only 50km northwest of Jo'burg are free-roaming elands, zebras, giraffes and gazelles.
DiscussPlaces
is a place to make new friends and share your passions and interests. Quench your thirst for knowledge, discuss places with other aficionados, and swap recommendations. Are you an aspiring foodie who dreams of living in New York? Or perhaps you are looking for the best chicken wings in Cincinnati? Then this is the place for you! Any one can join in with a passion or interest – whether it be talking about their favorite restaurant in Barcelona or raving about their latest trip to Italy. Join us!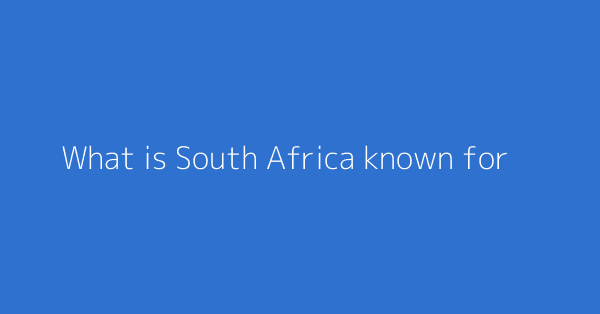 This page shows discussions around "What is South Africa known for?"