organicbird383

last edited by




Tonga

Tonga, officially Kingdom of Tonga, Tongan Fakatuʿi ʿo Tonga, also called Friendly Islands, country in the southwestern Pacific Ocean.
It consists of some 170 islands divided into three main island groups: Tongatapu in the south, Haʿapai in the centre, and Vavaʿu in the north.
Isolated islands include Niuafoʿou, Niuatoputapu, and Tafahi (together known as the Niuatoputapu, or Niuas, island group) in the far north and ʿAta in the far south.

Tonga has so much to offer, here are some of the things Tonga is known for.

Kayaking: between the reefs and islands offshore from Nuku'alofa, Neiafu and Pangai.
Hiking through 'Eua's: tropical rainforests and along sheer ocean clifftops.
Pondering Tongatapu's curious Ha'amonga 'a Maui Trilithon:, the 'Stonehenge of the South Pacific'.
Beach-bumming on the photogenic sands of Uoleva:, and (if you're lucky) watching whales breaching offshore.
Catching the cultural show at Tongatapu's Oholei Beach and Hina Cave Feast and Show:.
Swimming into Swallows' Cave: on Kapa island in Vava'u.
Bouncing between bars and cafes in raffish Neiafu:.
Exploring far-off, doughnut-shaped Niuafo'ou: (Tin Can Island) in the Niuas.
Surfing the reef breaks at Ha'atafu Beach: on Tongatapu.
Wandering the aisles of produce and crafts at Nuku'alofa's Talamahu Market:.
Sailing: through Vava'u's psychedelic web of waterways, islands and deserted beaches.
DiscussPlaces
is a place to make new friends and share your passions and interests. Quench your thirst for knowledge, discuss places with other aficionados, and swap recommendations. Are you an aspiring foodie who dreams of living in New York? Or perhaps you are looking for the best chicken wings in Cincinnati? Then this is the place for you! Any one can join in with a passion or interest – whether it be talking about their favorite restaurant in Barcelona or raving about their latest trip to Italy. Join us!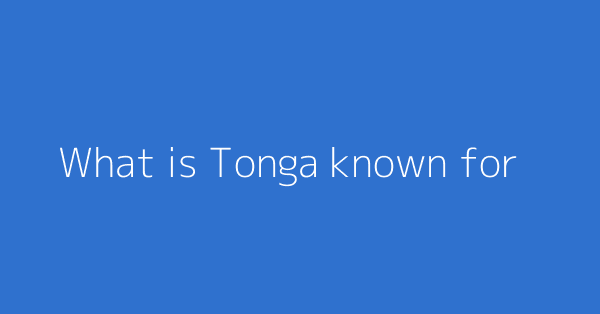 This page shows discussions around "What is Tonga known for?"