What is Bulgaria known for?
sadgorilla128

last edited by




Bulgaria

Bulgaria, officially Republic of Bulgaria, Bulgarian Republika Bŭlgariya, country occupying the eastern portion of the Balkan Peninsula in southeastern Europe.
Founded in the 7th century, Bulgaria is one of the oldest states on the European continent.
It is intersected by historically important routes from northern and eastern Europe to the Mediterranean basin and from western and central Europe to the Middle East.
Before the creation of the Bulgarian state, the empires of ancient Rome, Greece, and Byzantium were strong presences, and people and goods traveled the land with frequency.

Bulgaria has so much to offer, here are some of the things Bulgaria is known for.

Rila Monastery

More than a thousand years of uninterrupted spiritual activity have swept through this beautiful monastery:, which rises from a valley in the misty Rila Mountains. Credited with safeguarding Bulgarian culture during the dark centuries under Ottoman rule, and a lightning rod for revolution in the 19th century, Rila Monastery remains Bulgaria's most storied spiritual treasure. The monastery grew from a 10th-century hermit's hut; following a fire, the breathtaking mix of elegant archways, soaring domes and apocalyptic frescoes that stands today dates mostly to the 19th century.

Black Sea Beaches

Whether you're looking for all-day tanning, all-night clubbing, or something a little more relaxing, you're sure to find some patch of sand to your liking along Bulgaria's Black Sea coast:. Away from the big, brash package resorts, you'll come across charming seaside towns standing above smaller sandy coves, while the cities of Varna and Burgas both have lengthy, less-crowded urban beaches. If it's solitude you seek, head for the more remote beaches to the far north and south.

Plovdiv

With a charming old town, revitalised artistic quarter and the most exhilarating nightlife outside Sofia, Bulgaria's second city: has never looked finer. Ancient buildings nestle right in the centre of this seven-hilled town; a pleasant shopping street flows past its 2nd-century Roman stadium (which still hosts concerts) and a 15th-century mosque in an effortless blend of old and new. Investment for Plovdiv's reign as European Capital of Culture 2019 has left the city gleaming, while the city's calendar bursts with opera, jazz, open-air art and more.

Veliko Târnovo

Bulgaria's long history of warring tsars and epic battles is exceptionally vivid in its former capital, Veliko Târnovo:. Topped with a marvellous medieval fortress, this town of Soviet monuments, cobblestoned lanes and barely changed handicraft shops allows for a memorable trip into Bulgaria's past. Home to the second-largest university in Bulgaria, the town also has a simmering nightlife; a creative and multicultural expat community adds to the fun. Set above the ribboning Yantra River, it's also a great base for local hikes, mountain biking and day trips to Emen Canyon.

Skiing in the Pirin Mountains

The Pirin Mountains: are truly a land of giants, with more than 100 peaks towering higher than 2000m. Their summer splendour draws hikers to Pirin National Park, but long winters and downy snowfall make Pirin the Balkans' best skiing and snowboarding destination. Nestled at the base of Mt Vihren (2915m), Bansko is Bulgaria's premium winter sports town. Its 75km of pistes, extending to a height of 2600m, have options for all levels. Just as invigorating is Bansko's après-ski culture, which culminates with the Horizon Festival.

Stara Planina Hiking

Hikers have breathtaking choice across the Stara Planina: mountain range, rippling for 550km across the length of Bulgaria. Casual strollers can walk through the meadows around Dryanovo or stride to peaceful monasteries such as Sokolski. Meanwhile, dedicated hikers can climb the tallest peak, Mt Botev (2376m), a challenging but picturesque ascent overlooking sheer ridges and expanses of green. Alternatively, seek out solitude on multiday hikes, staying at the Stara Planina's 80-odd hizhas (mountain huts) along the way; just prepare for notoriously changeable weather.

Sofia's Aleksander Nevski Memorial Church

Rising majestically over the rooftops of Sofia, the neo-Byzantine Orthodox church: is dedicated to the memory of the 200,000 Russian soldiers who died fighting for Bulgaria's independence in the Russo-Turkish War (1877–78). An unequalled highlight of the Bulgarian capital, the church took 30 years to construct and was completed in 1912. Its vast, candlelit interior is heavy with incense and decorated with Italian marble, alabaster and fading murals. Daily services, led by robed, white-bearded priests, accompanied by chanting choirs, can be moving experiences.

Wine Tasting

Bulgaria's winemaking tradition dates to ancient Thracian times, and its wines have been enjoyed by everyone from Roman writers to former British Prime Minister Winston Churchill. Melnik: in southwestern Bulgaria is an especially fruitful location to sip wine, and a very scenic one: the village is lined with traditional 19th-century houses, against a backdrop of natural sandstone pyramids. Beyond here, discover five distinct wine-growing regions from the Danube to the Black Sea to the Thracian Plain. Numerous wineries offer tastings; beyond Melnik, some of the best are in Bulgarian Thrace.

Thracian Tombs

The Valley of Thracian Kings, between Shipka and Kazanlâk, is dotted with fine tombs, and more are unearthed every year. But one of the most magnificently preserved examples is the Unesco-listed Thracian Tomb of Sveshtari: in Bulgaria's northeast. The tomb dates to 300 BC and harbours lovely artwork and reliefs within its three chambers, including 10 elegant female figures. This rare discovery was made in 1982, but tourists are few. A visit requires private transportation, but it's worth the effort to play Tomb Raider within its evocative confines.

Belogradchik Rocks

On the fringe of Bulgaria's Stara Planina mountain range tower these awe-inspring sandstone pillars:, one of Bulgaria's most photogenic geological features. Over an area of 90 sq km, these stone protrusions form a jaw-dropping silhouette: some loom as tall as 200m, and the knottiest turrets have drawn comparison to mythic figures and animals. Nearly blending in with Belogradchik Rocks is the impressive Kaleto Fortress, a Roman and Byzantine-era fortification. Hiking trails weave among the rocks and up to the fortress, allowing wondrous views.
DiscussPlaces
is a place to make new friends and share your passions and interests. Quench your thirst for knowledge, discuss places with other aficionados, and swap recommendations. Are you an aspiring foodie who dreams of living in New York? Or perhaps you are looking for the best chicken wings in Cincinnati? Then this is the place for you! Any one can join in with a passion or interest – whether it be talking about their favorite restaurant in Barcelona or raving about their latest trip to Italy. Join us!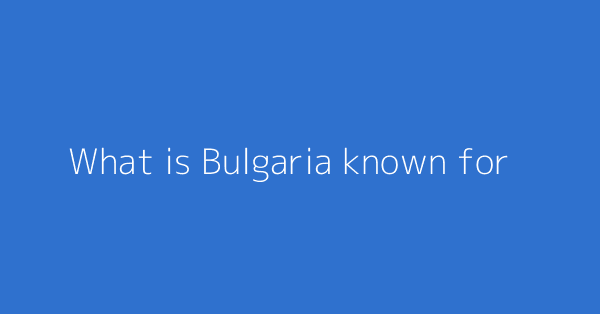 This page shows discussions around "What is Bulgaria known for?"