What is Switzerland known for?



Switzerland

Switzerland, federated country of central Europe.
Switzerland's administrative capital is Bern, while Lausanne serves as its judicial centre.
Switzerland's small size—its total area is about half that of Scotland—and its modest population give little indication of its international significance.

Switzerland has so much to offer, here are some of the things Switzerland is known for.

Matterhorn

No mountain has as much pulling power or natural magnetism, or is so easy to become obsessed with, as this charismatic peak: – a beauty from birth that demands to be admired, ogled and repeatedly photographed at sunset, sunrise, in different seasons and from every last infuriating angle. And there is no finer place to pander to the Matterhorn's every last topographic need than Zermatt, one of Europe's most desirable Alpine resorts, in fashion with the skiing, climbing, hiking and hip hobnobbing set since the 19th century.

Hiking in the Swiss National Park

Nowhere else in Europe is more synonymous with magnificent and mighty hiking beneath eagle-dotted skies than Switzerland, and its high-altitude national park:, created a century ago, is the place to do it. Follow trails through flower-strewn meadows to piercing blue lakes, knife-edge ravines, rocky outcrops and Alpine huts where shepherds make summertime cheese with cows' milk, taken fresh that morning from the herd. It's nature gone wild and on the rampage, and is a rare and privileged glimpse of Switzerland before the dawn of tourism.

Aletsch Glacier

One of the world's natural marvels, this mesmerising glacier: of gargantuan proportions in the Upper Valais is tantamount to a 23km-long, five-lane highway of ice powering between mountain peaks at altitude. Its ice is glacial blue and 900m thick at its deepest point. The view of Aletsch from Jungfraujoch will make your heart sing, but for a hardcore adrenalin surge nothing beats getting up close: hike between crevasses with a mountain guide from Riederalp or ski above the glacier on snowy pistes in Bettmeralp.

Lake Geneva

The emerald vines marching uphill in perfect unison from the shores of Lake Geneva: in the Lavaux are staggering. But the urban viewpoint from which to admire and experience Europe's largest lake is Geneva, French-speaking Switzerland's most cosmopolitan city, where canary-yellow mouettes ('seagulls') ferry locals across the water and Mont Blanc peeps at the action from above. Strolling Old Town streets, savouring a vibrant cafe society, paddle-boarding on the lake and making the odd dash beneath the iconic pencil fountain is what life's about for the 180 nationalities living here.

Glacier Express

It's among the world's most storied train rides, linking two of Switzerland's glitziest Alpine resorts. Hop aboard the red train with super-panoramic windows in St Moritz or Zermatt, and savour shot after cinematic shot of green peaks, glistening Alpine lakes, glacial ravines and other hallucinatory natural landscapes. Pulled by steam engine when it first puffed out of the station in 1930, the Glacier Express: traverses 91 tunnels and 291 bridges on its famous journey. Lunch in the vintage restaurant car or bring your own Champagne picnic.

Romance in Montreux

As if being host to one of the world's most famous jazz festivals, with open-air concerts on the shore of Lake Geneva, is not enough, Montreux has a castle to add to the French-style romance. From the well-known lakeside town with a climate so mild that palm trees grow, a flower-framed footpath follows the water south to Château de Chillon:. Historic, sumptuous and among Switzerland's oldest, this magnificent stone château, built by the Savoys in the 13th century, is everything a castle should be.

Bern

Medieval cobbled streets, arcaded boutiques, a dancing clock and folk figures prettily frolicking in fountains since the 16th century: Switzerland's capital city, Bern:, just does not fit the quintessential 'capital city' image at all. Indeed, few even realise that this small town situated in the flat, unassuming middle bit of the country (hence the region's name, Mittelland), where farms make Emmental cheese, is the capital. Yet its very unexpectedness, cemented by the cutting-edge hills of Renzo Piano's Zentrum Paul Klee, is precisely its charm.

Lakeside Lucerne

Medieval-bridge strolling is the charm of this irresistible Romeo in Central Switzerland. Throw sparkling lake vistas, alfresco cafe life, candy-coloured architecture and Victorian curiosities into the cooking pot and, yes, lakeside Lucerne: could well be the start of a very beautiful love affair. With the town under your belt, step back to savour the ensemble from a wider perspective: views across the water of green hillsides, meadows and hidden lake resorts from atop Mt Pilatus, Mt Rigi or Stanserhorn will not disappoint.

Jungfrau Region

No trio is more immortalised in mountaineering legend than Switzerland's 'big three:' – Eiger (Ogre), Mönch (Monk) and Jungfrau (Virgin) – peaks that soar to the sky above the gorgeous 19th-century resort of Grindelwald. And whether you choose to schuss around on skis, shoot down Europe's longest toboggan run on the back of an old-fashioned sledge, bungee jump in the Gletscherschlucht or ride the train up to Europe's highest station at 3454m, your pulse will race. James Bond, eat your heart out.

Splash of the Rheinfall

So moved were Goethe and Byron by the wispy cascades of Staubbach Falls, their fairy-tale threads of spray ensnaring the cliff side in Lauterbrunnen, that they composed poems exalting their ethereal beauty. Yet it is the theatrical, crash-bang-wallop splash of the thunderous Rheinfall:, guarded by a twin set of medieval castles, in northeastern Switzerland that really takes your breath away. To appreciate the full drama of it all, ride the panoramic lift up to the Känzeli viewing platform in medieval Schloss Laufen.

Zürich Lifestyle

One of Europe's most liveable cities, Zürich: in German-speaking Switzerland is an ode to urban renovation. It's also hip (yes, this is where Google employees shoot down a slide to lunch). With enough of a rough edge for it to resemble Berlin at times, Zürich means drinking in waterfront bars, dancing until dawn in Züri-West, shopping for recycled fashion accessories in Kreis 5 and boogying with the best of them at Europe's largest street party, the city's wild and wacky, larger-than-life Street Parade in August.

Sion and Valaisian Wine

Swiss vintages are hardly plentiful outside Switzerland, making their tasting and discovery in situ a rare and joyous experience. Gentle walking trails thread quietly through steeply terraced vineyards in Valais, producer of the country's most rated wines, and many vignerons (winegrowers) open their doors for tasting and buying. Pair a vineyard walk with the region's autumnal brisolée, the traditional harvest feast built around chestnuts, cheese, cold meats and vin nouveau. The town of Sion:, with its cinematic twinset of castles and plethora of gourmet addresses, is the place to taste, appreciate and enjoy.

Art and Architecture in Basel

World-class contemporary architecture is Basel's golden ticket – the work of seven winners of architecture's Pritzker Prize can be ogled in and around this city: on the Rhine. Kick off with a hop across the German border to the Frank Gehry–designed Vitra Design Museum, before devoting time to Switzerland's best private modern-art collection at the Renzo Piano–designed Fondation Beyeler – the dream fusion of art and architecture. Linking the two is a new art-focused, 24-stop walking trail, the Rehberger-Weg, bearing the hallmark of German sculptor Tobias Rehberger.

Lago di Lugano

An intrinsic part of Switzerland's unique charm is its mixed bag of languages and cultures. And no spot on Swiss earth exalts the country's Italianate soul with such gusto as Ticino's Lago di Lugano:, a shimmering Alpine lake fringed with palm-tree promenades and pretty villages of delicate pastel hues. Lugano, the biggest town on the lake and the country's third-largest affluent banking centre to boot, is vivacious and busy, with porticoed alleys, cafe-packed piazzas and boats yo-yoing around the lakeside destinations.

Rural Jura

Tiptoe off the tourist map and into clover-shaped Jura:, a fascinating backwater on the French–Swiss border woven from thick, dark forests, gentle rolling hills, medieval villages and a go-slow vibe. No piece of scenery is too large, too high or too racy here. Rather, travel in rural Jura is an exquisite sensory experience laced with inspirational bike rides, cross-country skiing through silent glades, fragrant nights in hay barns, fabulous farm feasts and cheeses cut in the shape of flowers.
DiscussPlaces
is a place to make new friends and share your passions and interests. Quench your thirst for knowledge, discuss places with other aficionados, and swap recommendations. Are you an aspiring foodie who dreams of living in New York? Or perhaps you are looking for the best chicken wings in Cincinnati? Then this is the place for you! Any one can join in with a passion or interest – whether it be talking about their favorite restaurant in Barcelona or raving about their latest trip to Italy. Join us!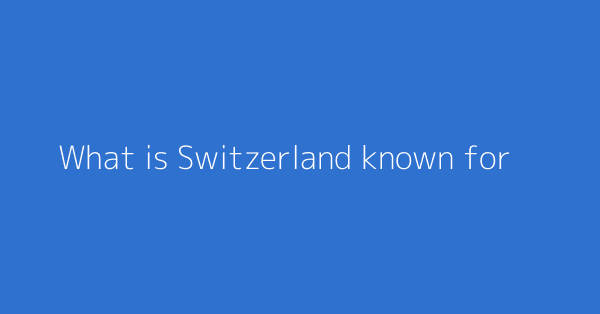 This page shows discussions around "What is Switzerland known for?"