What is Costa Rica known for?



Costa Rica

Costa Rica, country of Central America.
Its capital is San José.

Costa Rica has so much to offer, here are some of the things Costa Rica is known for.

White-Water Rafting

The dedicated adrenaline junkie could easily cover some heart-pounding river miles in the span of a few days in this compact country. For those not burning to do them all, pick a river, any river: Pacuare:, Reventazón, Sarapiquí, Tenorio. Any of them are fun runs, with rapids ranging from Class I to Class V, and all have smooth stretches that allow rafters to take in the luscious jungle scenery and animal life amid the glorious gorges. All you need is a lifejacket, a helmet and some chutzpah.

Volcán Arenal and Hot Springs

While the molten night views are gone, this mighty, perfectly conical giant: is still considered active and worthy of a pilgrimage. Shrouded in mist or bathed in sunshine, Arenal has several beautiful trails to explore and, at its base, you're just a short drive away from its many hot springs. Some of these springs are free, and any local can point the way. Others range from inexpensive Tico favorites to pricier over-the-top resorts to isolated ecstasy – dip your toes into the romantic Eco Termales, for starters.

Southern Caribbean Coast

By day, lounge in a hammock, cruise by bike to snorkel off uncrowded beaches, hike to waterfall-fed pools and visit the remote indigenous territories of the Bribrí and Kéköldi. By night, dip into zesty Caribbean cooking and sway to reggaetón at open-air bars cooled by ocean breezes. The villages of Cahuita, Puerto Viejo de Talamanca and Manzanillo, all outposts of this unique mix of Afro-Caribbean, Tico and indigenous culture, are the perfect, laid-back home bases for such adventures on the Caribbean's southern coast:.

Wildlife-Watching

World-class parks, long-standing dedication to environmental protection and mind-boggling biodiversity enable Costa Rica to harbor scores of rare and endangered species. Simply put, it's one of the best wildlife-watching destinations on the globe. Visitors hardly have to make an effort; no matter where you travel, the branches overhead are alive with critters, from lazy sloths and mischievous monkeys to a brilliant spectrum of tropical birds. And in case there's some animal you happen to miss, the country is replete with rescue centers, such as the Jaguar Centro de Rescate:.

Poás Region

An hour northwest of the capital, Poás: is a fairy-tale land of verdant mountains and hydrangea-lined roadsides. Although 2017 activity has closed the volcano itself, it's still a spectacular, sulfurous behemoth, well worth a look – even from a distance – particularly on cloudless mornings. The winding approach drive takes you past strawberry farms and coffee plantations. And over at La Paz Waterfall Gardens, visitors hike to storybook waterfalls and encounter rescued monkeys, tropical birds and wild cats, including three jaguars.

Mal País and Santa Teresa

In the little surf towns of Mal País and Santa Teresa:, the sea is replete with wildlife and the waves are near-ideal in shape, color and temperature. The hills are lush and the coastline long, providing a perfect backdrop for the pink and orange sunsets. From the bustling, dusty intersection that divides the towns, you can head north into yogic paradise and foodies' bliss or south to the less hectic old-school vibe of Malpa, ending in a fishing village, a hidden zipline, and the gateway to Costa Rica's original national park.

Parque Nacional Tortuguero

Canoeing the canals of Parque Nacional Tortuguero: is a boat-borne safari: here, thick jungle meets the water and you can get up close with shy caimans, river turtles, crowned night herons, monkeys and sloths. In the right season, under cover of darkness, watch the awesome, millennia-old ritual of turtles building nests and laying their eggs on the black-sand beaches. Sandwiched between extravagantly green wetlands and the wild Caribbean Sea, this is among the premier places in Costa Rica to watch wildlife.

Parque Nacional Corcovado

Muddy, muggy and intense, the vast, largely untouched rainforest of Parque Nacional Corcovado: is anything but a walk in the park. Here travelers with a flexible agenda and a sturdy pair of rubber boots thrust themselves into the unknown and come out the other side with the story of a lifetime. And the further into the jungle you go, the better it gets: the country's best wildlife-watching, most desolate beaches and most vivid adventures lie down Corcovado's seldom-trodden trails.

Montezuma

If you dig artsy-rootsy beach culture, enjoy rubbing shoulders with neo-Rastas and yoga fiends, or have always wanted to spin fire, study Spanish or lounge on sugar-white coves, find your way to Montezuma:. Strolling this intoxicating town and rugged coastline, you're never far from the rhythm of the sea. From here you'll also have easy access to the famed Cabo Blanco and Curú reserves, and can take the tremendous hike to a triple-tiered waterfall. Oh, and when your stomach growls, the town has some of the best restaurants in the country.

Parque Nacional Manuel Antonio

Although droves of visitors pack Parque Nacional Manuel Antonio: – the country's most popular (and smallest) national park – it remains an absolute gem. Capuchin monkeys scurry across its idyllic beaches, brown pelicans dive-bomb its clear waters and sloths watch over its accessible trails. It's a perfect place to introduce youngsters to the wonders of the rainforest, and as you splash around in the waves you're likely to feel like a kid yourself. There's not much by way of privacy, but it's so lovely that you won't mind sharing.

Bosque Nuboso Monteverde

Turning their backs on the Korean War in the 1950s, the Quakers came, saw, and protected this 105-sq-km cloud-forest paradise straddling the continental divide. They're still here, teaching and living modestly, while Monteverde Cloud Forest: and its three neighboring preserves provide a misty escape into a mysterious Neverland shrouded in mist, draped with mossy vines, sprouting with ferns and bromeliads, gushing with creeks, blooming with life and nurturing rivulets of evolution. Neighboring Santa Elena Reserve provides an even mellower respite.

Surfing

Point break, beach break, reef break, left, right: even if these terms mean nothing to you, no worries. Costa Rica's patient instructors and forgiving beaches: welcome the beginner, but for the experienced there are challenges aplenty: untamed Pacific outposts named for sorcerers (Witch's Rock) and yanqui military adventurers alike (Ollie's Point). The bath-like waters mean no wetsuits required, and rental shops and requisite gear are easy to come by. Hey, they didn't film Endless Summer II here for nothing, dude.

Sarapiquí Valley

Sarapiquí: rose to fame as a principal port in the nefarious old days of United Fruit dominance. It later sank into agricultural anonymity, only to be reborn as a paddlers' mecca thanks to the frothing, serpentine mocha magic of its namesake river. These days it's still a rafters' paradise, dotted with fantastic ecolodges and private forest preserves that will educate you about pre-Columbian indigenous life, get you into that steaming, looming, muddy jungle, and bring you up close to local wildlife.

Nosara

Nosara: is a heady mix of surf culture, jungled microclimates and yoga bliss, where three stunning beaches are stitched together by a network of swerving, rutted roads that meander over coastal hills (after years of promises, the road from the central peninsula is finally being paved). Visitors can stay in the alluring surf enclave of Playa Guiones – where there are some fabulous restaurants and a drop-dead-gorgeous beach – or in romantic, rugged and removed Playa Pelada. Thousands of nesting sea turtles invade nearby beaches, which you can visit by appointment.

Paddling in the Golfo Dulce

Getting out into the Golfo Dulce: brings kayakers and stand-up paddlers into contact with the bay's abundant marine life – orcas and humpback whales calve in the warm waters, and spotted and bottlenose dolphins breach the surface. Comprising 17 protected reserves and 3% of Costa Rica's landmass, the tropical biome is home to half the country's flora and fauna, and four species of sea turtle visit the area. The gulf's maze of mangrove channels is another world completely, offering a chance to glide past herons, crested caracaras, snakes and sloths.

Quetzal Spotting

Considered divine by pre-Columbian cultures of Central America, the strikingly beautiful quetzal was sought after for its long, iridescent-green tail feathers, which adorned the headdresses of royalty (it's Guatemala's national bird and the name of its paper currency, still). This unusual, jewel-toned bird remains coveted in modern times – but now as a bucket-list sighting for birdwatchers. Fortunately, though the quetzal's conservation status is listed as near threatened, it's commonly sighted in San Gerardo de Dota: and at lodges like Mirador de Quetzales, especially during its breeding season in April and May.

Playa Sámara

Some expat residents call Playa Sámara: the black hole of happiness, which has something to do with that crescent of sand spanning two rocky headlands, the opportunity to surf, stand-up paddle board, surf cast or fly above migrating whales in an ultra-light plane, and the plethora of nearby all-natural beaches and coves. All of it is easy to access on foot or via public transportation, which is why it's becoming so popular with families, who enjoy Sámara's manifest ease and tranquility.

Cerro Chirripó

The view of windswept rocks and icy lakes from the rugged peak of Cerro Chirripó:, the country's highest summit, may not resemble the Costa Rica of the postcards, but the two-day hike above the clouds is one of the most satisfying excursions in the country. A pre-dawn expedition rewards hardy hikers with the real prize: a chance to catch the fiery sunrise and see both the Caribbean Sea and the Pacific Ocean in a full and glorious panorama from 3820m up.

San José

The heart of Tico culture lives in San José:, as do university students, intellectuals, artists and politicians. While it's not the most attractive capital in Central America, it does have some graceful neoclassical and Spanish-colonial architecture, leafy neighborhoods, museums housing pre-Columbian jade and gold, nightlife that goes on until dawn, and some of the country's most sophisticated restaurants. Street art – both officially sanctioned and guerrilla – adds unexpected pops of color and public discourse to the cityscape. For the seasoned traveler, Chepe, as it's affectionately known, has its charms.

Ziplining in the Rainforest Canopy

Canopy tours are one place you literally have to let yourself go. Steady those knocking knees and do it! Few things are more purely joyful than clipping into a high-speed, high-altitude cable and zooming through the teeming jungle. This is where kids become little daredevils and adults become kids. Invented in Monteverde in the 1990s, zipline outfits quickly began cropping up in all corners of Costa Rica. The best place to sample the lines is still Monteverde:, where the forest is alive, the mist fine and swirling, and the afterglow worth savoring.

Coffee Plantations of the Central Valley

Take a country drive on the scenic, curvy back roads of the Central Valley, where the hillsides are a patchwork of agriculture and coffee shrubbery. If you're curious about the magical brew that for many makes life worth living, tour one of the coffee plantations and learn how Costa Rica's golden bean goes from plant to cup. A couple of the best places for a tour are Finca Cristina: in the Orosi Valley and Café Britt Finca near Barva, although a couple of convenient caffeinated circuits have sprung up near La Fortuna.
DiscussPlaces
is a place to make new friends and share your passions and interests. Quench your thirst for knowledge, discuss places with other aficionados, and swap recommendations. Are you an aspiring foodie who dreams of living in New York? Or perhaps you are looking for the best chicken wings in Cincinnati? Then this is the place for you! Any one can join in with a passion or interest – whether it be talking about their favorite restaurant in Barcelona or raving about their latest trip to Italy. Join us!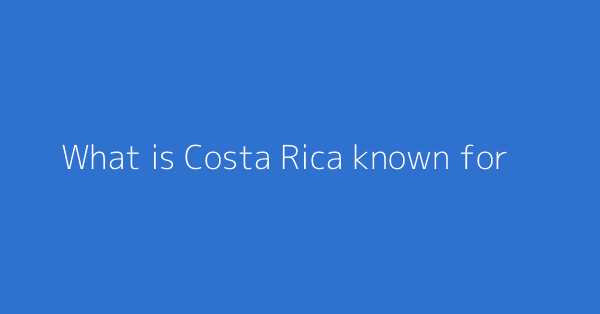 This page shows discussions around "What is Costa Rica known for?"