What is Vietnam known for?
ticklishgoose482

last edited by




Vietnam

Vietnam, country occupying the eastern portion of mainland Southeast Asia.

Vietnam has so much to offer, here are some of the things Vietnam is known for.

Food

The highlight of any trip, Vietnamese food: balances sour and sweet flavours, crunchy and silky textures, fried and steamed dishes, soups and salads. Essentially it's all about the freshness of the ingredients – chefs shop twice daily to collect just-picked herbs from the market. Wherever you are, you'll find exquisite local specialities – the 'white rose' of Hoi An, banh xeo (savoury filled pancakes) of the south and centre, or the good ol' pho of the north. Yes, eating out in Vietnam is a feast for the eyes and treat for palate.

Hoi An

Vietnam's most cosmopolitan and civilised town, this beautiful ancient port is bursting with gourmet restaurants, hip bars and cafes, quirky boutiques and expert tailors. Immerse yourself in history in the warren-like lanes of the Old Town, and tour the temples and pagodas. Dine like an emperor on a peasant's budget (and even learn how to cook like the locals). Then hit glorious An Bang Beach, wander along the riverside and bike the back roads. Hoi An: has it all.

Phong Nha-Ke Bang National Park

With jagged hills shrouded in verdant rainforest, and mountain rivers coursing through impressive ravines, above ground the Phong Nha-Ke Bang region: is one of Vietnam's most spectacular national parks. Head underground for even more proof that this area should be part of any Vietnamese itinerary. A fortunate selection of travellers can experience the cathedral-like chambers of Hang Son Doong, the world's largest cave, but more accessible are the ziplining and kayaking thrills of Hang Toi (Dark Cave), and the ethereal beauty of aptly named Paradise Cave.

Halong Bay

Halong Bay's: stunning combination of karst limestone peaks and sheltered, shimmering seas is one of Vietnam's top tourist draws, but with more than 2000 different islands, there's plenty of superb scenery to go around. Definitely book an overnight cruise and make time for your own special moments on this World Heritage wonder – rise early for an ethereal misty dawn, or pilot a kayak into grottoes and lagoons. If you're hankering for more karst action, move on to the less touristy but equally spectacular Lan Ha Bay.

Hue

The capital of the nation in the 19th and early 20th centuries, Hue: is perhaps the easiest Vietnamese city to love and spend time in. Its situation on the banks of the Perfume River is sublime, its complex cuisine justifiably famous, and its streets are relatively traffic free. And that's without the majesty of the Hue Citadel, its royal residences and elegant temples, formidable walled defences and gateways to explore. On the city's fringes are some of Vietnam's most impressive pagodas and royal tombs, many in wonderful natural settings.

Ho Chi Minh City

Increasingly international but still unmistakably Vietnamese, former Saigon has visceral energy that will delight big-city devotees. HCMC: doesn't inspire neutrality: you'll either be drawn into its thrilling vortex and hypnotised by the perpetual whir of its orbiting motorbikes, or you'll find the whole experience overwhelming. Dive in and you'll be rewarded with a wealth of history, delicious food and a vibrant nightlife that sets the standard for Vietnam. The heat is always on in Saigon; loosen your collar and enjoy.

Beer

Vietnam has a deep-rooted beer-drinking culture, and sampling a brew or two is one of the great pleasures of travelling in the country. The big brands (such as 333 and Hanoi) are widely available, but do seek out bia hoi – fresh draught beer: – which is brewed daily, to be drunk within hours, incredibly cheap and consumed on street terraces. There's also a dynamic craft beer scene in the big cities, with some eminently quaffable locally-made IPAs, pale ales, wheat beers and pilsners.

Extreme North

The extreme north of Vietnam is all about raw adventure travel. Ha Giang province: is Vietnam's spectacular emerging destination for the intrepid, with dizzying ascents up the Quan Ba Pass (Heaven's Gate), towering karst peaks and granite outcrops, and jaw-dropping vistas on the epic trip between Dong Van and Meo Vac. And with improved roads, new trekking routes, minority markets and a wider choice of guesthouses, Vietnam's final frontier – now a Unesco-listed geopark – is really opening up.

Cat Tien National Park

An accessible and impressive protected area, Cat Tien National Park: lies conveniently midway between Ho Chi Minh City and Dalat. It is set on a bend in the Dong Nai River, and there is something vaguely Apocalypse Now about arriving here. Popular activities include trekking, cycling and wildlife spotting: the Wild Gibbon Trek is a must. The park is also home to a primate centre, where gibbons and langurs are coaxed back into their natural environment.

Markets

From the floating markets of the Mekong Delta and the souvenir-rich streets of Hoi An to the urban affairs of Ho Chi Minh City and the tribal gatherings in the highlands, Vietnamese markets are a riot of colour and commerce. For photographers, markets are ideal for getting shots of Vietnamese villagers and their perfectly arranged pyramids of tropical fruit or glistening seafood displays. The region around the town of Bac Ha: is particularly market-rich and should not be missed if you're anywhere in the north.

Phu Quoc Island

Lapped by azure waters and edged with the kind of white-sand beaches that make sun seekers sink to their weak knees, Phu Quoc: – way down in the south of Vietnam – is ideal for slipping into low gear, reaching for a seaside cocktail and toasting a blood-orange sun as it dips into the sea. And if you want to notch it up a tad, grab a bike and hit the red-dirt roads: the island is relatively compact, around the size of Singapore.

Hanoi

Ancient but dynamic, the nation's capital hurtles toward modernity, cautiously embracing visitors. Sample Hanoi's: heady mix of history and ambition by wandering the streets of the Old Quarter, sipping drip-coffee, slurping on a hearty bowl of bun rieu cua (a sour crab noodle soup) and scoring souvenirs for next to nothing. When you're done, check out the crumbling decadence of the French Quarter then zip up to cosmopolitan Tay Ho for finer dining and the lowdown on Hanoi's burgeoning art scene.

Con Dao Islands

Once hell on earth for a generation of political prisoners, Con Dao: is now a heavenly destination of remote beaches, pristine dive sites, wildlife-rich rainforests and diverse nature. It's a wonderful place to explore in search of that dream beach, while the main settlement of Con Son is one of Vietnam's most charming towns. Costly flights from the mainland have long limited tourist numbers, but now there are affordable and speedy boat links – expect Con Dao's popularity to soar.

Ba Be National Park

Detour off the regular Vietnam tourist trail in Ba Be National Park:, an essential destination for adventurous travellers, with towering limestone mountains, plunging valleys and evergreen forests. Waterfalls, caves and lakes combine in a landscape that sustains over 550 different plants and hundreds of different bird and animal species. Explore Ba Be's natural spectacle by boat or on trekking and mountain-biking excursions, before relaxing and recharging in the rustic homestays and village guesthouses of the local Tay ethnic minority.

Coffee Time

Starbucks may now operate in Vietnam, but indigenous coffee culture: runs deep. Virtually every neighbourhood in every town will have a little cafe where locals go to de-stress from the office, the family or simply the traffic (most are located on quiet side streets with copious greenery to promote relaxation). Vietnamese coffee can be served hot or iced (a real treat in summer), either treacle-thick, or with milk (usually sweetened and condensed) for a double-whammy caffeine-sugar kick. And for something completely different, order a Vietnamese coffee with coconut, yoghurt or even an egg.

Sapa Trekking

Undulating rice terraces cascade down to valleys inhabited by Hmong, Red Dzao and Giay villages. Up above, the sinuous ridges of the Hoang Lien Mountains (dubbed the Tonkinese Alps by the French) touch the sky. Brushed with every shade of green in the palette, the countryside surrounding Sapa: is a showcase of northern Vietnam's most superb rural vistas and a fascinating glimpse into the country's astounding cultural diversity. This is prime territory for digging out your walking boots and hitting the trails.

Dalat

Dalat: is as popular now with travellers as it was in the days when French colonial officials came to this laidback town in the southwest highlands to escape the lowland heat. These days, adventure sports are the draw with abseiling, canyoning, mountain biking, hiking, whitewater rafting and kayaking all possible in the temperate climate. But Dalat is also the honeymoon capital of Vietnam, a charming town dotted with grand colonial-era villas, set amidst pine groves and flower gardens, and centred on a pretty lake.

Battle Sites

In the centre of Vietnam, the DMZ: has the greatest concentration of battle sites from the American War (and some excellent tour operators to get you around them). Down south the Cu Chi Tunnels are a very popular day trip from Ho Chi Minh City, while there are numerous war sites around Vung Tau, which was a big ANZAC base. In the far north, Dien Bien Phu should not be missed: there's a good modern museum here to explain the significance of the battle that precipitated the French expulsion from Indochina.

Mui Ne

Perhaps the adrenaline epicentre of Vietnam, the prosperous beach resort of Mui Ne: is a kitesurfing capital with world-class wind and excellent schools for professional training. Sailing, golf and hot-air ballooning are also popular. The resort itself boasts more than 20km of palm-fringed beachfront that stretches invitingly along the shores of the South China Sea (East Sea). From guesthouses to boutique resorts, boho bars to good-value spas, Mui Ne has a broad appeal, and is readily accessible from Ho Chi Minh City.

Angkor Wat

Over the border in Cambodia, the vast temples of Angkor form one of the world's most magnificent sights. Choose from Angkor Wat itself, the world's largest religious building; Bayon, with its immense stone faces; or Ta Prohm, where nature runs amok. Siem Reap is the base for exploring Angkor and is a buzzing destination with a superb selection of restaurants and bars. Beyond the temples await exciting activities and cultural pursuits from quad biking and ziplining to cooking classes and birdwatching.
DiscussPlaces
is a place to make new friends and share your passions and interests. Quench your thirst for knowledge, discuss places with other aficionados, and swap recommendations. Are you an aspiring foodie who dreams of living in New York? Or perhaps you are looking for the best chicken wings in Cincinnati? Then this is the place for you! Any one can join in with a passion or interest – whether it be talking about their favorite restaurant in Barcelona or raving about their latest trip to Italy. Join us!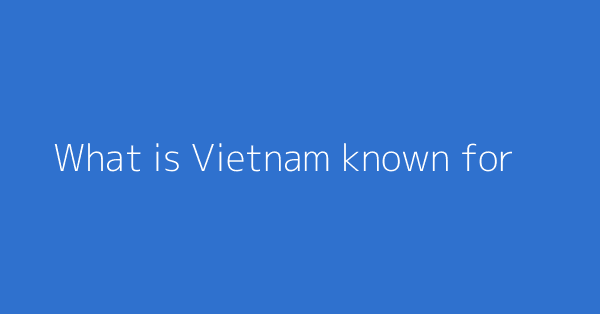 This page shows discussions around "What is Vietnam known for?"