What is Uzbekistan known for?
bigcat538

last edited by




Uzbekistan

Uzbekistan, officially Republic of Uzbekistan, Uzbek Ŭzbekiston or Ŭzbekistan Respublikasi, country in Central Asia.
It lies mainly between two major rivers, the Syr Darya (ancient Jaxartes River) to the northeast and the Amu Darya (ancient Oxus River) to the southwest, though they only partly form its boundaries.
Uzbekistan is bordered by Kazakhstan to the northwest and north, Kyrgyzstan and Tajikistan to the east and southeast, Afghanistan to the south, and Turkmenistan to the southwest.
The autonomous republic of Qoraqalpoghiston ( Karakalpakstan) is located in the western third of the country.
The Soviet government established the Uzbek Soviet Socialist Republic as a constituent (union) republic of the U.
in 1924.
Uzbekistan declared its independence from the Soviet Union on August 31, 1991.
The capital is Tashkent (Toshkent).

Uzbekistan has so much to offer, here are some of the things Uzbekistan is known for.

Registan: Marvelling at Central Asia's most stunning ensemble of larger-than-life Timurid architectural gems in Samarkand.
Bukhara: Wandering the exquisitely preserved holy city, boasting stunning 15th-century medressas, stylish BandBs and fascinating history.
Khiva: Looking for the ghosts of the last independent Central Asian khanate, frozen in time behind mud walls in the middle of the Kyzylkum desert.
Savitsky Museum: Soaking in Central Asia's greatest art collection in Nukus, one of the country's most remote corner.
Margilon: Watching silk worms and silk weavers work their magic at the Yodgorlik Silk Factory and then shopping for the finished ikat silks.
DiscussPlaces
is a place to make new friends and share your passions and interests. Quench your thirst for knowledge, discuss places with other aficionados, and swap recommendations. Are you an aspiring foodie who dreams of living in New York? Or perhaps you are looking for the best chicken wings in Cincinnati? Then this is the place for you! Any one can join in with a passion or interest – whether it be talking about their favorite restaurant in Barcelona or raving about their latest trip to Italy. Join us!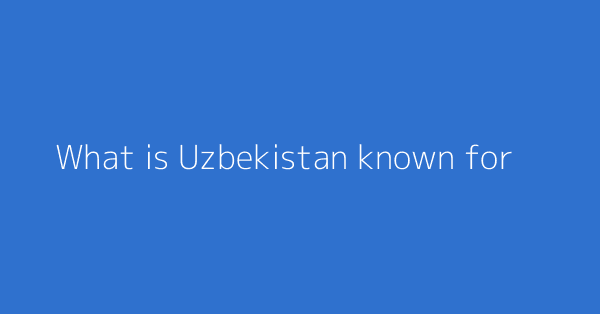 This page shows discussions around "What is Uzbekistan known for?"