lazykoala649

last edited by




Ireland is located in Europe.

The GPS coordinates of Ireland are a latitude of 53.1424° N, and longitude of 7.6921° W. Ireland is located in the northern and western hemispheres, made known by the cardinal direction attached to each of the two GPS coordinates. Ireland is also found to the north of the equator.

In the north, Ireland has two different points of extremity. In the mainland alone, Ireland's northernmost point is in Malin Head, a headland on the peninsula of Inishowen. The latitude of this point is 55°23' N. When islands are taken into consideration, Ireland's northernmost point is in Donegal County. With a latitude of 55°26' N, this point is on the island of Inishtrahull.

Ireland's southernmost point is similar to the country's northernmost point in that there are two viable locations. On Ireland's mainland, Brow Head is the most southern point of the country. Located in Mallavogue of Cork County, this point has a latitude of 51°26' N. Off the shore of Ireland, there is an Irish islet called Fastnet Rock. It is considered the most southern point of Ireland beyond the country's mainland. The GPS coordinate of Fastnet Rock is 51°23' N.

The easternmost point of Ireland is positioned at a longitude of 5°59' W. In the county of Wicklow, the most extreme point of Ireland in the east is known as Wicklow Head.

To the west, Ireland has two extremities as well. On Ireland's mainland, the extreme western point of the country has a longitude of 10°28' W. This point is in Dunmore Head on the peninsula of Dingle. Beyond the mainland, Ireland's furthest western point is situated on Tearaght Island in the county of Kerry. The longitude of this point is 10°40' W.

Ireland ranks as the largest country in the world with a total area of 27,132 square miles. Ireland is made up of 26,596 square miles, which is approximately 98% of the country's total square mileage. The remaining 2% of Ireland's area is made up of water, which equates to 537 square miles.

The population of Ireland is approximately 4,823,009 people, ranking Ireland as having the 123rd largest population. With these two numerical traits in mind, the population density of Ireland is about 178 people per square mile.
DiscussPlaces
is a place to make new friends and share your passions and interests. Quench your thirst for knowledge, discuss places with other aficionados, and swap recommendations. Are you an aspiring foodie who dreams of living in New York? Or perhaps you are looking for the best chicken wings in Cincinnati? Then this is the place for you! Any one can join in with a passion or interest – whether it be talking about their favorite restaurant in Barcelona or raving about their latest trip to Italy. Join us!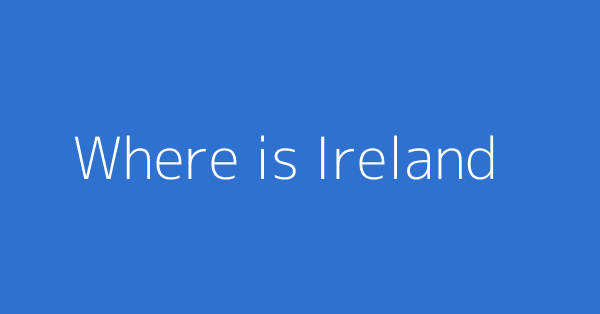 This page shows discussions around "Where is Ireland?"