What is Burkina Faso known for?
bigcat538

last edited by




Burkina Faso

Burkina Faso, landlocked country in western Africa.
The country occupies an extensive plateau, and its geography is characterized by a savanna that is grassy in the north and gradually gives way to sparse forests in the south.

Burkina Faso has so much to offer, here are some of the things Burkina Faso is known for.

Sindou Peaks: Wandering amid other-worldly rock formations and Burkina's lush landscapes.
Cour Royale: Marvelling over the meaning and originality of Kassena houses at Tiébélé.
Live music: Sipping beers to the sound of Bobo-Dioulasso's fantastic musicians.
Réserve de Nazinga: Coming face-to-face with the elephants, crocodiles and antelope at Burkina's favourite national park.
Festivals: Joining in one of the fabulous Ouagadougou festivals and soaking up the atmosphere.
DiscussPlaces
is a place to make new friends and share your passions and interests. Quench your thirst for knowledge, discuss places with other aficionados, and swap recommendations. Are you an aspiring foodie who dreams of living in New York? Or perhaps you are looking for the best chicken wings in Cincinnati? Then this is the place for you! Any one can join in with a passion or interest – whether it be talking about their favorite restaurant in Barcelona or raving about their latest trip to Italy. Join us!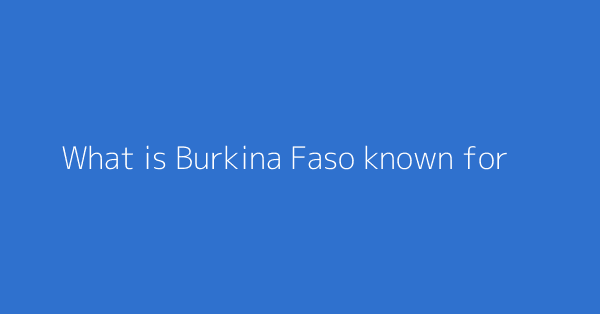 This page shows discussions around "What is Burkina Faso known for?"