What is Morocco known for?
brownzebra758

last edited by




Morocco

Morocco, mountainous country of western North Africa that lies directly across the Strait of Gibraltar from Spain.

Morocco has so much to offer, here are some of the things Morocco is known for.

Djemaa El Fna Street Theatre

Circuses can't compare to the madcap, Unesco-acclaimed halqa (street theatre) in Marrakesh's main square:. By day, 'La Place' draws crowds with astrologers, snake-charmers, acrobats and dentists with jars of pulled teeth. Around sunset, 100 restaurant stalls kick off the world's most raucous grilling competition. 'I teach Jamie Oliver everything he knows!' brags a chef. 'We're number one…literally!' jokes the cook at stall No 1. After dinner, Djemaa music jam sessions get under way – audience participation is always encouraged, and spare change ensures encores.

Fez Medina

The Fez medina: is the maze to end all mazes. The only way to experience it is to plunge in head first, and don't be afraid of getting lost – follow the flow of people to take you back to the main thoroughfare, or pay a small boy to show you the way. It's an adventure into a medieval world of hidden squares, enormous studded doors and colourful souqs. Remember to look up and see intricate plasterwork, magnificent carved cedarwood and curly Arabic calligraphy, while at your feet are jewel-like mosaics.

The High Atlas

Zaouiat Ahansal is the Chamonix of the eastern Atlas:. Hemmed in by the cracked and fissured summit of Aroudane (3359m), the valley is characterised by kilometres of cliffs, soaring buttresses and dramatic slot canyons. With the arrival of a paved road in 2013, this awesome natural canvas is just beginning to attract attention. For rafters and kayakers the valley is a green jewel where rafts whip between 2.5m-wide limestone walls; for climbers and trekkers the extreme topography and huge routes offer ridiculous views and a thrilling sense of wilderness.

Chefchaouen Medina

Steep and cobbled, the Chefchaouen medina: tumbles down the mountainside in a shower of red roofs, wrought-iron balconies and geraniums. The blue-washed lanes enchant, making the town a photographer's dream-come-true. You could be content for hours just people-watching over a mint tea in the cafe-packed main square, lorded over by a grand red-hued kasbah. Or amble down the riverside walk, stroll to the Spanish mosque on the hill and even venture into the surrounding Talassemtane National Park to explore the Rif Mountains.

Life in the Palmeraies

Until you see the vast palmeraies (palm groves) that carpet the Dades and Ziz Valleys, you can't fully appreciate the amazing feat of Morocco's existence. Thick with palms and networked by communal wells and khettara (underground irrigation system) the palm groves of Figuig:, Ziz Valley, Tinejdad, Tinerhir and Skoura are the historical lifeblood of the Moroccan south. Even today they continue to play a vital role in oasis life, with plots beneath the shaded canopy providing a surprising bounty of barley, tomatoes, mint, pomegranates, apricots, figs and almonds sustaining generation after generation.

Draa Valley Kasbah Trail

Roads now allow safe, speedy passage through the final stretches of ancient caravan routes from Mali to Marrakesh, but beyond the rocky gorges glimpsed through car windows lies the Draa Valley: of desert-traders' dreams. The palms and cool mud-brick castles of Tamegroute, Zagora, Timidarte and Agdz must once have seemed like mirages after two months in the Sahara. Fortifications that housed gold-laden caravans are now open to overnight guests, who wake to fresh boufeggou dates, bread baked in rooftop ovens, and this realisation: speed is overrated.

Tafraoute

The Anti Atlas' main town, Tafraoute: has a jumble of pink houses and market streets with extraordinary surroundings. The Ameln Valley is dotted with palmeraies (palm groves) and Berber villages, and the looming mountains stage a twice-daily, ochre-and-amber light show. With a relatively undeveloped tourist industry, despite the region's many charms, it's a wonderful base for activities including mountain biking and seeking out prehistoric rock carvings. As if the granite cliffs and oases weren't scenic enough, a Belgian artist applied his paint brush to some local boulders – with surreal results.

Surfing

You can surf all along Morocco's Atlantic coast, but the best place to catch waves is Taghazout:. It's clear what floats the village's board as soon as you arrive: the usual cafes and téléboutiques (private phone offices) are joined by surf shops, where locals and incomers wax boards and wax lyrical about the nearby beaches. On the same stretch of coast between Agadir and Essaouira, Tamraght and Sidi Kaouki are also set up for surfing; further south, Mirleft is Morocco's newest surf destination, with an annual longboard championship.

Trekking in the Anti Atlas Mountains

A sunburned granite range leading to the Sahara, the Anti Atlas Mountains: remain unexplored compared with the High Atlas. The star attraction for trekkers is the quartz massif of Jebel El Kest, the 'amethyst mountain', which you can walk to through the lush Ameln Valley. More farming villages and crumbling kasbahs are found around Jebel Aklim, another of the excellent trekking possibilities in this area of blue skies and Berber shepherds. The landscape has enough variety, from palm-filled gorges to brooding, volcanic Jebel Siroua, to justify multiple treks.

Essaouira

Freshened by the endless Atlantic breeze, the old sea walls and gleaming white medina of Essaouira: help make one of Morocco's most charming and laid-back destinations. There are swish riads, the freshest seafood unloaded from the small port, and a vibe that seamlessly blends an old visual arts tradition with the active sea sports that the coast here is increasingly known for. As any resident will tell you, Jimi Hendrix was a fan – and you soon will be too.

Fes Festival of World Sacred Music

With intimate concerts in mosaic-studded riads, harmonic afternoons at the Batha Museum, mesmerising Sufi Nights in a Pasha's garden and grand performances in the magnificent crenellated Bab Al Makina, this festival: still charms and impresses after 20 years. A love of music that engenders harmony between civilisations and religions is the cornerstone here, and you'll experience sacred music from every corner of the world: it could be Mongolian fiddles or whirling dervishes, Sufi qawwali or Persian maqam, Irish laments or African drums.

Moulay Idriss

Named for Morocco's most revered saint, this little town: contains his mausoleum and is one of the most important pilgrimage spots in the country. It straddles two hills and, whichever side of town you're on, the views across the green roofs and out to the rolling countryside beyond are arrestingly pretty, especially in the evening light. At the very top is Morocco's only cylindrical minaret, which is well worth the climb, while spread at its feet are olive groves that produce a fragrantly tasty oil.

Roman Ruins of Volubilis

Berber king Juba II, whose wife was the daughter of Antony and Cleopatra, was installed at Volubilis: by the Romans. The town became a thriving farming community producing olive oil, wheat and wine for the Roman army. Stand on the basilica steps today, look out over the same fertile fields and survey his kingdom. This World Heritage site has few rules about where you can walk, little signage and lots of storks nesting on column-tops. It has some dazzling mosaics and a brand-new museum.

Taroudant

With views of both the High Atlas and the Anti Atlas mountains, this Souss Valley trading centre: is known as Little Marrakesh, offering a medina and souqs without the big-city hustlers. Day trippers from Agadir will certainly find it charming. The town's red-mud ramparts are unique, changing colour according to the time of day. Circle the 7.5km perimeter by foot, bike or horse-drawn carriage and then return to the medina through one of the gates. After the sunset glow fades from the walls, the town is a relaxing, everyday place with some good restaurants.

Camel Trekking in the Sahara

When you pictured dashing into the sunset on your trusty steed, you probably didn't imagine there'd be quite so much lurching involved. Don't worry: no one is exactly graceful clambering onto a saddled hump. But even if your dromedary leaves you knock-kneed, you'll instinctively find your way to the summit of the dunes at nightfall. Stars have never seemed clearer, and with good reason: at Erg Chigaga:, you're not only off the grid, but several days' camel trek from the nearest streetlights.

Casablanca's Architectural Heritage

If anyone tells you there's nothing to see in Casablanca: except the Hassan II Mosque, they haven't looked up. Dating from the early 20th century, when Casa was the jewel of the French colonies, a wealth of Moorish and art-deco buildings can be found in the downtown areas, with rounded corners, tumbling friezes of flowers and curved wrought-iron balconies. Some buildings have been cared for while others are shamefully neglected. Take a walking tour to experience this wonderful heritage.
DiscussPlaces
is a place to make new friends and share your passions and interests. Quench your thirst for knowledge, discuss places with other aficionados, and swap recommendations. Are you an aspiring foodie who dreams of living in New York? Or perhaps you are looking for the best chicken wings in Cincinnati? Then this is the place for you! Any one can join in with a passion or interest – whether it be talking about their favorite restaurant in Barcelona or raving about their latest trip to Italy. Join us!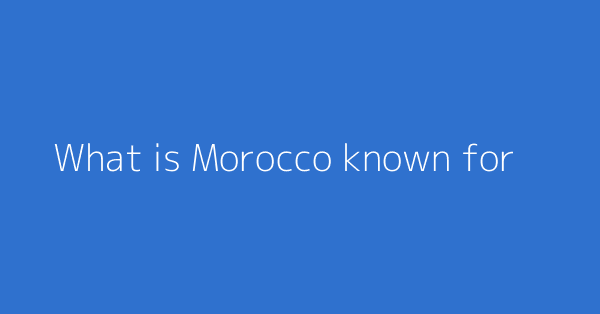 This page shows discussions around "What is Morocco known for?"