What is Maldives known for?
orangepanda761

last edited by




Maldives

Maldives, in full Republic of Maldives, also called Maldive Islands, independent island country in the north-central Indian Ocean.
It consists of a chain of about 1,200 small coral islands and sandbanks (some 200 of which are inhabited), grouped in clusters, or atolls.

Maldives has so much to offer, here are some of the things Maldives is known for.

Male

The Maldivian capital: is definitely the best place to get to know locals and see what makes them tick. The brightly painted houses, crowded markets and convivial teashops where you can chat to regulars and share plates of delicious 'short eats' are just some of the highlights of this unusual capital city – and they perfectly complement the resort experience. Don't miss the National Museum, the best overview of Maldives history anywhere in the country, or the Old Friday Mosque, complete with its carved coral tombstones.

Diving with the Hammers

Hammerhead sharks, definitely one of the weirdest-looking creatures in the sea, can be observed in abundance in Maldivian waters – if you know where to look for them. There are few more thrilling experiences than a dawn dive, descending free fall into the deep blue to 30m and coming upon a huge school of hungry hammerhead sharks waiting to be fed. The best place to do this is at the world-famous Hammerhead Point: (aka Rasdhoo Madivaru) in Rasdhoo Atoll.

Watching a Bodu Beru Performance

Whether you're staying at a resort or on an inhabited island, the cultural highlight of almost any trip to Maldives is seeing a dance and drum performance: known as bodu beru, which means 'big drum' in Dhivehi. These traditional all-male performances are a thrilling and genuine experience, even if they can feel rather contrived in your resort's restaurant. The drum ceremony starts off slowly and builds gradually to an incredible climax, during which some dancers enter a trance-like state.

Taking a Seaplane

There are few destinations where the mode of transport by which you arrive could be called a highlight, but that's because there are few places in the world where you need seaplanes: to reach your hotel. These zippy Twin Otters function like taxis in a country with no roads, and taking off from the water is an unforgettable experience, as is observing the spectacular coral atolls, blue lagoons and tiny desert islands from above.

Staying at a Guesthouse

The guesthouse: phenomenon in Maldives has only been around for a few years, yet it has already become a truly unique way to experience the 'real' Maldives on an inhabited island: interact with locals, eat traditional food and experience something totally different to life in a resort. The best guesthouses are those on remote atolls, far from the modernity of Male, where friendly local families will literally treat you like one of their own, take you to desert islands, and let you fish, dive and snorkel.

Learning to Dive

You simply have to get beneath the water's surface in Maldives; the corals, tropical fish, sharks, turtles and rays all make up an unforgettably alien world, which is best experienced by diving:. All resorts and many guesthouses have diving facilities, and you won't regret deciding to learn here. Maldives boasts excellent safety standards, modern equipment, passionate and experienced dive staff and – best of all – the water is so warm many people don't even bother diving in a wetsuit.

Becoming a (Luxurious) Castaway

Nearly every resort: offers some variation on this theme: you and your partner or family are given a picnic basket (in the most luxurious resorts it may be a full meal set up for you by staff) and dropped off on an uninhabited, pristine island by dhoni. The crew then jump back on the boat and leave you to your own devices on a white-powder beach surrounded by a turquoise lagoon. Explore the island, dine on great food, sunbathe and swim – this is the modern castaway experience.

Swimming with a Whale Shark

The largest fish in the world, the whale shark: is prevalent in Maldivian waters, especially in the south of Ari Atoll and during a full moon when the currents between the atolls are at their strongest. Swimming with one of these gentle giants is an incredible experience – they average almost 10m in length – and it's also totally safe: despite their immense size, whale sharks feed only on plankton.

Maafushi

Maafushi: is the first inhabited island in Maldives to become a big traveller centre, with some 30 guesthouses and hotels now operating. It's probably the best place for a cheap beach holiday in Maldives, with lots of competition and low prices for accommodation, diving, snorkelling and other excursions. There's also a good bikini beach, which means visitors can swim without offending the local population. What's more, at just a couple of hours away from the international airport, it's also very easy to reach.

Hanifaru Bay

Maldives' most famous snorkelling site: is this plankton-rich bay in the Baa Atoll Unesco Biosphere Reserve, where you can often see dozens of giant manta rays gliding acrobatically through the water as they filter their food. It's an incredible experience when they appear in great numbers and the water is clear. Hanifaru is also regularly visited by those fellow plankton eaters, the whale sharks. Resorts and inhabited islands nearby arrange trips to Hanifaru Bay daily.
DiscussPlaces
is a place to make new friends and share your passions and interests. Quench your thirst for knowledge, discuss places with other aficionados, and swap recommendations. Are you an aspiring foodie who dreams of living in New York? Or perhaps you are looking for the best chicken wings in Cincinnati? Then this is the place for you! Any one can join in with a passion or interest – whether it be talking about their favorite restaurant in Barcelona or raving about their latest trip to Italy. Join us!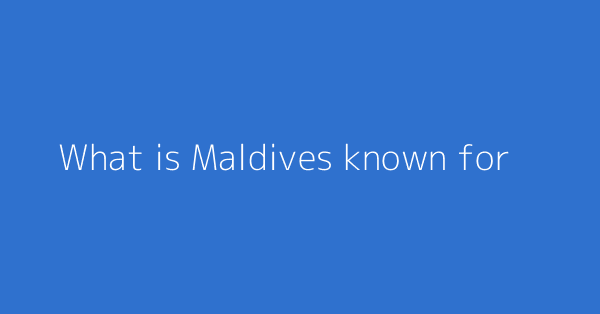 This page shows discussions around "What is Maldives known for?"