What is Algeria known for?
brownzebra758

last edited by




Algeria

Algeria, large, predominantly Muslim country of North Africa.
From the Mediterranean coast, along which most of its people live, Algeria extends southward deep into the heart of the Sahara, a forbidding desert where the Earth's hottest surface temperatures have been recorded and which constitutes more than four-fifths of the country's area.
The Sahara and its extreme climate dominate the country.
The contemporary Algerian novelist Assia Djebar has highlighted the environs, calling her country "a dream of sand.
".

Algeria has so much to offer, here are some of the things Algeria is known for.

Djemila: Listening out for the ghostly footsteps of Roman legionnaires in this beautiful ruined town.
Timgad: Standing atop the theatre and surveying the ruined grandeur of this vast Roman city.
Hippo Regius: Picnicking among the flowers surrounded by the tapering columns of the Roman city.
Algiers: Experiencing 'la Blanche', the country's fascinating capital, where modern, traditional and colonial-era Algeria meet.
Ghardaïa:, Bargaining for a boldly patterned carpet in the main square, peeking at a pristine medieval town and then swimming in the shade of date palms.
Timimoun: Striking out into the dunes of the Grand Erg Occidental from this red oasis.
DiscussPlaces
is a place to make new friends and share your passions and interests. Quench your thirst for knowledge, discuss places with other aficionados, and swap recommendations. Are you an aspiring foodie who dreams of living in New York? Or perhaps you are looking for the best chicken wings in Cincinnati? Then this is the place for you! Any one can join in with a passion or interest – whether it be talking about their favorite restaurant in Barcelona or raving about their latest trip to Italy. Join us!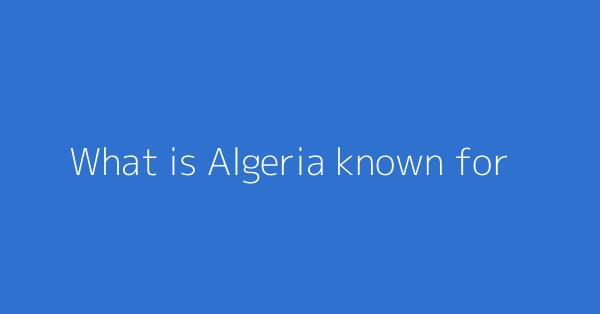 This page shows discussions around "What is Algeria known for?"