What is Finland known for?
goldentiger510

last edited by




Finland

Finland, country located in northern Europe.
Finland is one of the world's most northern and geographically remote countries and is subject to a severe climate.
Nearly two-thirds of Finland is blanketed by thick woodlands, making it the most densely forested country in Europe.
Finland also forms a symbolic northern border between western and eastern Europe: dense wilderness and Russia to the east, the Gulf of Bothnia and Sweden to the west.

Finland has so much to offer, here are some of the things Finland is known for.

National Park Hiking, Northern Finland

Finland's great swaths of protected forests and fells make it one of Europe's prime hiking destinations. Head to the Karhunkierros near Kuusamo for a striking terrain of hills and sharp ravines that is prettiest in autumn. The Urho Kekkonen National Park: in Lapland is one of Europe's great wildernesses, while the spectacular gorge of the Kevo Strict Nature Reserve and the fell scenery of Pallas-Yllästunturi National Park are other great northern options. A network of camping huts makes itinerary planning easy and they're good spots to meet intrepid Finns.

Sledding and Snowmobiling, Lapland

Fizzing across Lapland: behind a team of huskies under the low winter sun is tough to beat. Short jaunts are great, but overnight safaris give you time to feed and bond with your lovable dogs and try out a wood-fired sauna in the middle of the winter wilderness. It's no fairy-tale ride though; expect to eat some snow before you learn to control your team. If you're not a dog person, you can enjoy similar trips on a snowmobile or behind reindeer.

Design Shopping, Helsinki

Functional, elegant, outrageous or wacky: the choice is yours. The capital's decidedly nonmainstream chic is best explored by browsing the vast variety of design shops that spatter its centre. Whether examining iconic 20th-century Finnish forms in the flagship emporia of brands such as Iittala, Marimekko and Artek, or tracking down the cutting-edge and just plain weird in the creative Punavuori: backstreets in the heart of its Design District, you're sure to find something you didn't know you needed, but just can't do without. And yes, they can arrange shipping.

Music Festivals

Are you a chamber-music aficionado? Or do you like rock so raucous it makes your ears bleed? Whatever your pleasure, Finland has a music festival to suit. Savonlinna's castle is the dramatic setting for a month-long opera festival:; fiddlers gather at Kaustinen for full-scale folk; Pori, Espoo and Tampere attract thousands of jazz fans; Seinäjoki flashes sequins and high heels during its five-day tango festival; Turku's Ruisrock is one of several kicking rock festivals; and the Sibelius Festival in Lahti ushers in autumn with classical grace.

Bear-Watching, Eastern Finland

Old Honeypaws, the brown bear (Ursus arctos), is the national animal of Finland. Around 1000 of these powerful creatures live in the northeast, coming and going with impunity across the Finnish–Russian border. Operators: run bear hides close to the frontier, where you can sit a silent night's vigil as bruins snuffle out elk carcasses and carefully hidden chunks of salmon. The best time to see them is between mid-April and August, with a slight gap in July when the bears have mating rather than meals in mind.

Summer Cottages

The symbol of the Finnish summer is a cosy cottage perched on a blue lake, with a little rowboat, a fishing pier and perhaps its own swimming beach. The simplest rustic cabins have outside loos and water drawn from a well, while the most modern designer bungalows have every creature comfort. Whether you're looking for a wilderness escape – picturesque Karelia: offers some of Finland's most deeply forested corners – or somewhere for a big family party, you're bound to find the perfect place from the thousands of rental cottages on offer.

Food Markets

Counters selling local cheeses, rough rye breads, handmade chocolates, Finnish sausages and smoked fish fill each town's indoor kauppahalli (covered market). Tampere's: – try traditional mustamakkara (blood sausage) – is typical, with delicious aromas wafting between stalls. In summer the kauppatori (market square) in the towns burst with straight-from-the-garden fruit and vegetables such as sweet, nutty new potatoes, juicy red strawberries, or peas popped fresh from the pod. Autumn's approach is softened by piles of peppery chanterelles and glowing Lapland cloudberries, appearing in August like a magician's trick.

Sámi Culture, Inari

Finland's indigenous northerners have used technology to ease the arduous side of reindeer herding while maintaining an intimate knowledge of Lapland's natural world. Their capital, Inari, and the nearby Lemmenjoki National Park are the best places to begin to learn about Sámi culture and traditions. Start at the marvellous Siida: museum, with state-of-the-art exhibition halls and original buildings, including farmhouses, storage huts and a courthouse. Arrange wilderness excursions with Sámi guides, meet reindeer and browse high-quality handicrafts and music, the sale of which benefits local communities.

Traditional Sauna

These days most Finns have saunas at home, but some public ones remain. They smell of old pine, tar shampoo and long tradition, with birch whisks and no-nonsense scrubdowns available as extras. Weathered Finnish faces cool down on the street outside, loins wrapped in a towel and hand wrapped around a cold beer. Helsinki and Tampere are the best places for this, while Kuopio's old-style smoke sauna: takes a day to prepare and offers a more rural experience, with a lake to jump into right alongside.

On the Water, Lakeland

The Lakeland: seems to have more water than land, so it'd be a crime not to get out on it. You can take three days to paddle the family-friendly Oravareitti (Squirrel Route), or head out into Kolovesi and Linnansaari national parks to meet freshwater seals. Tired arms? Historic lake boats still ply what were once important transport arteries; depart from any town on short cruises, or make a day of it and go from Savonlinna right up to Kuopio or across Finland's largest lake, Saimaa, to Lappeenranta.

Bar Life, Turku

Rumours about Finnish beer prices are a little exaggerated, and there's a big social drinking scene that's great to take part in, particularly in student-filled Turku:. Finns lose that famous reserve after a tuoppi (half-litre glass) or three of beer and are keen to chat to visitors; it's a great way to meet locals. Finland's cities are full of original and offbeat bars and you'll soon find a favourite Suomi tipple, whether Finnish ciders, microbrewed beers, sweet-and-sour combinations, or unusual shots such as salty liquorice vodka or cloudberry liqueur.

Icy Accommodation, Kemi

Even reading the words 'snow hotel' can shoot a shiver up your spine, but spending a night in one of these ethereally beautiful, extravagantly artistic icy buildings is a marvellous, though expensive, experience. There are several to choose from in Lapland, including Lumihotelli: in Kemi. Heavy-duty sleeping bags ensure a relatively cosy slumber, and a morning sauna banishes any lingering chills. If you don't fancy spending the night inside, you can visit the complexes, maybe pausing for a well-chilled vodka cocktail in the bar.

Cycling, Åland Archipelago

Paradisical Åland: is best explored by bicycle – you'll appreciate its understated attractions all the more if you've used pedal power to reach them. Bridges and ferries link many of its 6000 islands, and well-signposted routes take you off 'main roads' down winding lanes and forestry tracks. En route you can pick wild strawberries, wander castle ruins, sunbathe on a slab of red granite, visit a medieval church, quench your thirst at a cider orchard, or climb a lookout tower to gaze at the glittering sea.

Rauma Old Town

The largest wooden old town in the Nordic countries, Vanha Rauma: deserves its Unesco World Heritage status. Its 600 houses might be museum pieces, but they also form a living centre: residents tend their flower boxes and chat to neighbours, while visitors meander in and out of the low-key cafes, shops, museums and artisans' workshops. Rauman giäl, an old sailors' lingo that mixes up a host of languages, is still spoken here, and the town's medieval lace-making heritage is celebrated during Pitsiviikko (Rauma Lace Week).

Seaside Hanko

Offering some of Finland's finest beaches, genteel Hanko:, the country's southernmost town, has a history intimately connected with Russia. The St Petersburg gentry for whom it was a favoured summering destination have left a noble legacy of lovely wooden villas, while the area saw heavy fighting in WWII when it was occupied by Russia and locals were forced to evacuate. Today the long sandy peninsula is all about yachts and sand castles, rather than gunboats and trenches, and makes a great place to relax.
What is discussplaces?
DiscussPlaces
is a place to make new friends and share your passions and interests. Quench your thirst for knowledge, discuss places with other aficionados, and swap recommendations. Are you an aspiring foodie who dreams of living in New York? Or perhaps you are looking for the best chicken wings in Cincinnati? Then this is the place for you! Any one can join in with a passion or interest – whether it be talking about their favorite restaurant in Barcelona or raving about their latest trip to Italy. Join us!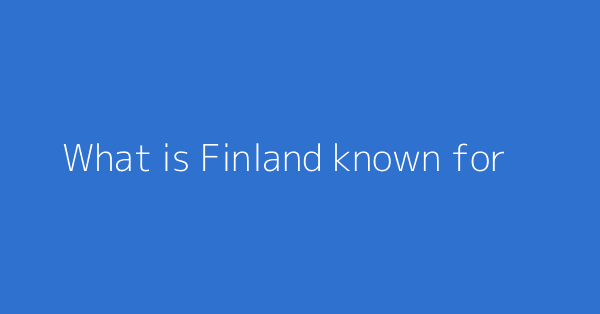 This page shows discussions around "What is Finland known for?"
Whether the information provided was useful?
---