What is Vanuatu known for?
yellowduck703

last edited by




Vanuatu

Vanuatu, country in the southwestern Pacific Ocean, consisting of a chain of 13 principal and many smaller islands located about 500 miles (800 km) west of Fiji and 1,100 miles (1,770 km) east of Australia.
The islands extend north-south for some 400 miles (650 km) in an irregular Y shape.
The Torres Islands are the northernmost group.
Southward from the Torres group, the main islands are Vanua Lava and Santa Maria (Gaua) in the Banks Islands group, Espiritu Santo, Aoba (Ambae), Maéwo, Pentecost, Malakula, Ambrym, Épi, Éfaté, Erromango, Tanna, and Anatom.
Some 200 miles (320 km) to the southeast of Anatom, two uninhabited islands, Hunter and Matthew, are claimed by both Vanuatu and France (as part of New Caledonia).

Vanuatu has so much to offer, here are some of the things Vanuatu is known for.

Mt Yasur: Talking to the gods and hearing their thunderous replies punctuated with brilliant volcanic fireworks on Tanna.
Port Vila: Enjoying the beaches, islands, diving, cultural sites and fine restaurants.
Luganville: Swimming through an underwater world of luxury liners, coral gardens and encrusted caves.
Mt Marum: Camping near the smoking mountain while surrounded by the jungle, cane forests, lava beds and ash plains.
Malekula: Trekking through wild jungle to remote village and cannibal sites.
Oyster Island: Relaxing 'resort style'.
Champagne Beach: Taking a day trip to splash around in blue holes on Santo's east coast.
Tanna: Tasting kava with locals at an ancient kastom village.
Epi: Swimming with turtles and looking for dugongs.
Pentecost: Observing the danger, excitement and cultural cred of the extraordinary naghol (land diving).
DiscussPlaces
is a place to make new friends and share your passions and interests. Quench your thirst for knowledge, discuss places with other aficionados, and swap recommendations. Are you an aspiring foodie who dreams of living in New York? Or perhaps you are looking for the best chicken wings in Cincinnati? Then this is the place for you! Any one can join in with a passion or interest – whether it be talking about their favorite restaurant in Barcelona or raving about their latest trip to Italy. Join us!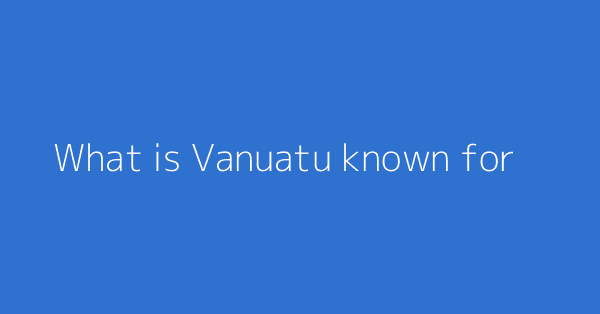 This page shows discussions around "What is Vanuatu known for?"