What is Paraguay known for?



Paraguay

Paraguay, landlocked country in south-central South America.
Paraguay's recent history has been characterized by turbulence and authoritarian rule.
It was involved in two of the three major wars on the continent—the War of the Triple Alliance (1864/65–70), against Argentina, Brazil, and Uruguay, and the Chaco War (1932–35), against Bolivia.
Moreover, a civil war in 1947 and the long dictatorship of Alfredo Stroessner (1954–89) left a deep legacy of fear and self-censorship among Paraguayans, who began to overcome those impediments only in the early 21st century.
Since 1989 the democratization process has been rocky, and Paraguay has experienced bouts of instability in its military, the assassination of a vice president in 1999, and the indictment of former presidents Juan Carlos Wasmosy (1993–98) and Luis González Macchi (1999–2003) on corruption charges.
In 2008 Paraguay's Colorado Party, the longest continuously ruling political party in the world, lost power for the first time since 1947, though it returned to power in 2013.
The national capital is Asunción.

Paraguay has so much to offer, here are some of the things Paraguay is known for.

Carnaval: Partying until well after dawn in hedonistic Encarnación.
The Chaco: Watching a jaguar laze in the shade, sleeping under billions of stars.
Pilar: Making a difference by volunteering on scientific and social projects in the quaint, colonial City of Birds.
Parque Nacional San Rafael: Bird-watching in Paraguay's most biodiverse reserve.
Jesuit Missions: Exploring the picturesque remnants of a unique culture.
Itaipú Dam: Marvelling at this damned big piece of engineering.
The Pantanal Paraguayo: Ogling the animals in Paraguay's corner of this wet wilderness.
Yaguarón: Admiring the ornate interior of the Franciscan church.
DiscussPlaces
is a place to make new friends and share your passions and interests. Quench your thirst for knowledge, discuss places with other aficionados, and swap recommendations. Are you an aspiring foodie who dreams of living in New York? Or perhaps you are looking for the best chicken wings in Cincinnati? Then this is the place for you! Any one can join in with a passion or interest – whether it be talking about their favorite restaurant in Barcelona or raving about their latest trip to Italy. Join us!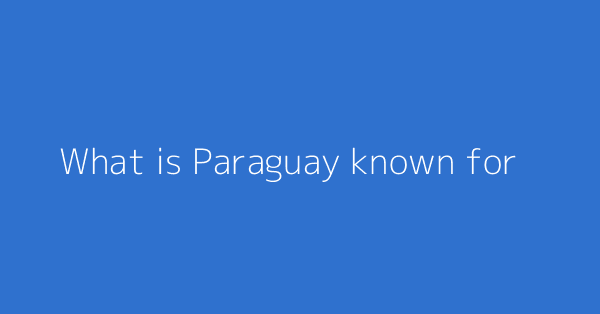 This page shows discussions around "What is Paraguay known for?"