happymeercat282 Discussion Fanatics

last edited by




Here are some of the top rated cafes in Yerevan

Malocco Cafe (Tamanyan str. 1, Yerevan)
Black Angus Yerevan (Abovyan str. 2/5, Yerevan)
The Club Yerevan (Tumanyan O. str. 40, Yerevan)
The Italian Armenia (Anrapyetutsyan str. 51, Yerevan)
Charles Cafe and Restaurant (Tamanyan str. 3/40, Yerevan)
Cafe Central (Abovyan str. 30, Yerevan)
EatandFit Healthy Food Cafe (Arami str. 80, Yerevan)
Jazzve Cafe (Tumanyan O. str. 35, Yerevan)
Artbridge Bookstore Cafe (Abovyan str. 20, Yerevan)
Casa Nostra Restaurant (91 Pavstos Buzand str., Yerevan)
Mayrig Yerevan (Amiryan str. 4/6, Yerevan)
Coffeeshop Company Amiryan (Amiryan str. 4/5, Yerevan)
Lavash Restaurant (Tumanyan O. str. 21, Yerevan)
Gouroo Club and Garden (Saryan St., 13, Yerevan)
Garun Healthy Food Cafe (Tumanyan O. str. 40, Yerevan)
EL Garden (Tsitsernakaberd Park 8, Yerevan)
Limone Cascade (Tamanyan str. 3/81, Yerevan)
Square One (Abovyan str. 1/3, Yerevan)
The Green Bean (Amiryan str. 10, Yerevan)
CRUMBS Bread Factory (Mashtots M. ave 37, Yerevan)
Studio Cafe (Isaakyan A. str. 38, Yerevan)
Achajour Cafe (Bagramyan Marshal ave 21, Yerevan)
Cascade Royal (Antarain str. 192, Yerevan)
Dargett Craft Beer (Arami str. 72, Yerevan)
Los Pueblos (Tamanyan str. 6, Yerevan)
Cafe XV (Byuzand 17, Yerevan)
Tavern Yerevan (29/2 Khorenatsi St., Yerevan)
Cinnabon Armenia (10/3 Northern Avenue, Yerevan)
Eden Cafe Pub (Tamanyan str. 1, Yerevan)
Retro Cafe (Tamanyan str. 6/6, Yerevan)
What is discussplaces?
DiscussPlaces
is a place to make new friends and share your passions and interests. Quench your thirst for knowledge, discuss places with other aficionados, and swap recommendations. Are you an aspiring foodie who dreams of living in New York? Or perhaps you are looking for the best chicken wings in Cincinnati? Then this is the place for you! Any one can join in with a passion or interest – whether it be talking about their favorite restaurant in Barcelona or raving about their latest trip to Italy. Join us!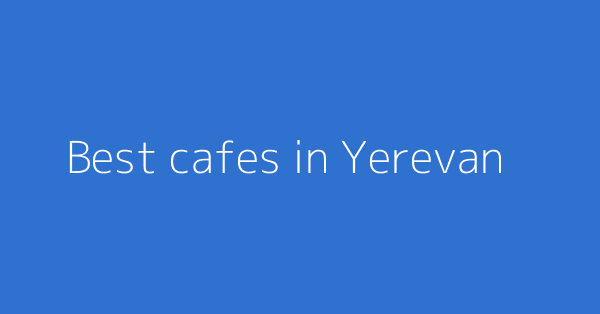 This page shows discussions around "Best cafes in Yerevan"
Whether the information provided was useful?
---