heavypanda370 Discussion Fanatics

last edited by




Here are some of the top rated cafes in Diyarbakir

Nasir Usta Adana KebapcIsI YENISEHIR Sube (Aliemiri Caddesi, Celebi Eser Apt., Yenisehir, Diyarbakir)
Selim Amcanin Sofra Salonu (Ali Emiri Cad. 22/B, Diyarbakir)
Meshur Sitki Usta Kadayif and Kunefe Salonu (Lise Cad. No:7/B, Diyarbakir)
Dagkapi Cigercisi (Kibris Cad. No:6, Diyarbakir)
Nasir Usta (Peyas Mah. 250 Sok. No: 1, Diyarbakir)
Firin-ci (Peyas Mah. Tekel Cd. No: 42, Diyarbakir)
Onur Ocakbasi (Dabanoglu Mah. Varol Sok. No:6, Diyarbakir)
Meshur Kahvaltici Kadri (Gazi Cad. Hasan Pasa Hani K:2, Diyarbakir)
Mustafanin Kahvalti and Yemek Dunyasi (Prof. Selhattin Yazicioglu Cd. Karakoc Plaza Alti No: 25/74, Diyarbakir)
Hanci Et (Peyas Mahallesi, Diyarbakir)
Meshur Tavaci Recep Usta (Peyas Mah. Diclekent Cad. Medya KavsagI,, Diyarbakir)
Sulukluhan (Diyarbakir)
Cigerci Xale Meheme (KIbrIs Caddesi, Yogurtcu Sokak, Diyarbakir)
Kadayifci Saim Usta (Gazi Cad. Galeri Batur Alti No: 4/A, Diyarbakir)
Levent Usta Kunefe and Kadayif Salonu (Akkoyunlu 3. Sokak Ofis Gevran Caddesi, Diyarbakir)
Tabier Lahmacun Ve Pide Salonu (Lise Cad. No:4, Diyarbakir)
Cigerci Muharrem Usta (Sair Sirri Hanim Sok. Gevran Cad. Maruf Apt. No:1, Diyarbakir)
Seyr-i Merdin (Mardin)
Cigerci Remzi Usta (Gazi Cad. Suakar Sok. No: 3, Diyarbakir)
Cigerim Ocakbasi Diyarbakir (Gazi Cad, Diyarbakir)
What is discussplaces?
DiscussPlaces
is a place to make new friends and share your passions and interests. Quench your thirst for knowledge, discuss places with other aficionados, and swap recommendations. Are you an aspiring foodie who dreams of living in New York? Or perhaps you are looking for the best chicken wings in Cincinnati? Then this is the place for you! Any one can join in with a passion or interest – whether it be talking about their favorite restaurant in Barcelona or raving about their latest trip to Italy. Join us!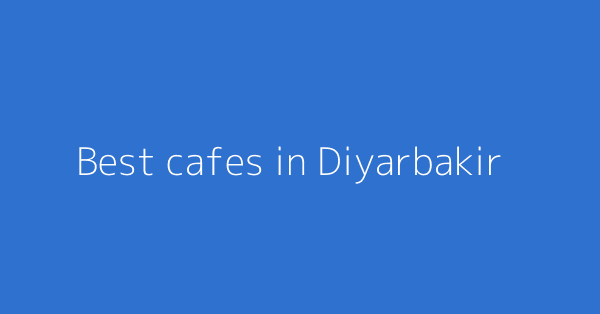 This page shows discussions around "Best cafes in Diyarbakir"
Whether the information provided was useful?
---