What is Belize known for?
silverswan809

last edited by




Belize

Belize, country located on the northeast coast of Central America.
Belize, which was known as British Honduras until 1973, was the last British colony on the American mainland.
Its prolonged path to independence was marked by a unique international campaign (even while it was still a British colony) against the irredentist claims of its neighbour Guatemala.
Belize achieved independence on September 21, 1981, but it has retained its historical link with the United Kingdom through membership in the Commonwealth.

Belize has so much to offer, here are some of the things Belize is known for.

Diving the Blue Hole

The sheer walls of the Blue Hole Natural Monument: drop more than 400ft into the blue ocean. Although it is partly filled with silt and natural debris, the depth still creates a perfect circle of startling azure that is visible from above. The wall of the Blue Hole is decorated with a dense forest of stalactites and stalagmites from times past. A school of reef sharks and the odd hammerhead keep divers company as they descend into the mysterious ocean depths.

Kayaking Glover's Reef Atoll

Lying like a string of white-sand pearls, Glover's Reef Atoll: consists of half a dozen small islands surrounded by blue sea as far as the eye can see. Its unique position, atop a submerged mountain ridge on the edge of the continental shelf, makes it an ideal place for sea kayaking, both between the islands and around the shallow central lagoon. Get a kayak with a clear bottom and you're likely to see spotted eagle rays, southern stingrays, turtles and countless tropical fish swimming beneath as you paddle.

Ambergris Caye

Also known as La Isla Bonita, Ambergris Caye: is the ultimate tropical paradise vacation destination (and that's what Madonna thought, too). Spend your days snorkeling the reef, kayaking the lagoon or windsurfing the straits; pamper yourself at a day spa or challenge yourself at a yoga class; ride a bike up the beach or take a nap at the end of your dock. After the sun sets, spend your evenings enjoying the country's most delectable dining and most happening nightlife in San Pedro.

Garifuna Culture

Garifuna culture is strong in Southern Belize and its most obvious cultural impression is music and drumming. Dangriga and Punta Gorda both have opportunities to study drumming and drum-making with Garifuna drum masters, while the Garifuna village of Hopkins: is a hotbed of drumming for most of the year, especially around full moon nights. Garifuna Settlement Day (November 19) is an event not to be missed, particularly in Hopkins or Dangriga. Tasty Garifuna cuisine can also be found at shack restaurants in these communities.

Caye Caulker

A brisk breeze is almost always blowing (especially between January and June), creating optimal conditions to cruise across the water on sailboat, windsurfer or kiteboard. The world's second-largest barrier reef is just a few miles offshore, beckoning snorkelers and divers to frolic with the fish. The mangroves teem with life, inviting exploration by kayak. All these adventures await, yet the number-one activity on Caye Caulker: is still swinging in a hammock, reading a book and sipping a freshly squeezed fruit juice. Paradise.

Altun Ha

You've drunk the beer, now it's time to visit the ruins that inspired the Belikin beer-bottle label. The most accessible of Belize's ancient ruins, Altun Ha: displays 10 different structures dating from the 6th and 7th centuries, and it was also the site of some of the richest archaeological excavations in Belize, although the artifacts have long since been removed. You'll get your exercise climbing to the tops of the temples to take in the surrounding jungle panorama.

Xunantunich

Xunantunich: isn't Belize's biggest or oldest archaeological site, but it's still one of the most impressive, especially for its remarkable hieroglyphics. After taking a hand-cranked ferry across the Mopan River, you'll walk through bird- and butterfly-filled jungle, until you reach a complex of temples and plazas that dates back to the early Classic Maya Period. Once there, you can explore a number of structures, and even climb to the top of 130ft-high El Castillo for a spectacular 360-degree view of the surrounds.

Belize Carnival

This is not the usual pre-Lenten extravaganza that takes place in other parts of the Caribbean in anticipation of the fasting season. In the 1970s, Belizeans started celebrating their own Carnival: in September, as a spicy addition to the national holidays. Revelers don outrageous costumes and take to the streets in Orange Walk, Corozal Town and especially Belize City. In a flurry of movement, music and color, neighborhood camps design floats and wear costumes that depict local cultures and customs.

Lamanai

Spanning all phases of ancient Maya civilization, the ruins at Lamanai: are known for their stone reliefs, impressive architecture, and the marvelous setting overlooking the New River Lagoon and surrounded by some of Northern Belize's densest jungle. Arrive at this outpost by boat, allowing up-close observation of birds and wildlife along the New River. On site, hear the roar of the howler monkeys while climbing the steep facade of the High Temple and admiring the deformed face on the Mask Temple.

Snorkeling Shark Ray Alley

Local fisherfolk used to come to Shark Ray Alley: to clean their catch, and their discards would attract hungry nurse sharks and southern stingrays. As a result these predators have long become accustomed to the sounds of boat motors, which now bring snorkelers rather than fishers. Shark Ray Alley is the top snorkeling destination in Hol Chan Marine Reserve, a shallow, protected part of the Belize Barrier Reef that harbors an amazing diversity of colorful coral and other marine life.

Crooked Tree Wildlife Sanctuary

Belize is for the birds. Nowhere is that statement truer than at Crooked Tree:, a fishing and farming village centered on a picturesque lagoon. The wetlands attract hundreds of bird species (around 300), including dozens of migrants who stop on their way north or south. Birding is best during the drier months (February to May), when the lagoon dries up and the birds congregate around the remaining puddles. Expert guides will lead you by boat or on foot to spot and identify your feathered friends.

Jungle Hiking

If it is off-the-beaten-path you are after, take a hike in one of Belize's many protected areas, such as Mayflower Bocawina National Park: or Cockscomb Basin Wildlife Sanctuary. With jungle, mountains, waterfalls, swimming holes and even some small Maya ruins, you'll feel like you've left civilization and the 21st century behind entirely. Off the tourist trail, you'll be sharing the park with countless birds, mammals, reptiles and, no doubt, a resident squad of black howler monkeys.

Deep-Sea Fishing

The Northern Cayes are the base for anglers who are drawn to the flats offshore – a prime spot to pull off a 'Grand Slam' (reeling in a permit, tarpon and bonefish in one outing). The remote Turneffe Atoll: is home to a handful of all-inclusive resorts that cater to folks who are focused on the fish and only the fish. Alternatively, Ambergris Caye and Caye Caulker are both perfectly situated for fishing-orientated day trips, while Placencia and Punta Gorda are bases for more remote expeditions.

Maya Villages

To experience Maya life firsthand, trek through the villages of Belize's rural Toledo District, where ancient and contemporary Maya culture exist side by side, and rituals and folklore play an important role in everyday life. From the ancient ruins of Lubaantun: to the cultural circuit through Big Falls, San Miguel and San Pedro Columbia, your trek will take you through some of Belize's most beautiful villages and allow you time to interact with a people whose civilization once surpassed Rome in political influence and grandeur. And they make great chocolate.

Caracol

Step out of the modern world and into the ancient realm at Belize's largest Maya site, where you'll spend the day wandering through a city that once rivaled Tikal in political influence and, for many, is more impressive today. Standing in the central area of temples, palaces, craft workshops and markets, you'll feel the power and glory of ancient Caracol:. At 141ft, Caana (which means Sky Place) is still the tallest building in Belize. In addition to being the country's pre-eminent archaeological site, Caracol also teems with jungle wildlife.

Nohoch Che'en Caves

Floating through a darkened cave river on an inflated tube with a helmet flashlight is a remarkably calming experience. Delve even further into the bowels of the earth with an experienced guide to discover some remarkable cave systems and subterranean rivers known as Caves Branch. At the Nohoch Che'en Caves: you'll float through an underground network, experiencing wonders unseen in the world above. For more adventure, there are jungle ziplining courses, nature trails and ATV (All Terrain Vehicle) trails nearby.

The Hummingbird Highway

Arguably Belize's most beautiful stretch of road, the winding Hummingbird Hwy: offers unparalleled views of the Maya Mountains as it passes through jungles, citrus orchards and tiny villages. The Hummingbird also offers plenty of reasons to stop for a few hours and there are some fine upmarket lodges and budget guesthouses along the way. Explore St Herman's Cave, hike the jungle loop trail, take a dip in the crystal-clear Blue Hole, zipline through the jungle or rappel down Angel Falls.

Placencia

It's hardly off the beaten path, but at the end of a long peninsula there's a reason so many feet beat the path to Southern Belize's most popular beachside resort village. Placencia: is just too chilled out to not spend some time kayaking, sailing or simply walking barefoot on the beach by day, and drinking rum cocktails by night. As for dining, it has most of Southern Belize's best restaurants and freshest lobster. Get here by road, sea ferry or the Hokey Pokey water taxi.

Hopkins

Halfway between the hustle of Dangriga and the tourist vibe of Placencia lies slacked-out Hopkins:, a low-key Garifuna village where life hasn't changed much in decades. Children walk the town's one street selling their mothers' freshly baked coconut pies and chocolate brownies; local men catch fish by day and play drums at night; and the pace of life is pleasantly slow. The beach is slender but on a fine day the view out across the Caribbean is sublime.

Community Baboon Sanctuary

The 'baboons' at this sanctuary: are not really baboons, but rather black howler monkeys, an endangered species in Central America. The 'sanctuary' is not exactly a protected area, but more a network of private properties where the howlers live. Thanks to this community-based, grassroots effort, property owners have agreed to preserve their land for the benefit of the resident monkeys. Although the sanctuary encompasses about 20 sq miles, guides take tourists to a small area where the welcoming troop allows for up-close observation of the funny monkeys.

Belize Zoo

Even people philosophically opposed to the concept of caged creatures will approve of this humane, earthy and educational zoo:. As a halfway house and rehabilitation center for injured, orphaned and rescued Belizean jungle animals, the Belize Zoo is a fabulous and friendly place to get a good look at the dozens of species of indigenous animals and birds that are difficult to spot in the wild. The zoo hosts myriad educational programs for kids and adults, including a festive birthday party for April the tapir; the tapir is the national animal of Belize.

Half Moon Caye Natural Monument

Part of the Lighthouse Reef Atoll, Half Moon Caye: provides a nesting ground for the rare red-footed booby bird. Thousands of these rare waterfowl make their homes in the treetops, alongside the magnificent frigate bird and 98 other species. Dive the Half Moon Caye Wall (or snorkel the surrounding shallows); enjoy a picnic on the beach; then hike across the island and climb the observation platform to get a good look at the boobies. Sea turtles also lay their eggs on the southern beaches.

San Ignacio

Western Cayo's main town: is a relaxed and vibrant community from where you can organize any activity in the region. Saturday is the main market day, where locals sell their produce and wares, but on any day of the week you can chill at a traveler cafe on pedestrian Burns Ave, listen to live music at the Bamboo Bar, stroke green iguanas at San Ignacio Resort Hotel or simply plan your next foray to Mountain Pine Ridge, Caracol or Guatemala. Some of the best-value accommodation in Belize is right here.
DiscussPlaces
is a place to make new friends and share your passions and interests. Quench your thirst for knowledge, discuss places with other aficionados, and swap recommendations. Are you an aspiring foodie who dreams of living in New York? Or perhaps you are looking for the best chicken wings in Cincinnati? Then this is the place for you! Any one can join in with a passion or interest – whether it be talking about their favorite restaurant in Barcelona or raving about their latest trip to Italy. Join us!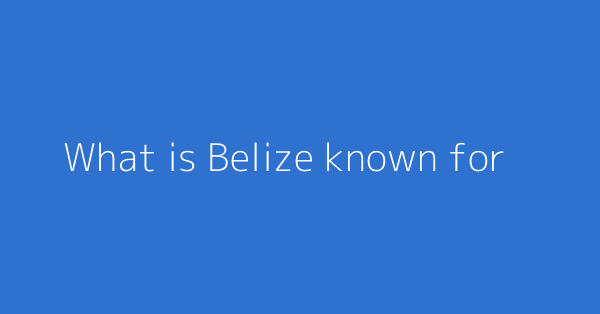 This page shows discussions around "What is Belize known for?"