greenfish900

last edited by




Malta

Malta, island country located in the central Mediterranean Sea.
A small but strategically important group of islands, the archipelago has through its long and turbulent history played a vital role in the struggles of a succession of powers for domination of the Mediterranean and in the interplay between emerging Europe and the older cultures of Africa and the Middle East.
As a result, Maltese society has been molded by centuries of foreign rule by various powers, including the Phoenicians, Romans, Greeks, Arabs, Normans, Sicilians, Swabians, Aragonese, Hospitallers, French, and British.

Malta has so much to offer, here are some of the things Malta is known for.

Valletta

Malta's capital: is a remarkable place. Only 1km by 600m, with every street leading to the sea, the walled fortress city contains a harmonious ensemble of 16th- and 17th-century townhouses fronted by traditional Maltese balconies. The last few years have seen Valletta bloom, with exciting restaurants, renovated buildings and an emerging nightlife scene. New galleries, museums and art spaces have boosted Valletta's cultural credibility, and you'll sense the excitement immediately as you walk through Renzo Piano's striking City Gate, and see his cutting-edge Parliament Building and Opera House just beyond.

Diving

Malta and Gozo arguably have Europe's best diving:, with warm seas, astounding underwater architecture and thrilling WWII shipwrecks. The islands' compact size means an incredible range of dives are accessible from the shore, and there's something to suit all levels, from beginners to technical divers. Multiple diving companies are on hand to ease your way underwater – recommended even for experienced divers. With underwater attractions including downed WWII bombers, the stark remains of Gozo's famed Azure Window and caves teeming with marine life, Malta is a unique diving destination.

Vittoriosa's Backstreets

Vittoriosa: is the most fascinating of the Three Cities. This ancient town on a narrow strip of land has stunning views and perfectly preserved streets. Still known locally as Birgu (its name before the Great Siege of 1565), Vittoriosa was the original home of the Knights of Malta. Their headquarters, Fort St Angelo, have been lovingly restored and are open to the public. To experience Vittoriosa's strong sense of community, visit in October when the culmination of the annual BirguFest sees the ancient streets lit solely by flickering candles.

Blue Lagoon

The beautiful island of Comino has an eclectic history. Ptolemy wrote of it 1800 years ago, and it has been a hermit's hideaway, a cholera isolation zone and a prison camp. But its most extraordinary feature is the other-worldly Blue Lagoon:. This serene, limpid sea pool is so blue that it looks like an over-saturated image. It attracts hordes of swimmers in the summer months but even the crowds can't obscure its beauty (still, try to head here in the afternoon, after most people have left).

Hal Saflieni Hypogeum

Visiting these ancient underground burial chambers: is a unique, mysterious and quite astonishing experience. Amazingly preserved, the sacred spaces hollowed from the rock are around 5000 years old – painted ochre patterns are still visible, decorating the ceilings of some sections. It's a window into an enigmatic ancient world, which leaves a beguiling and perplexing resonance. You'll need to book online several months ahead, but this time-travel portal to a mystical and storied time is an essential experience when visiting Malta.

Ħaġar Qim and Mnajdra Temples

These prehistoric structures: are among Malta's finest and most atmospheric, partly due to their breathtaking location set high on the edge of coastal cliffs that are carpeted by wildflowers in spring. There are magnificent views out to sea and over to the distant islet of Filfla, marked nature trails around the surrounding countryside, and a fascinating visitor centre illuminating what is known about the mysterious temple builders. While Malta also resonates with the fascinating history of more recent centuries, these ancient constructions are some of the country's most beguiling.

St John's Co-Cathedral

The austere exterior of Valletta's cathedral: is no preparation for the frenzy of baroque gold and lavish decoration in its interior. The floor alone is a carpet of many-coloured marble tombs, on which symbolic pictures are delicately rendered in stone. The chapels, each pertaining to an auberge, vie to outdo each other in opulence. The outstanding highlight is Caravaggio's Beheading of John the Baptist in the Oratory – the largest work ever produced by the artist. An excellent new cathedral museum and Caravaggio exhibition is scheduled to open in 2020.

Mdina and Rabat

Malta's tiny sometime capital: is a walled city perched on a hilltop, filled with beautiful honey-coloured buildings. During the day a treasure trove of museums, artefacts and churches (including Malta's stunning second cathedral), it's appealingly mysterious at night, when everything's closed and the city is dimly lit and empty. Wander around after most people have left and you'll understand why it's known as the 'Silent City'. Mdina adjoins Rabat, itself a lovely town with some fascinating sights, and one of Malta's best emerging restaurant scenes.

Secret Coves

Although Malta has some lovely sandy beaches, many of the islands' finest swimming spots are the natural pools and inlets that punctuate the rocky coast. ## Malta has so much to offer, here are some of the things Malta is known for. include the searingly beautiful St Peter's Pool:, great for leaping off the rocks; the sheltered, natural, rocky swimming pool at Għar Lapsi; and Gozo's narrow rocky gorge that meets the sea, Wied il-Għasri, reached by a staircase chiselled into the rock. To combine swimming and dining, head to the absolute seafront Rew Rew restaurant at Mġarr ix-Xini on Gozo.

Il-Kastell

Also known locally as Ċittadella, Victoria's restored fortress: town is a thrilling and poignant highlight of Gozo. The 15th-century fortifications were used as shelter for the island's entire population during Turkish raids, a defiant history illuminated in the excellent new Ċittadella Visitors' Centre. Elsewhere in Il-Kastell, centuries-old marble and limestone backstreets lead to the beautiful Cathedral of the Assumption and museums showcasing archaeology, folklore and natural history. After a lunch of local Gozitan specialities, find time to wander along ll-Kastell's ramparts taking in superb views across the entire island.
DiscussPlaces
is a place to make new friends and share your passions and interests. Quench your thirst for knowledge, discuss places with other aficionados, and swap recommendations. Are you an aspiring foodie who dreams of living in New York? Or perhaps you are looking for the best chicken wings in Cincinnati? Then this is the place for you! Any one can join in with a passion or interest – whether it be talking about their favorite restaurant in Barcelona or raving about their latest trip to Italy. Join us!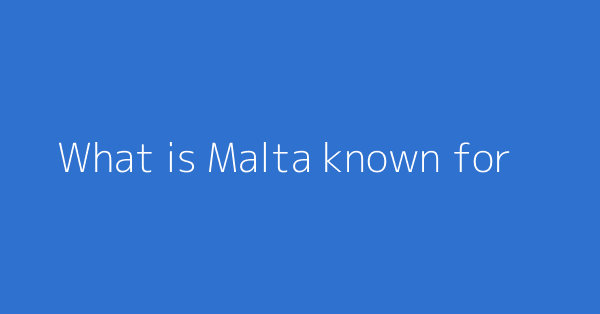 This page shows discussions around "What is Malta known for?"