angrymouse428

last edited by




Cuba

Cuba, country of the West Indies, the largest single island of the archipelago, and one of the more-influential states of the Caribbean region.

Cuba has so much to offer, here are some of the things Cuba is known for.

Live Music Scene

If you've been in Cuba for more than 10 minutes and still haven't heard any live music, you're clearly hanging out in the wrong bars. Welcome to one of the most musically diverse countries on the planet, where guitars still outnumber MP3-players and singing is seen as just another form of verbal communication. The traditional genres of son and salsa are merely one groove on a larger record. Cuba has been pushing the musical envelope for decades. From Benny Moré to hip-hop, the country bleeds syncopated rhythms.

Historic Habana Vieja

International observers regularly single out Cuba's healthcare system for universal praise. But, arguably one of the greatest achievements of the last 50 years is the piecing back together of Habana Vieja:. This detailed, meticulous, lovingly curated restoration process has created one of the historical wonders of the Americas, a kind of Latin American 'Rome' where the past can be peeled off in layers. Armed with a sharp eye and a lucid imagination, you can walk through Havana's cobbled streets and evoke the ghosts of mega-rich sugar barons and sabre-rattling buccaneers.

Cuba's Casas Particulares

Stay in a private homestay and you quickly uncover the nuances of everyday Cuban life. Picture rocking chairs on porches, neighbors popping over for rum and cigars, roosters crowing at 5am, pictures of José Martí placed strategically above the TV set. and animated conversations that go on well into the night and always seem to end with the words 'no es facil' (it ain't easy). Some casas particulares are positively palatial, others remain refreshingly down-to-earth, all offer a candid and uncensored view of Cuba that no hotel could ever replicate.

Eclectic Architecture

Sometimes extreme yet rarely constant, Cuban architecture retains certain binding threads, a definable 'Cuban-ness' that sets it markedly apart from other genres. Originally built by the brutal system of Afro-Cuban slave labor, these buildings are an important means through which to understand Cuba's multifaceted culture and sometimes difficult past. Today, the architecture is a melody of influences; a muscular slice of Spanish baroque, sprinkled with some French classicism, a generous portion of North American art deco and a hint of European art nouveau. Visit the Unesco-listed cities of Havana:, Trinidad, Cienfuegos and Camagüey to see for yourself.

Idyllic Beach Escapes

Cuba's beaches are famous for a reason – they're uncrowded, well endowed with tropical beauty, and extremely varied. There's the long, wide tourist-heavy beaches of Varadero: backed by massive resorts; the wild, deserted eco-beaches of Península de Guanahacabibes where turtles lay their eggs; the little-visited black-sand beaches on the Isla de la Juventud where pirates once roamed; and the unashamedly nudist beaches of Cayo Largo del Sur where package tourists lounge with mojitos. Search around long enough and you're sure to find your own slice of nirvana.

Bird-Watching

Crocodiles aside, Cuba has little impressive fauna, but the paucity of animals is more than made up for by the abundance of birdlife. Approximately 350 species inhabit the shores of this distinct and ecologically weird tropical archipelago, a good two dozen of them endemic. Look out in particular for the colorful tocororo (Cuban trogan), the zunzuncito (bee hummingbird), the critically endangered ivory-billed woodpecker and the world's largest flamingo nesting site. The Ciénaga de Zapata: and the Sierra del Rosario Biosphere Reserve are two of many bird-watching highlights.

Revolutionary Heritage

An improbable escape from a shipwrecked leisure yacht, handsome bearded guerrillas meting out Robin Hood–style justice and a classic David versus Goliath struggle that was won convincingly by the (extreme) underdogs: Cuba's revolutionary war reads like the pages of a barely believable movie script. But it all happened right here. Just to prove it, you can visit the revolutionary sites in person. Little has changed in more than 50 years at the disembarkation point of the Granma yacht and Fidel's wartime HQ at mountaintop Comandancia de la Plata:.

Diving and Snorkeling in the Caribbean

There will be protestations, no doubt, but let's say it anyway: Cuba is home to the best diving in the Caribbean. The reasons are unrivaled water clarity, virgin reefs and sheltered Caribbean waters that teem with fish. Accessibility for divers varies from the swim-out walls of the Bahía de Cochinos: (Bay of Pigs) to the hard-to-reach underwater nirvana of the Jardines de la Reina archipelago. For repeat visitors, Punta Francés: on Isla de la Juventud – host of an annual underwater photography competition – reigns supreme.

Time-Warped Trinidad

Soporific Trinidad: went to sleep in 1850 and never really woke up. This strange twist of fate is good news for modern travelers who can roam freely through the perfectly preserved mid-19th-century sugar town like voyeurs from another era. Though it's no secret these days, the time-warped streets still have the power to enchant with their grand colonial homestays, easily accessible countryside and exciting live music scene. But this is also a real working town loaded with all the foibles and fun of 21st-century Cuba.

Labyrinthine Streets of Camagüey

Get lost! No, that's not an abrupt put-down; it's a savvy recommendation for any traveler passing through the city of tinajones (clay pots), churches and erstwhile pirates – aka Camagüey:. A perennial rule-breaker, Camagüey was founded on a street grid that deviated from almost every other Spanish colonial city in Latin America. Here the lanes are as labyrinthine as a Moroccan medina, hiding Catholic churches, triangular plazas, and a growing ensemble of smart boutique hotels encased in restored colonial buildings.

Cycling Through the Valle de Viñales

With less traffic on the roads than 1940s Britain, Cuba is ideal for cycling and there's no better place to do it than the quintessentially rural Valle de Viñales:. The valley offers all the ingredients of a tropical Tour de France: craggy mogotes (limestone monoliths), impossibly green tobacco fields, bucolic campesino huts and spirit-lifting viewpoints at every turn. The terrain is relatively flat and, if you can procure a decent bike, your biggest dilemma will be where to stop for your sunset-toasting mojito.

Cienfuegos' Classical Architecture

There's a certain je ne sais quoi about bayside Cienfuegos:, Cuba's self-proclaimed 'Pearl of the South.' Through hell, high water and an economically debilitating Special Period, this is a city that has always retained its poise. The elegance is best seen in the architecture, a homogeneous cityscape laid out in the early 19th century by settlers from France and the US. Dip into the cultural life around the city center and its adjacent garden suburb of Punta Gorda and absorb the Gallic refinement.

Fábrica de Arte Cubano

Back in 1968, when the fledgling environmental movement was a bolshie protest group for long-haired students in John Lennon glasses, the prophetic Cubans, concerned about the ecological cost of island-wide deforestation, came up with a good idea. After saving hectares of denuded forest from erosion by planting tree saplings on terraced slopes, a group of industrious workers built an eco-village, Las Terrazas:, and set about colonizing it with artists, musicians, coffee growers and an architecturally unique hotel. Fifty years later, the village is still there quietly practicing its Cuban-style sustainability.

Playa Girón

One of the few parts of Cuba that has never been truly tamed, the Zapata swamps: are as close to pure wilderness as the country gets. This is the home of the endangered Cuban crocodile, various amphibians, the bee hummingbird and over a dozen different plant habitats. It also qualifies as the Caribbean's largest wetlands, protected in numerous ways, most importantly as a Unesco Biosphere Reserve and Ramsar Convention Site. Come here to fish, bird-watch, hike and see nature at its purest.

Evolving Food Culture

Ever since new privatization laws lifted the lid off Cuba's creative pressure cooker in 2011, a culinary revolution has been in full swing. A country that once offered little more than rice and beans has rediscovered its gastronomic mojo with a profusion of new restaurants experimenting with spices, fusion and – perhaps best of all – a welcome re-evaluation of its own national cuisine. Havana: leads the culinary field in number and variety of eating establishments, Viñales offers exquisite traditional plates, while isolated Baracoa rules for regional originality.

Santa Clara's Youthful Energy

Leave your preconceived notions about Cuba at the city limits. Santa Clara: is everything you thought this country wasn't – progressive, creative, welcoming to people of all persuasions, enthusiastic about rock 'n' roll, and keen to push the boundaries of art in every direction. Being a university town helps. Youthful energy runs through Santa Clara like nowhere else in Cuba. Check out the drag shows at Club Mejunje, meet the arty students at the Casa de la Ciudad, or wander Parque Vidal in the evening when an orchestra is playing.

Unlocking the Secrets of Matanzas

For too long the city of Matanzas: has been overlooked by travelers, cast as an ugly cousin to nearby Varadero. But, things are gradually changing. Amid the bridges and rivers of this once great cultural city, flickers of its erstwhile beauty have started to re-emerge in revived classical music venues, a refurbished theater and a cutting-edge art co-op. Granted, there still isn't much of a tourist infrastructure. But, with a little time, Matanzas' gigantic historical legacy will teach you more about the real Cuba than 20 repeat visits to the resorts.

Ebullient Festivals

Through war, austerity, rationing and hardship, the Cubans have retained their infectious joie de vivre. Even during the darkest days of the Special Period, the feisty festivals never stopped, a testament to the country's capacity to put politics aside and get on with the important business of living. The best shows involve fireworks in Remedios, folklórico dancing in Santiago de Cuba, movies in Gibara and every conceivable genre of music in Havana. Arrive prepared to party.

Baracoa

Over the hills and far away on the easternmost limb of Guantánamo Province lies isolated Baracoa:, a small yet historically significant settlement, weird even by Cuban standards for its fickle Atlantic weather, eccentric local populace and unrelenting desire to be, well, different. Despite being hit hard by 2016's Hurricane Matthew, the town remains unbowed and open for business. Watch locals scale coconut palms, see bands play kiribá, the local take on son (Cuban music style), and, above all, enjoy the infinitely spicier, richer and more inventive food, starting with the sweet treat cucurucho (ice-cream cone).

Folklórico Dance in Santiago de Cuba

There's nothing quite as transcendental as the hypnotic beat of the Santería drums summoning up the spirits of the orishas (deities). But, while most Afro-Cuban religious rites are only for initiates, the drumming and dances of Cuba's folklórico (traditional Latin American dance) troupes are open to all. Formed in the 1960s to keep the ancient slave culture of Cuba alive, folklórico groups enjoy strong government patronage, and their energetic and colorful shows in Santiago de Cuba:, remain spontaneous and true to their roots.

Pico Turquino

The trek up Cuba's highest mountain, Pico Turquino:, is a mixture of endurance sport, nature tour and fascinating history lesson. Guides are mandatory for the tough two- to three-day 17km trek through the steep cloud forests of the Sierra Maestra to the 1972m summit where you'll be greeted by a bronze bust of Cuban national hero, José Martí. Revolutionary buffs can make a side trip to Fidel's wartime jungle HQ, La Plata, on the way up.
DiscussPlaces
is a place to make new friends and share your passions and interests. Quench your thirst for knowledge, discuss places with other aficionados, and swap recommendations. Are you an aspiring foodie who dreams of living in New York? Or perhaps you are looking for the best chicken wings in Cincinnati? Then this is the place for you! Any one can join in with a passion or interest – whether it be talking about their favorite restaurant in Barcelona or raving about their latest trip to Italy. Join us!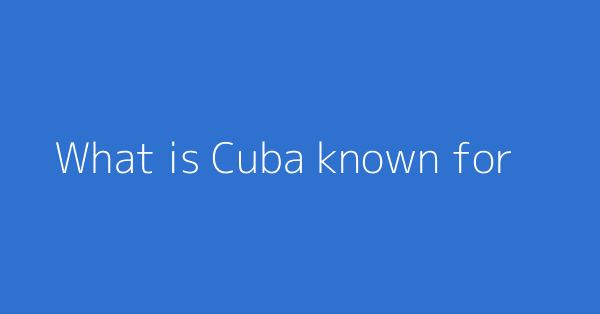 This page shows discussions around "What is Cuba known for?"