What is Lesotho known for?
beautifulbear403

last edited by




Lesotho

Lesotho, country in Southern Africa.
A scenic land of tall mountains and narrow valleys, Lesotho owes a long history of political autonomy to the mountains that surround it and protect it from encroachment.
Since the Neolithic Period, the mountain kingdom was the domain of Khoisan-speaking hunter-gatherers.
In the 19th century the Sotho, led by Moshoeshoe I, took control of the region.
It remained independent until it became a British protectorate, one of three British High Commission Territories (the others being Bechuanaland [now Botswana] and Swaziland).

Lesotho has so much to offer, here are some of the things Lesotho is known for.

Ts'ehlanyane National Park: Horse riding or hiking through breathtaking indigenous forest, and resting well at Maliba Lodge.
Maletsunyane Falls: Conquering the world's highest commercial abseil, bragging about it on a donkey pub crawl and sleeping in a fire-heated rondavel at Semonkong Lodge.
Malealea: Staying in the former trading post Malealea Lodge for mountain views, pony treks and authentic village life.
Sani Top: Raising a glass of brandy at Southern Africa's highest pub, Sani Mountain Lodge, perched atop the infamous Sani Pass.
Katse Dam: Admiring feats of aquatic engineering.
Sehlabathebe National Park: Finding rugged isolation and centuries-old San cave paintings.
Mafika-Lisiu: Seeing forever from atop a 3000m-plus mountain pass.
Leribe (Hlotse): Discovering dinosaur footprints here and in Quthing and Morija.
Teyateyaneng: Shopping for tapestries in this craft capital.
DiscussPlaces
is a place to make new friends and share your passions and interests. Quench your thirst for knowledge, discuss places with other aficionados, and swap recommendations. Are you an aspiring foodie who dreams of living in New York? Or perhaps you are looking for the best chicken wings in Cincinnati? Then this is the place for you! Any one can join in with a passion or interest – whether it be talking about their favorite restaurant in Barcelona or raving about their latest trip to Italy. Join us!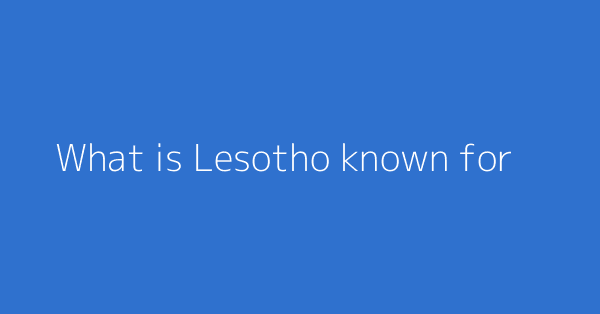 This page shows discussions around "What is Lesotho known for?"