Oman is located in Asia.

Oman is located on the Arabian Peninsula. Known as the Sultanate of Oman, this country is part of Western Asia. As an Arab country, Oman is often misrepresented as an Islamic country. Islam is a religion, not an ethnicity, so it is incorrect to label Oman as an Islamic nation. However, most people in Oman practice Islam.

The GPS coordinates of Oman are a latitude of 21.4735° N and a longitude of 55.9754° E. These coordinates are indicative of Oman's location in both the northern and eastern hemispheres. Oman is also situated to the north of the equator.

Oman has four main extreme points in each of the cardinal directions. In the north, Oman spans as far as As Salamah at a coordinate of 26°30' N. The furthest point in southern Oman is part of the Dhofar Governorate. At a latitudinal coordinate of 16°39' N, the southernmost point of the country lies along the coastline that Oman shares with Yemen.

To the east, Oman's most extreme point is positioned at a coordinate of 59°50' E. Situated in the Ash Sharqiyah Region of Oman, the easternmost point of Oman is in the eastern region of the Arabian Peninsula. The westernmost point of Oman is along the border separating Oman and Saudi Arabia. With a longitudinal coordinate of 52°00' E, this point is along the border of Saudi Arabia in the Dhofar Governorate.

The number of people currently living in Oman is approximately 4,907,334 people. The population of Oman ranks as the 124th most densely populated country in the world. This number is out of a total of 195 countries. In comparison to the rest of the world, Oman is only 0.06% of the global population.

The total area of Oman is about 119,500 square miles. As the 70th largest country in terms of geographic boundaries, Oman is more densely populated in its cities rather than its suburbs. Just about 73% of the population lives in urban regions of the country while the other 27% of people reside in the rural areas of Oman.

The population density of Oman can be calculated by dividing the country's population by its total area. This value will reflect the relationship between these two variables. There are approximately 42 people per square mile in the Arab country.
DiscussPlaces
is a place to make new friends and share your passions and interests. Quench your thirst for knowledge, discuss places with other aficionados, and swap recommendations. Are you an aspiring foodie who dreams of living in New York? Or perhaps you are looking for the best chicken wings in Cincinnati? Then this is the place for you! Any one can join in with a passion or interest – whether it be talking about their favorite restaurant in Barcelona or raving about their latest trip to Italy. Join us!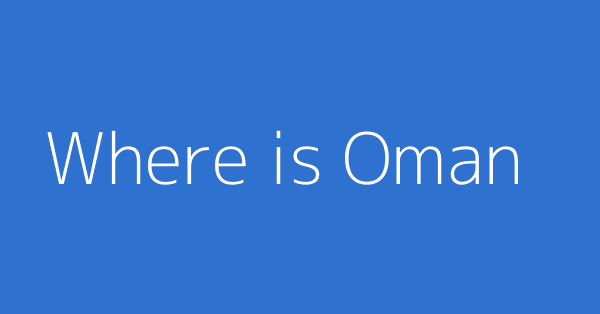 This page shows discussions around "Where is Oman?"