What is Hungary known for?
organictiger969

last edited by




Hungary

Hungary, Hungarian Magyarország, landlocked country of central Europe.
The capital is Budapest.

Hungary has so much to offer, here are some of the things Hungary is known for.

Budapest's Nightlife

Budapest can now claim to be the number-one nightlife destination: in Europe. Alongside its age-old cafe culture and hallowed music halls, it offers a magical blend of unique drinking holes, fantastic wine, home-grown firewaters and emerging craft beers, all served up with a warm Hungarian welcome and a wonderful sense of fun. Unique are the romkocsmák (ruin bars) and kertek (gardens) that pop up all over town in the warmer months.

Eger

Everyone loves Eger:, and it's immediately apparent why. Beautifully preserved baroque architecture gives the town a relaxed, almost Mediterranean feel; it is flanked by two of northern Hungary's most beautiful ranges of hills (Bükk and Mátra), and it is the home of some of Hungary's best wines, including the celebrated Bull's Blood, which can be sampled at cellars in the evocatively named Valley of the Beautiful Women, a mere stroll away from the centre.

Budapest's Thermal Baths

With more than 300 thermal hot springs in public use across Hungary, it's not hard to find a place to take the waters. Some of the thermal baths, like the Rudas Baths: in Budapest, date back to the 16th century. Increasingly popular are wellness spas and water parks, which draw different crowds.

Szeged

The cultural capital of the Great Plain and Hungary's third-largest city, Szeged: is filled with eye-popping art nouveau masterpieces, students, open-air cafes and green spaces, straddling the ever-present Tisza River. Theatre, opera and all types of other classical and popular music performances abound, culminating in the Szeged Open-Air Festival in summer. Szeged is also justly famed for its edibles, including the distinctive fish soup made with local paprika and Pick, Hungary's finest salami.

Budapest's Castle Hill

Budapest boasts architectural gems in spades, but the limestone plateau of Castle Hill: towering over the Danube River's west bank is the Hungarian capital's most spectacular sight. Enclosed within medieval castle walls, numerous attractions vie for your attention, from the treasures in the Hungarian National Gallery and Castle Museum to the claustrophobic Hospital in the Rock and the show-stopping view of Parliament across the river in Pest from Fishermen's Bastion.

Lake Balaton's Northern Shore

Hungary's 'sea' (and Continental Europe's largest lake) is where people come to sun and swim in summertime. The quieter side of Lake Balaton: mixes sizzling beaches and oodles of fun on the water with historic waterside towns like Keszthely and Balatonfüred. Tihany, on a peninsula jutting 4km into the lake, is home to a stunning abbey church.

Hollókő

It may consist of a mere two streets, but Hollókő: is the most beautiful of Hungary's villages. Its 67 whitewashed houses, little changed since their construction in the 17th and 18th centuries, are pure examples of traditional folk architecture and have been on Unesco's World Heritage list since 1987. Most importantly, it is a bastion of traditional Hungarian culture, holding fast to the folk art of the ethnic Palóc people and some of their ancient customs.

Pécs

This gem of a city: is blessed with rarities: Turkish architecture and early Christian and Roman tombs. Its Mosque Church is the largest Ottoman structure still standing in Hungary, while the Hassan Jakovali Mosque has survived the centuries in excellent condition. Pécs is exceptionally rich in art and museums. What's more, the climate is mild – almost Mediterranean-like – and you can't help noticing all the almond trees in bloom or in fruit here.

Hortobágy National Park

Hungarians view the puszta – the Great Plain – romantically, as a region full of hardy shepherds fighting the wind and snow in winter and trying not to go stir-crazy in summer as the notorious *délibábak (*mirages) rise off the baking soil. It's a nostalgic notion, but the endless plains can be explored in the Hortobágy National Park:. You can also watch as Hungarian cowboys ride with five horses in hand in a spectacular show of skill and horsemanship.

Folkloric Northeast

Preserved through generations, Hungary's folk-art traditions bring everyday objects to life. Differences in colours and styles easily identify the art's originating region. You'll find exquisite detailed embroidery, pottery, hand-painted or carved wood, dyed Easter eggs and graphic woven cloth right across the country, but the epicentre is in the Bereg region:. The culture of the tiny villages of this region in the far northeast of Hungary has much to do with their neighbours to the east, including their brightly dyed Easter eggs.

Sopron

Sopron: has the most intact medieval centre in Hungary, its cobbled streets lined with one Gothic or colourful early-baroque facade after another. A wander though the backstreets here is like stepping back in time. The icing on the cake is the town's Roman ruins. But architecture aside, the small border city beckons with its many vineyards and cellars in which to sample the local wine.
DiscussPlaces
is a place to make new friends and share your passions and interests. Quench your thirst for knowledge, discuss places with other aficionados, and swap recommendations. Are you an aspiring foodie who dreams of living in New York? Or perhaps you are looking for the best chicken wings in Cincinnati? Then this is the place for you! Any one can join in with a passion or interest – whether it be talking about their favorite restaurant in Barcelona or raving about their latest trip to Italy. Join us!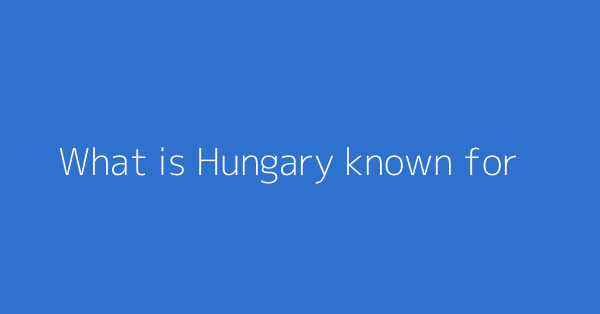 This page shows discussions around "What is Hungary known for?"