What is Brazil known for?
tinyladybug283

last edited by




Brazil

Brazil, officially Federative Republic of Brazil, Portuguese República Federativa do Brasil, country of South America that occupies half the continent's landmass.
It is the fifth largest country in the world, exceeded in size only by Russia, Canada, China, and the United States, though its area is greater than that of the 48 conterminous U.
states.
Brazil faces the Atlantic Ocean along 4,600 miles (7,400 km) of coastline and shares more than 9,750 miles (15,700 km) of inland borders with every South American country except Chile and Ecuador—specifically, Uruguay to the south; Argentina, Paraguay, and Bolivia to the southwest; Peru to the west; Colombia to the northwest; and Venezuela, Guyana, Suriname, and French Guiana to the north.
Brazil stretches roughly 2,700 miles (4,350 km) from north to south and from east to west to form a vast irregular triangle that encompasses a wide range of tropical and subtropical landscapes, including wetlands, savannas, plateaus, and low mountains.
Brazil contains most of the Amazon River basin, which has the world's largest river system and the world's most-extensive virgin rainforest.
The country contains no desert, high-mountain, or arctic environments.

Brazil has so much to offer, here are some of the things Brazil is known for.

Pão de Açúcar, Rio de Janeiro

Some say to come around sunset for the best views from this absurd confection of a mountain:. But in truth, it doesn't matter when you come; you're unlikely to look at Rio (or your own comparatively lackluster city) in the same way. From here the landscape is pure undulating green hills and golden beaches lapped by blue sea, with rows of skyscrapers sprouting along the shore. The ride up is good fun: all-glass aerial trams that whisk you up to the top. The adventurous can rock-climb their way to the summit.

Iguaçu Falls

No matter the number of waterfalls you've checked off your bucket list, no matter how many times you have thought you'd be just fine never seeing another waterfall again, Iguaçu Falls: will stomp all over your idea of water trickling over the edge of a cliff. The thunderous roar of 275 falls crashing across the Brazil and Argentina border floors even the most jaded traveler. Loud, angry, unstoppable and impossibly gorgeous, Iguaçu will leave you stunned and slack-jawed at the absolute power of Mother Nature.

Salvador

The world capital of Afro-Brazil, Salvador: is famous for capoeira, Candomblé, Olodum, colonial Portuguese architecture, African street food and one of the oldest lighthouses in the Americas. The city's past, marked by gritty stories of Portuguese seafaring and the heartbreaking history of the African slave trade, is characterized by hardship. But today's lively Bahian capital offers a unique fusion of two vibrant cultures. The festive music and nightlife scene culminates every February when Salvador hosts one of the best Carnavals in Brazil.

Ilha Grande

Thanks to its isolation, Ilha Grande: served for decades as a prison and leper's colony. Spared from development by this unusual history, its jungle-clad slopes and dozens of beaches are some of the best preserved in all of Brazil. Days are spent hiking through lush Atlantic rainforest, snorkeling amid aquamarine seas and cooling off in refreshing waterfalls. With no motor vehicles to spoil the party, this is one clean, green island – a true nature-lover's paradise. It's also an easy day's journey from Rio.

Ouro Preto

With more ups and downs than a roller coaster, the 18th-century streets of Ouro Preto: veer precipitously between one baroque masterpiece and the next. You can admire the sculpted masterpieces of Aleijadinho, discover the 18th-century African king turned folk hero Chico-Rei and gaze upon opulent gilded churches. The elaborate Holy Week processions are among the country's most spectacular. From gold trading post to state capital, revolutionary hotbed to Unesco World Heritage site, the colonial city of Ouro Preto has been at the center of the action for more than 300 years.

Beers of Blumenau

Ubiquitous pale lagers such as Brahma and Skol certainly suffice as beat-the-heat treats throughout the country, but Brazil's best brews come from greater Blumenau:. Along with lederhosen and leberkäse (a meat dish), heavy German immigration in the 1800s brought Reinheitsgebot, Germany's beer purity law, and these German-Brazilians aren't too fond of sharing. That means with the exception of the once-micro Eisenbahn, seriously good artisanal suds such as Schornstein Kneipe, Bierland and Das Bier don't fall too far from the tree. You'll need to venture into Santa Catarina's Vale Europeu to quench your thirst.

The Pantanal

Few places on earth can match the wildlife-watching experience provided by the Pantanal:, a wondrously remote wetland in the heart of Mato Grosso. From cute capybaras to stately storks, the animal life simply abounds and is remarkably easy to see in the open marshy surroundings. There are a million reasons not to miss out on this particular eco-experience, and not least among them is that there is no better place in South America to see the elusive jaguar!

Fernando de Noronha

This archipelago: of one 10km-long island and 20 smaller ones, 350km out into the Atlantic from Natal, has everything a tropical getaway should have – jaw-dropping scenery and seascapes, fine beaches, the best diving and snorkeling in the country, good surfing, memorable hikes, plentiful visible wildlife, good accommodations and restaurants – and no crowds, for visitor numbers are restricted by the limited number of plane seats available each day. Visiting Noronha is expensive, but it's worth every centavo if your budget will stretch far enough.

Jungle Trips

Needless to say, the best reason to visit the Amazon: is to get out into the jungle: to ply the winding waterways in a canoe, hike lush leafy trails, and scan the canopy for monkeys, sloths and other creatures. The world's biggest and best-known rainforest has outdoor excursions of all sorts, and for all types of travelers: from easy nature hikes to scaling 50m trees, from luxury lodges to makeshift camps in the forest. Whatever your interest, experience, ability or budget, there's a jungle trip in the Amazon waiting to blow your mind.

Nightlife in São Paulo

Rivaling the frenetic pace of New York, the modernism of Tokyo and the prices of Moscow but swamping all of them in options, São Paulo city: is home to a pool of 20 million potential foodies, cocktail connoisseurs and clubbers and nearly 30,000 restaurants, bars and clubs to satiate them. From the contemporary gourmet haunts of Itaim Bibi and Jardins, to the edgy offerings of Baixo Augusta, to bohemian bars in Vila Madalena, it's a gluttonous avalanche of bolinhos (appetizers), booze and beats that outruns the sunrise on most nights. Saúde!

Brasília Architecture

What the city of the future: really needed to back up its claim to be the harbinger of Brazil´s 'new dawn' was an architect capable of designing buildings that looked the part. In Oscar Niemeyer Brasilia found the right man for the job. The 'crown of thorns' Catedral Metropolitana is a religious masterwork and the interplanetary Teatro Nacional is out of this world! Brasilia is a city overloaded with architectural gems designed by a genius inspired by the concept of a better future.

Bonito

Bonito: is beautiful! Book yourself on a smorgasbord of aquatic adventures in the jaw-dropping surroundings of the Serra da Bodoquena and prepare for a wild wet-suited adventure like you've never experienced before. Whether you're taking your first foray into flotation on the Rio da Prata or journeying to the center of the earth at the Abismo Anhumas, Bonito is packed with unique experiences that will rank among your most cherished memories of any trip to Brazil.

Carnaval in Rio de Janeiro

Get plenty of sleep before you board the plane, because once you land, it's nonstop revelry: until Ash Wednesday (sort of) brings it all to a close. With nearly 500 street parties happening all over town, you will not lack for options. For the full experience, join a samba school and parade amid pounding drum corps and mechanized smoke-breathing dragons before thousands of roaring fans in the Sambódromo. Or assemble a costume and hit one of the Carnaval balls around town. The buildup starts weeks in advance.

Tiradentes

The colonial town of Tiradentes: is so well preserved, and its natural setting so appealing, you could be excused for feeling like you've wandered onto a movie set. Cobbled lanes, flower-draped walls and some stunning colonial architecture make every step a delight – even more if you like to hike. The surrounding mountains are threaded with trails; Tiradentes' hyperactive restaurant scene serves up delicious meals, both modern and traditional; and its charming guesthouses make a relaxing spot to recharge.

Parque Nacional da Chapada Diamantina

A pristine outdoor wonderland of rushing waterfalls, crystal-blue pools, rugged hiking trails and natural waterslides, Chapada Diamantina: is a deliciously unspoiled national park well off the beaten path – it's one of the only inland attractions in the beach-happy state of Bahia. Those who make the effort to explore the park, either on day excursions from Lençóis or on the Grand Circuit with a local guide, often count the Chapada Diamantina as one of their top outdoor travel experiences in Brazil.

Lençóis Maranhenses

Of all Brazil's landscape spectacles, the most unexpected has to be the Lençóis Maranhenses: in Maranhão – a 70km-long, 25km-wide expanse of high dunes resembling lençóis (bed sheets) spread across the landscape. From around March to September (best in July and August), the dunes are partnered by thousands of crystal-clear, freshwater lagoons from rainwater filling the hollows between them. It's a stunning landscape that can be visited by 4WD tour, by boat down the jungle-lined Rio Preguiças or, for the adventurous, on a three- or four-day trek right across the Lençóis.

Recife and Olinda

These two contrasting Northeastern neighbors with an intertwined history and shared culture make a heady double act. Recife: is the big-city big sister with the skyscrapers and traffic, but also a fascinating historic center becoming ever more appealing through renovations and new museums, restaurants and cultural centers. Photogenic Olinda: has tranquil winding lanes, colonial churches and artists' galleries. Their vibrant shared heritage comes together at Carnaval with some of Brazil's most riotous street festivities, highlighted by unique, spectacularly colorful music and dance forms such as frevo and maracatu (Afro-Brazilian music with a slow, heavy beat).

Alter do Chão

Alter do Chão: truly has it all: a slice of beachfront in the heart of the rainforest. The Amazonian destination is best known for its picturesque setting, an island made entirely of fine white sand lapped by cool tea-colored water. But Alter do Chão is also a gateway to a major national forest, with massive samaúma trees and a chance to live with local rubber-tapper families. With so much to do, appealing lodging options and a great laid-back vibe, it's a place where you'll want to linger for a while – and many travelers do just that.

Santa Catarina Beaches

Santa Catarina: is synonymous with the good life and that has a whole lot to do with its sun-toasted shores. Whether you hang out in Florianópolis (where an easy path to paradise boasts 42 idyllic beaches sitting within an hour's drive) or head south of the capital to Guarda do Embaú (one of Brazil's best surfing spots) or to Praia do Rosa (the state's most sophisticated beach resort), a powerful punch of wow will greet you the first time you dig your toes into the state's unspoiled sands.

Paraty

No place in Brazil offers such an enticing blend of colonial architecture and natural beauty as Paraty:. Located a few hours southwest of Rio on the picturesque Costa Verde, it has long been a favorite carioca getaway. Drop-dead gorgeous beaches and a stunning mountain backdrop jostle for attention with the multihued, cobblestoned charms of the 18th-century town center. If you get bored with sunbathing and sightseeing, cool off with a caipirinha, go hurtling down a natural waterslide nearby, or whip up a gourmet Brazilian meal at the local cooking school.

yellowswan996

last edited by




the most important or central idea of a paragraph or of a larger part of a text. The main idea tells the reader what the text is about and is. Summary. identifies the key ideas, details, or events in the text and reports them with an emphasis on who did what to whom and when.

Beside above, what is a central idea example? The central idea is the central, unifying element of the story, which ties together all of the other elements of fiction used by the author to tell the story. The central idea can be best described as the dominant impression or the universal, generic truth found in the story.

Similarly, it is asked, what is the main idea of a story?

The main idea of a story is the central point or big picture concept that the reader should walk away with. One of the best ways to determine the main idea is to identify things that are not the main idea. The main idea is not detailed; its a concept that encompasses the entire book.

What is the main topic?

The main idea is the point of the paragraph. It is the most important thought about the topic. The author can locate the main idea in different places within a paragraph. The main idea is usually a sentence, and it is usually the first sentence. The writer then uses the rest of the paragraph to support the main idea.




Baker Street Pub

Beside above, what bar did Tom Cruise open at the end of cocktail? Flanagans Cocktails and Dreams

Likewise, people ask, where is the bar from cocktail?

Cocktail (1988) Flanagan moves to Jamaica to raise enough money to open his own bar, where he falls in love with artist Jordan Mooney (Elisabeth Shue). Subway, Jackson Avenue and 50th Avenue, Long Island City, New York. Bar, 10-37 Jackson Avenue and 50th Avenue, Long Island City, New York.

What is the film Cocktail about?

Brian Flanagan (Tom Cruise) wants a high-paying marketing job, but needs a business degree first. Working as a bartender to pay for college, Flanagan is mentored by his veteran boss, Doug Coughlin (Bryan Brown). Together, their showy tricks and charisma command large crowds and tip payments -- until Flanagan and the cynical Coughlin have a falling out. Flanagan moves to Jamaica to raise enough money to open his own bar, where he falls in love with artist Jordan Mooney (Elisabeth Shue).
What is discussplaces?
DiscussPlaces
is a place to make new friends and share your passions and interests. Quench your thirst for knowledge, discuss places with other aficionados, and swap recommendations. Are you an aspiring foodie who dreams of living in New York? Or perhaps you are looking for the best chicken wings in Cincinnati? Then this is the place for you! Any one can join in with a passion or interest – whether it be talking about their favorite restaurant in Barcelona or raving about their latest trip to Italy. Join us!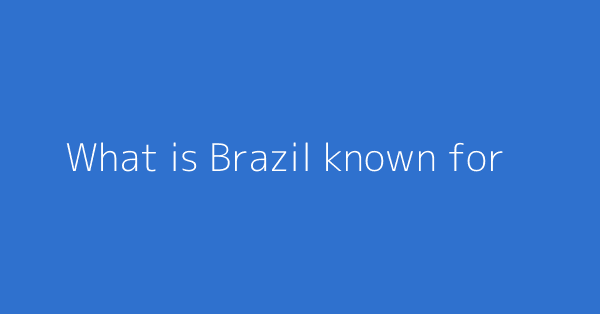 This page shows discussions around "What is Brazil known for?"
Whether the information provided was useful?
---