What is Albania known for?
yellowlion680

last edited by




Albania

Albania, country in southern Europe, located in the western part of the Balkan Peninsula on the Strait of Otranto, the southern entrance to the Adriatic Sea.
The capital city is Tirana ( Tiranë).

Albania has so much to offer, here are some of the things Albania is known for.

Accursed Mountains: Experiencing some of Albania's best scenery on the wonderful day-trek between the isolated mountain villages of Valbona and Theth.
Berat: Exploring this Unesco World Heritage–listed museum town, known as the 'city of a thousand windows'.
Albanian Riviera: Catching some sun at just one of the many gorgeous beaches on the Albanian Riviera.
Tirana: Feasting your eyes on the wild colour schemes and experiencing Blloku cafe culture in the plucky Albanian capital.
Gjirokastra: Taking a trip to this traditional Albanian mountain town, with its spectacular Ottoman-era mansions and impressive hilltop fortress.
Butrint: Searching for the ghosts of ancient Greece and Rome among the forest-dappled ruins of one of Europe's finest archaeological sites.
What is discussplaces?
DiscussPlaces
is a place to make new friends and share your passions and interests. Quench your thirst for knowledge, discuss places with other aficionados, and swap recommendations. Are you an aspiring foodie who dreams of living in New York? Or perhaps you are looking for the best chicken wings in Cincinnati? Then this is the place for you! Any one can join in with a passion or interest – whether it be talking about their favorite restaurant in Barcelona or raving about their latest trip to Italy. Join us!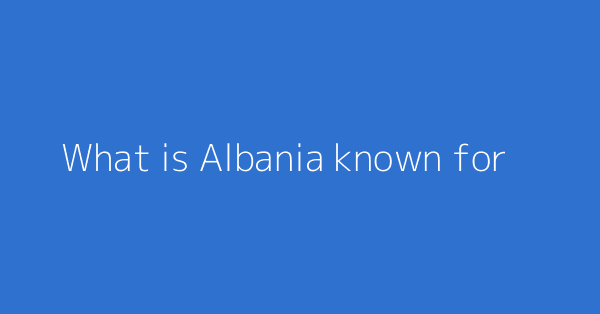 This page shows discussions around "What is Albania known for?"
Whether the information provided was useful?
---