What is Jordan known for?
tinytiger956

last edited by




Jordan

Jordan, Arab country of Southwest Asia, in the rocky desert of the northern Arabian Peninsula.

Jordan has so much to offer, here are some of the things Jordan is known for.

Petra

Ever since the Swiss explorer Jean Louis Burckhardt rediscovered this site in 1812, the ancient Nabataean city of Petra: has been drawing the crowds – and with good reason. This is without doubt Jordan's most treasured attraction and when the sun sets over the honeycombed landscape of tombs, carved facades, pillars and sandstone cliffs, its magic is irresistible. At least two days is needed to do the site justice and visit the main monuments at the optimum times of day.

Roman Ruins

For so small a country, Jordan punches well above its weight in world-class monuments, with some of the finest Roman ruins outside Rome. In addition to the Citadel and the well-preserved Theatre in Amman, the black basalt ruins of Umm Qais and the Colonnaded Street in Petra signal the Roman presence at either ends of the country. The true highlight, however, is Jerash: with its extensive amphitheatres and colonnades. From the site's well-preserved hippodrome, it's easy to imagine chariots tearing around the track in this ancient outpost of Rome.

Wadi Rum

It wasn't just the dramatic vistas of Wadi Rum:, with its burnished sandstone cliffs and vivid-coloured dunes, that impressed Lawrence of Arabia as he paced on camelback through the land of the Bedouin. He was also impressed by the stoicism of the people who endured the hardships of desert life. Today, it's possible to get a glimpse of that traditional way of life (albeit with a few more creature comforts) by staying in one of the Bedouin camps scattered across this desert wilderness.

The Dead Sea

Floating in the Dead Sea: is one of the country's great natural experiences. Floating is the right word for it: with an eye-stingingly high salt content it is virtually impossible to swim in the viscous waters of a sea that is 415m below 'sea level', and equally impossible to sink. The experience is usually accompanied by a mud bath, a bake in the sun and a luxurious, health-giving spa treatment at one of the modern pleasure palaces lined up along the Dead Sea's shores.

Crusader Castles

As a frontier in the battle for the soul between Muslim and Christian forces, the Levant is dotted with castles. In Jordan, there are well-preserved examples at Ajloun and Shobak, but Karak Castle:, commanding the semi-arid hills above the King's Highway, is the most atmospheric. You don't need to be military-minded to be impressed by the enormous ramparts, but imagination helps to hear the dying howls of those pitched from the parapet by sadistic Renauld de Châtillon.

Madaba's Mosaics

For centuries, Madaba:, at the head of the ancient King's Highway, has been a crossroads for camel caravans transporting goods, legions of armies pushing the borders of various empires, and Christian pilgrims driven by faith in search of the Promised Land. To this day the town, with its churches, mosques, museums, markets and craft workshops, retains the marks of those cultural exchanges. Perhaps the best evidence of this rich past is Madaba's collection of mosaics, a heritage continued through the town's unique mosaic school.

Diving the Red Sea

It's no secret that the Red Sea is home to some of the most beautiful underwater seascapes in the world. Jordan's Red Sea shoreline along the Gulf of Aqaba: is admittedly short, but this comparatively unexploited stretch of water encompasses pristine reefs, crumbling wrecks and kaleidoscopic coral gardens. Snorkelling and diving among damsel fish, turtles and seahorses is a memorable experience easily arranged through dive centres in and around the lively seaside city of Aqaba. Access is both from the beach and by short boat-ride.

Biblical History

For many people Jordan is more than just a traveller's destination: it's a place of Christian pilgrimage. Sites resonating with spiritual significance abound in a country delineated by the Jordan Valley. This is where John is believed to have baptised Jesus at Bethany-Beyond-the-Jordan:, and where, according to the Bible, the towns of Sodom and Gomorrah attracted the wrath of God. It is at Mt Nebo, however, with its view of the Promised Land, that one most senses that for many people this is 'hallowed, holy ground'.

The Jordan Trail

In a region not commonly associated with hiking, Jordan has a surprising number of good walking paths. Trails thread through the northern forest reserves, above wadi waterfalls in Mujib, and along livestock trails in Petra and Wadi Rum. Now it's possible to string many of these destinations together on the 650km, 36-day (42 days with rest stops) Jordan Trail:. Named by National Geographic as one of the best hikes in the world, the trail includes trekking through four biospheres in the Dana Biosphere Reserve.

Exploring Desert Castles

The plains of eastern Jordan are home to the 'desert castles', a collection of early Umayyad pleasure palaces, bathhouses and hunting lodges that appear strikingly incongruous in the barren surroundings. Brooding Qasr Kharana: tops the list, but other highlights include Qusayr Amra's saucy frescoes and TE Lawrence's winter redoubt at Azraq. The off-road Eastern Badia Trail, recently developed by Wild Jordan, links Azraq Lodge with a new community-based tourism project at Burqu in this region of surprises.

Shaumari Wildlife Reserve

Comprising large areas of hammada (black flint), Shaumari Wildlife Reserve: sits on the edge of the great wilderness that stretches into unending distance. The first of Jordan's nature reserves, established as part of a mission to reintroduce the oryx, it has recently undergone a decade of redevelopment. ## Jordan has so much to offer, here are some of the things Jordan is known for. of a visit include an oryx safari and the opportunity to see rare breeds, such as goitered gazelles and Persian onagers, in their desert enclosures. With Azraq Wetland Reserve nearby, a visit to Shaumari helps prove that the desert is not deserted.

King's Highway

It may not be a literal path of kings, but the King's Highway follows some big footsteps. These include those of the Nabataeans, whose fabled city of Petra lies at the south end of the highway; the Romans, whose military outpost at Umm Ar Rasas is a Unesco World Heritage Site, and the Crusaders who built Karak and Shobak Castles. Smaller footsteps belonged to Salome in her 'Dance of the Seven Veils' at the desolate hilltop of Mukawir:. Only a four-hour direct drive today, the highway is better appreciated over two days.

Wadi Mujib

Fresh water is in short supply in Jordan, and it has already become an issue of intense political importance in dialogue with neighbouring states. Various projects, such as the 'Red to Dead' Sea Canal and a pipeline from Wadi Rum's aquifers to Amman, are being explored with ever-greater urgency. That's one reason why the natural springs of the Mujib Biosphere Reserve: are a highlight. The other reason is that the water flows through a spectacular wadi into a series of deep pools – paradise for the adventure-seeking traveller.

Amman

In a country strewn with the ruins of former civilisations, it can be difficult to remember that Jordan isn't just a relic of the past, it's very much a forward-thinking nation with a vibrant contemporary culture. There's no better place to feel the pulse of modern Jordan than in Amman with its international restaurants, trendsetting nightlife and fashionable shopping districts. For those who can't let history sleep, however, the capital boasts its own treasures, including fine Roman ruins and the excellent Jordan Museum:.

Community Tourism

For more than a decade the northwestern part of Jordan has been at the forefront of community-based tourism with creative initiatives arising out of the Royal Society for the Conservation of Nature's commitment to working with local villages. At Ajloun Forest Reserve:, promotion of cottage industries ensures local people benefit from tourism in their backyard. Opportunities for sustainable tourism include following the Al Ayoun Trail near Ajloun, a community-run trail with village homestays. In Umm Qais, classes are offered in foraging, cooking, beekeeping and basket weaving, along with hiking or biking guided tours.
DiscussPlaces
is a place to make new friends and share your passions and interests. Quench your thirst for knowledge, discuss places with other aficionados, and swap recommendations. Are you an aspiring foodie who dreams of living in New York? Or perhaps you are looking for the best chicken wings in Cincinnati? Then this is the place for you! Any one can join in with a passion or interest – whether it be talking about their favorite restaurant in Barcelona or raving about their latest trip to Italy. Join us!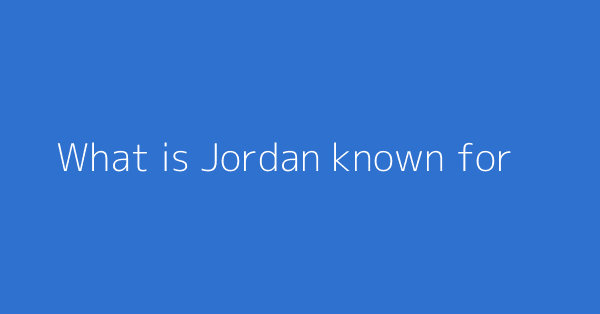 This page shows discussions around "What is Jordan known for?"