What is Cambodia known for?
angrypanda814

last edited by




Cambodia

Cambodia, country on the Indochinese mainland of Southeast Asia.
Cambodia is largely a land of plains and great rivers and lies amid important overland and river trade routes linking China to India and Southeast Asia.
The influences of many Asian cultures, alongside those of France and the United States, can be seen in the capital, Phnom Penh, one of a handful of urban centres in the largely rural country.

Cambodia has so much to offer, here are some of the things Cambodia is known for.

Temples of Angkor

One of the world's most magnificent sights, the temples of Angkor: are so much better than the superlatives suggest. Choose from Angkor Wat, the world's largest religious building; Bayon, one of the world's weirdest, with its immense stone faces; or Ta Prohm, where nature runs amok. The ancient Khmers packed the equivalent of all Europe's cathedrals into an area the size of Los Angeles, so there are plenty of temples to choose from: the beautiful carvings of Banteay Srei, the jungle ruin of Beng Mealea and the Mayan-style pyramid temple of Koh Ker.

The Southern Islands

In Cambodia's up-and-coming southern islands: your best chances to fulfil those paradise fantasies are Koh Rong and Koh Rong Sanloem. Off the coast of Sihanoukville, Koh Rong is party central, with its hippy-trippy Koh Tuch village; the rest of the island, fringed by silicon sand and clad in dense jungle, is an escape. Just south and slightly mellower is Koh Rong Sanloem, with tropical hideaway resorts and gentle, shallow bays. There are more islands along the coast, including the Koh Sdach archipelago and the large, almost undeveloped, Koh Kong.

Phnom Penh

The Cambodian capital is a chaotic yet charming city that has stepped out of the shadows of the past to embrace a brighter future. Boasting one of the most beguiling riverfronts in the region, Phnom Penh: is surprisingly sophisticated thanks to its hip hotels, epicurean eateries and boho bars ready to welcome urban explorers. Experience emotional extremes at the inspiring National Museum and the depressing Tuol Sleng prison, showcasing the best and worst of Cambodian history. Once known as the 'pearl of Asia', Phnom Penh is glistening once more.

Kampot Province

Kampot Province: offers atmospheric towns, and attractions as varied as national parks, cave pagodas and tropical beaches. In laid-back Kampot town, choose from backpacker hostels, riverside resorts or boutique hotels to take in the wonderful French architectural legacy, or explore the pretty river by paddleboard or kayak. Sleepier Kep has its famous Crab Market, hiking in Kep National Park and nearby Koh Tonsay (Rabbit Island). Countryside romps include the winding ascent to Bokor Hill Station or exploring the working pepper farms for which Kampot is justly famous.

Siem Reap Province

Siem Reap town: only came into existence as a gateway to the temples of Angkor, but has emerged as a world-class destination in its own right, with a superb selection of restaurants, cafes and bars, not to mention markets, boutiques and galleries. Beyond the town lie other-worldly floating villages on the Tonlé Sap lake, adventure activities such as quad biking and ziplining, and such cultured pursuits as cooking classes. There are also some traditional villages a short distance from town where it's possible to experience local life in a homestay.

Mondulkiri

Eventually the endless rice fields and sugar palms that characterise the Cambodian landscape give way to rolling hills and the wild east of Mondulkiri:, home to the hardy Bunong people, who still practise animism and ancestor worship. Wildlife is a big draw here with the opportunity to 'walk with the herd' at Elephant Valley Project or spot doucs or gibbons on a trek through the Seima Protected Forest. Add thunderous waterfalls and a jungle zipline to the mix and you have the perfect ingredients for an authentic adventure.

Battambang

This is the real Cambodia, unfurling along the banks of the Sangker River, Battambang: is one of the country's best-preserved colonial-era towns. Streets of French shophouses host everything from fair-trade cafes to art galleries. Beyond the town is the Cambodian countryside and a cluster of ancient temples, which, although not exactly Angkor Wat, do, mercifully, lack the crowds. Then there's the Phare Ponleu Selpak, a wildly successful nonprofit that trains up performing artists and puts on an awe-inspiring local circus. Battambang in a word? Charming.

Prasat Preah Vihear

The mother of all mountain temples, Prasat Preah Vihear: stands majestically atop the Dangkrek Mountains, forming a controversial border post between Cambodia and Thailand. The foundation stones of the temple stretch to the edge of the cliff as it falls precipitously away to the plains below, and the views across northern Cambodia are incredible. The 300-year chronology of its construction also offers an insight into the metamorphosis of carving and sculpture during the Angkorian period. It's all about location, though, and it doesn't get better than this.

Kratie

Gateway to the rare freshwater Irrawaddy dolphins of the Mekong River, Kratie: is a busy crossroads on the overland route between Phnom Penh and northeastern Cambodia or southern Laos. The town has a certain decaying colonial grandeur and boasts some of the country's best Mekong sunsets. Nearby Koh Trong island is a relaxing place to experience a homestay or explore on two wheels. North of Kratie lies the Mekong Discovery Trail, with adventures and experiences themed around the mother river, including community-based homestays, bicycle rides and boat trips.

Khmer Cuisine

Everyone has tried Thai and Vietnamese specialities before they hit the region, but Khmer cuisine:, an unexpected epicurean adventure, remains under the culinary radar. Amok (baked fish with lemongrass, chilli and coconut) is the national dish, but sumptuous seafood and fresh-fish dishes are plentiful, including Kep crab infused with Kampot pepper. It wouldn't be Asia without street snacks, and Cambodia delivers everything from mee (noodles) and bobor (congee or rice porridge) to deep-fried tarantulas and roasted crickets, some of which can be sampled on a foodie tour in Siem Reap.
DiscussPlaces
is a place to make new friends and share your passions and interests. Quench your thirst for knowledge, discuss places with other aficionados, and swap recommendations. Are you an aspiring foodie who dreams of living in New York? Or perhaps you are looking for the best chicken wings in Cincinnati? Then this is the place for you! Any one can join in with a passion or interest – whether it be talking about their favorite restaurant in Barcelona or raving about their latest trip to Italy. Join us!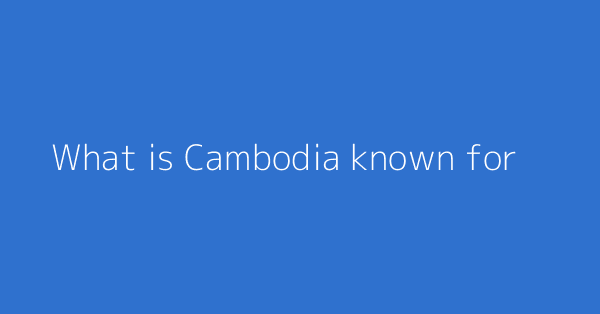 This page shows discussions around "What is Cambodia known for?"