What is Ukraine known for?



Ukraine

Ukraine, country located in eastern Europe, the second largest on the continent after Russia.
The capital is Kyiv (Kiev), located on the Dnieper River in north-central Ukraine.

Ukraine has so much to offer, here are some of the things Ukraine is known for.

Lviv's Historical Centre

Lviv: is the beating cultural heart of Ukraine and the city most geared up to accept foreign visitors. Its bustling centre is the main square, pl Rynok, in the middle of which rises the huge ratusha (town hall). In the shadow of its tall tower mill, clutches of selfie-stick-toting tourists, quick-footed locals and rattling Soviet-era trams somehow squeeze through the crowds. Head in any direction and you will quickly stumble upon a magnificent, aromatic church: each one, it seems, belonging to a different denomination.

Kyevo-Pecherska Lavra, Kyiv

Discover the mysteries of Eastern Orthodoxy and descend into catacombs to see mummies of much-revered saints on an excursion to the holy of holies for all eastern Slavs. Founded as a cave monastery in 1051, the lavra: is packed with golden-domed churches, baroque edifices and orchards. Religious ceremonies take place in lavishly decorated, icon-filled interiors, accompanied by exquisite choir singing and attended by flocks of pilgrims and monks. Obscure museums in the grounds are dedicated to Scythian gold, micro-miniatures and decorative arts.

Carpathian Landscapes

By and large Ukraine, is as flat as a topographically challenged blin (pancake), which makes its bumpy bits all the more special. Ukraine's slice of the Carpathian arc barely reaches over 2000m, but its soothing wooded slopes, rough stony trails, flower-filled upland pastures and wide, snaking valleys make this prime hiking, biking and skiing territory. Needless to say, the Carpathians: are home to Ukraine's highest peak, Mt Hoverla, a fairly easy trek from nearby villages, as well as the Hutsuls, the country's most colourful ethnic group.

Lviv's Food Culture

Coffee, chocolate, gingerbread, strudel, cherry liqueur, beer – Lviv seems to have a festival dedicated to every naughty pleasure, but you don't have to turn up on a red letter day to satisfy your sweet tooth. Ukraine's gastronomic capital: has Eastern Europe's best coffee year-round, drunk central European style in cosy cafes. Lviv chocolate is a national phenomenon, as is the local beer – once a favourite in the Kremlin. The city's theme restaurants are also giving way to authentic local cuisine, one of Eastern Europe's most diverse.

Kamyanets-Podilsky

There are few more eye-pleasing spots in Ukraine than this Podillyan town:, ringed by the dramatic gorge of the Smotrych River. A stroll from the new bridge takes you through the cobbled quarters of this once-divided community, past beautifully renovated churches, crumbling palaces and forgotten pieces of the once beefy defences, to the town's impossibly picturesque fortress, surely one of the highlights of any visit to Ukraine. And the best thing? Outside high season you may have the place entirely to yourself.

Ivano-Frankivsk

The once off-limits city of Ivano-Frankivsk: may not entirely live up to its nickname 'Little Lviv', but its historical centre is now one of Ukraine's most pleasant, especially in the summer when buskers entertain the evening corso (promenade) and cafe tables scatter across pretty squares. Like Lviv, I-F is centred around its ratusha, an unusual, star-shaped structure with a climbable tower. But when you tire of the city's architectural grandeur, its friendly locals and some of west Ukraine's best food, this is also your northern gateway to the Carpathians.

Andriyivsky Uzviz, Kyiv

The apostle Andrew is said to have climbed this steep ascent: to erect a cross and prophesy the rise of Kyiv. Today it's the haunt of artists, who install their canvases on this cobbled Montmartre-like street, which – in true decadent style – Kyivites call 'Andrew's Descent'. Packed with souvenir stands selling all sorts of junk, the uzviz has heaps of Bohemian charm and is great for people-watching. Here Russian writer Mikhail Bulgakov wrote The White Guard, perhaps the best novel about Kyiv and its people; his house is now a museum.

Visiting Chornobyl

Touring the site: of the world's worst nuclear accident may not be everyone's idea of a great day out, but this perfectly safe trip is a real eye-opener. Two hours north of Kyiv, guided tours take you into the exclusion zone and as near to the reactor as you can go. However, it's the moving stories of evacuation and the sacrifices made by those sent in to stem the flow of radiation that will live in the memory, as will Pripyat, the model Soviet settlement turned eerie Cold War ghost town.

Pyrohovo Museum of Folk Architecture, Kyiv

You can safely claim you've seen all of Ukraine after a visit to Pyrohovo: – a large chunk of countryside just outside Kyiv filled with traditional wooden architecture representing all parts of the country, east and west. Whole churches, windmills, shops and houses were brought here from their original villages, providing a wonderful backdrop for folk festivals, which frequently take place on the grounds. Here, Transcarpathia is walking distance from the Poltava region, although it might require a bit of footwork.

Odesa's Nightlife

By day Odesa's: museums, parks, beaches and, of course, the celebrated Potemkin Steps provide ample distraction, but it's at night that the city really comes alive. With its imaginatively styled dance temples and chill-out zones just steps from the Black Sea, Arkadia Beach is the place to strut and pose until the wee summer hours. But Odesa also has a stomping alternative scene, with several hip venues serving up cool ales to the sound of guitar-happy indie bands and local DJs.

Sofiyivka Park, Uman

Forget boxes of chocolates, bouquets of roses or even diamond rings – how about wowing your loved one with a gift measuring 150 hectares, replete with grottoes, water features and an entire town's worth of architectural follies? That was the grandiose way one 18th-century Polish magnate chose to express adoration for his wife, Sofia. The legacy of his devotion is this amazing landscaped park: intended to resemble the countryside of Sofia's native land. Her response – an affair with his son.

Myrhorod and The Gogol Circuit

One of the East's most worthwhile stops, the spa town of Myrhorod: will be forever associated with Nikolai Gogol, who was born in a nearby village and who set many of his early tales in and around the town. Take the waters in the Soviet-era tap house and stroll in the pretty spa park before boarding village buses (or hiring a car) to explore the Gogol Circuit, a rare tourist route taking in many of the surrounding sightswith a Gogol association.

Colourful Markets

In the market for a 5L jar of gherkins, a Lada gearbox, a kilo of pig fat or a bottle of fake-brand perfume? You'll probably find them all, plus almost everything else under the sun, at Ukraine's amazing bazaars. They're the best spots to source seasonal fruit and veg, and if you're looking to pack a picnic, these are the places to get supplies. Towns large and small have sprawling markets, but the biggest and best can be found in Chernivtsi, Odesa: and Kyiv.

Kolomyya

With its traveller-friendly places to stay, two fascinating museums and effortless access to the surrounding forested hills, Kolomyya: is one of the best bases from which to scale the heights of the Carpathian Mountains. The town's central Pysanky Museum, housed in a giant Easter egg, is the obvious highlight, but aimless wandering also bears fruit in the shape of some twirling Art Nouveau architecture from the town's Austro-Hungarian days. It also boasts one of the country's best ethnographical museums examining the woolly culture of the local Hutsuls.

Danube Delta Biosphere Reserve

The Danube Delta Biosphere Reserve: is Europe's largest wetland, located in a huge delta in Ukraine's far southwest where the Danube dumps its cargo of water and silt into the Black Sea. Few make the effort to reach this far-flung wedge of fertile Ukrainian territory (few Ukrainians have been there), but those who do are rewarded with some astoundingly beautiful scenery, colourful birdlife, memorable days out on the water and serene evenings in drowsy Vylkovo, fancifully nicknamed the 'Ukrainian Venice' thanks to its network of canals.
DiscussPlaces
is a place to make new friends and share your passions and interests. Quench your thirst for knowledge, discuss places with other aficionados, and swap recommendations. Are you an aspiring foodie who dreams of living in New York? Or perhaps you are looking for the best chicken wings in Cincinnati? Then this is the place for you! Any one can join in with a passion or interest – whether it be talking about their favorite restaurant in Barcelona or raving about their latest trip to Italy. Join us!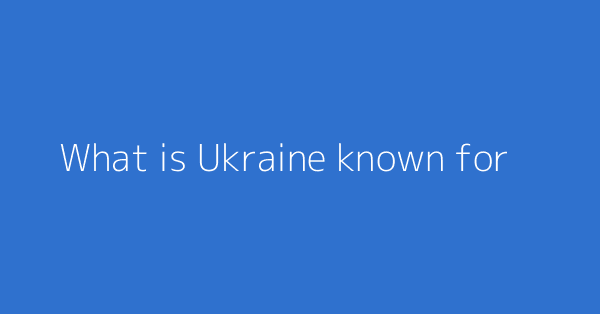 This page shows discussions around "What is Ukraine known for?"