What is Mongolia known for?
yellowbird892

last edited by




Mongolia

Mongolia, historically Outer Mongolia, country located in north-central Asia.
It is roughly oval in shape, measuring 1,486 miles (2,392 km) from west to east and, at its maximum, 782 miles (1,259 km) from north to south.
Mongolia's land area is roughly equivalent to that of the countries of western and central Europe, and it lies in a similar latitude range.
The national capital, Ulaanbaatar (Mongolian: Ulan Bator) is in the north-central part of the country.

Mongolia has so much to offer, here are some of the things Mongolia is known for.

Naadam Festival

Mongolians love their naadam. With two or three days of serious wrestling action, awesome horse racing and dazzling archery, who wouldn't? While 'naadam' literally means games, the celebration is much more than that. It's all about fun, getting together with friends and relatives, eating a lot of khuushuur (mutton pancakes) and emptying a bottle or two of vodka. The most traditional festivals happen in villages such as Khatgal in northern Mongolia:, where every member of the community is somehow involved. These village naadams are also ultra-photogenic – with all wrestlers, archers, jockeys and festival-goers set against stunning backdrops.

Staying in a Ger

Of all the experiences you are likely to have in Mongolia, the most memorable will be your visits to gers:, traditional felt yurts. From the outside, gers look like simple tents, but step inside and you'll be surprised by the amount of furnishings and modern appliances a nomadic family can have – not just furniture but also TVs, DVD players and smartphones. Visitors are always welcome inside a ger and you don't even need to knock (Mongolians never do). Instead, when approaching a ger, call out 'Nokhoi khor', which means 'Hold the dog'.

Horse Riding

Mongolians have been traversing their country on horseback for thousands of years. You should do the same. Short day rides are possible right around Ulaanbaatar – but the best areas are Gorkhi-Terelj National Park: and Bogdkhan Uul Strictly Protected Area:. Multiday horse treks can be made at Khövsgöl Nuur, the Darkhad Valley, Khan Khentii Strictly Protected Area and Naiman Nuur. Some adventurers have mounted their own cross-country expeditions. It can take some getting used to Mongolian horses and their short stocky build. Fortunately, local guides know their animals well – pay attention and follow their lead.

Gobi Desert

The idea of going to the Gobi for a vacation would probably have Marco Polo turning in his grave. The Venetian traveller, and others like him, dreaded crossing this harsh landscape. Thankfully, travel facilities have improved in the past 800 years, and it's now possible to make a reasonably comfortable visit. A paved road even reaches Dalanzadgad from UB. Once there, ride a two-humped camel and explore dinosaur bone yards. The real highlight is the scenic Khongoryn Els in Gurvan Saikhan National Park: – towering sand dunes that whistle when raked by high winds.

Wildlife Watching

Mongolia provides an ideal landscape for watching wildlife. In the east you'll spot hundreds (sometimes thousands) of gazelles streaking across the plains at supersonic speeds. In mountainous areas, especially in the Gobi, you stand a good chance of seeing argali sheep and ibexes, and in the taiga (subarctic coniferous forest) north of the Darkhad Valley you can see majestic reindeer. The easiest place to watch wildlife is at Khustain National Park:, home to takhi (wild horses) and wolves. And no matter where you travel, there are huge eagles, falcons and vultures circling overhead.

Hiking

With its rugged mountains, serene river valleys and fields of wild flowers, the Mongolian back country is begging to be explored on foot. Hiking is a new activity in Mongolia, but it's certainly possible at places like Gorkhi-Terelj National Park:, Bogdkhan Uul and Khövsgöl Nuur National Park. Although there are no warming huts and few marked trails, you'll find shelter in gers and encounter locals who are more than willing to show you the way. There are no Sherpas, but a pack horse (or yak) will do nicely. Good maps, a sturdy tent and a sense of adventure will help see you through.

Khövsgöl Nuur

The natural highlight of Mongolia is Khövsgöl Nuur:, a 136km-long lake set on the southernmost fringe of Siberia. For Mongolians the lake is a deeply spiritual place, home to powerful nagas (water spirits) and a source of inspiration for shamans who live there. For foreigners, Khövsgöl is a place for adventure, with horse riding, fishing, kayaking, trekking and mountain biking a few of the possibilities. Hard-core adventurers can even embark on a 15-day trek around its glorious shoreline. Launch your expedition from Khatgal, a quaint village of log homes, tourist camps and shops.

Ulaanbaatar

Once a quiet Soviet backwater, Ulaanbaatar: has grown up to become a dynamic hub of commerce, culture and entertainment. The traffic and crowds can be overwhelming, but for travellers most of the main sights are within walking distance of downtown. After you've toured the museums, don't miss out on UB's heady nightlife and surprising range of cafes and restaurants. The city has a peaceful side too. Turn a prayer wheel at Gandan Khiid, or climb up Zaisan Hill to take a break from this bewildering and ever-changing city.

On the Trail of Chinggis Khaan

Amateur historians shouldn't miss the chance to track down Chinggis Khaan. Pack a copy of Mongoliin Nuuts Tovchoo (The Secret History of the Mongols), climb into your jeep and head east. Start at the place where Chinggis found his famous golden whip, Tsonjin Boldog, which is now a hill topped with a huge statue: of the great conqueror. Continue on to Khökh Nuur, the site of his coronation before 100,000 soldiers. The trail gets wilder the further you go, until finally reaching Dadal, the great conqueror's alleged birthplace.

Mongolian Food and Drink

When it comes to cuisine, Mongolians make the most of limited ingredients. Meat (especially mutton), flour and milk products, such as dried curd and cheese, feature prominently in traditional dishes:. The best meals tend to be at gers in the countryside, where a family feast includes meat, animal organs, intestines and even the head. There are other dishes too, such as buuz (dumplings) and tsuivan (steamed pasta), which you can find in every city. Drinking airag (fermented mare's milk) is a uniquely Central Asian experience, one your belly won't soon forget.

Eagle Hunters

For centuries, using eagles to catch prey has been a traditional sport among Central Asian nomads. Even Marco Polo mentioned the great raptors kept by Kublai Khaan. The sport is alive and well today, but you'll only find it in a small corner of Mongolia. Travel to Bayan-Ölgii and link up with the Kazakh hunters who capture and train these magnificent birds. Hollywood has even taken notice with a major motion picture about a young female eagle hunter. The best time to visit is in early October, when you can attend the colourful Eagle Festival: in Ölgii city.

Monasteries

The time-worn Buddhist monasteries (khiid) that dot the landscape are the most immediate window on Mongolia's spiritual roots. Lamas young and old sit quietly in the pews, carrying on the legacy of a religion brought here from Tibet centuries ago. The laypeople that visit the monasteries pay homage with the spin of a prayer wheel and whispered mantras. As well as being places of pilgrimage, the monasteries are also rare slices of tangible history, filled with precious Buddhist icons, Sutras and the delicate paintings that grace their ancient walls. Amarbayasgalant Khiid:, the country's best-preserved monastery, is dedicated to the great sculptor Zanabazar.

Dinosaur Fossils

Time travellers setting their destination to 70 million years in the past would find the Gobi Desert to be lusher and wetter than it is today. The wildlife would be different too – instead of wild asses and gazelles, the landscape would be alive with herds of Protoceratops, hissing Velociraptors and the fearsome Tyrannosaurus Bataar, a cousin of the T-Rex. While these creatures no longer walk the earth, their bones can be found buried in the sands and cliffs of the Gobi, awaiting discovery by the modern-day palaeontologist. In Ulaanbaatar, the best examples are to be housed in a new Museum of Dinosaurs:.
DiscussPlaces
is a place to make new friends and share your passions and interests. Quench your thirst for knowledge, discuss places with other aficionados, and swap recommendations. Are you an aspiring foodie who dreams of living in New York? Or perhaps you are looking for the best chicken wings in Cincinnati? Then this is the place for you! Any one can join in with a passion or interest – whether it be talking about their favorite restaurant in Barcelona or raving about their latest trip to Italy. Join us!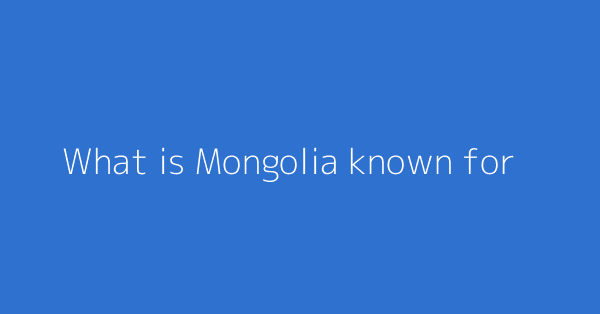 This page shows discussions around "What is Mongolia known for?"